​Parents Are Changing The 'Inappropriate' Endings To Classic Fairytales So They Are More 'PC'
And because of that, 16 percent actually avoid certain fairytales altogether.
Yes, we know.
Apparently Little Red Riding Hood is the story parents are most likely to get changed by parents, followed by The Three Little Pigs and The Gingerbread Man – with more than a third believing that it's 'cruel' for the Gingerbread Man to get eaten by a fox.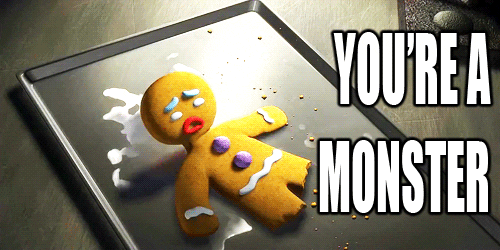 Snow White and the Seven Dwarfs, Cinderella and even Goldilocks and the Three Bearsare also among the top 20 tales told differently by 21st century mums and dads.
Liam Howley, marketing director at musicMagpie said: "Some of these stories have been around for generations – many would have been read to mums and dads when they were children.
"But times have changed and there are many elements to these classic tales which for some don't really fit into society as they once did.
"Not only that, but when you think about the storylines, some can be considered very scary for little children."
The study of 2,000 parents also found that 36 percent are concerned by how the Pied Piper of Hamlin tricks children into following him – which is a bit concerning actually, now that you mention it.
One quarter admitted to avoiding reading The Ugly Duckling because it could encourage body-shaming and discrimination, while almost one in four also feel it's not appropriate to read their children Cinderella, as she was forced into doing all of the household chores.
One in four think Sleeping Beauty is inappropriate that she's kissed without consent, while a third aren't keen on Hansel and Gretel as it involves children being abandoned along in a forest.
Thankfully, despite this, 97 percent of the parents do think it's important to read to their children.
Here's the full top 20 of stories that parents tend to change:
1. Little Red Riding Hood
2. The Three Little Pigs
3. The Gingerbread Man
4. Hansel and Gretel
5. The Ugly Duckling
6. Snow White and the Seven Dwarfs
7. Beauty and the Beast
8. Cinderella
9. Jack and the Beanstalk
10. Pinocchio
11. Rumpelstiltskin
12. Sleeping Beauty
13. The Tale of Peter Rabbit
14. Goldilocks and the Three Bears
15. The Little Mermaid
16. The Pied Piper of Hamlin
17. The Frog Prince
18. Rapunzel
19. The Princess and the Pea
20. The Emperor's New Suit
And Now... A Few Links From Our Sponsors