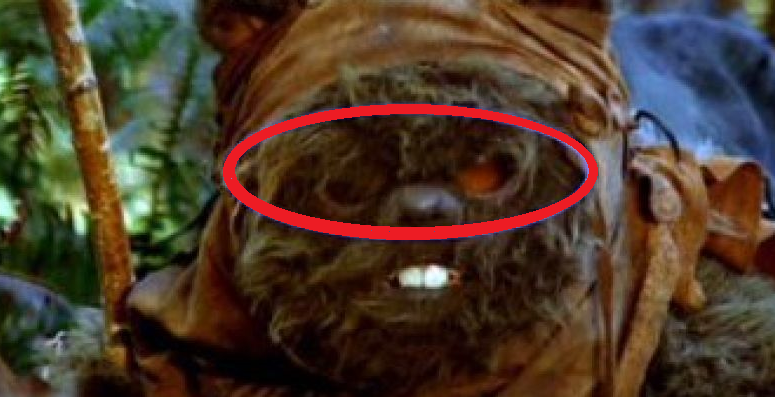 A long time ago in a galaxy quite close actually, George Lucas set out his vision of a space opera to a gaggle of Hollywood executives. It proved to be reasonably popular with audiences. The phenomenon that is the Star Wars universe is one of the most popular franchises that the world has ever seen – but that doesn't mean that it is flawless. Both the original trilogy and the ill-judged prequels are riddled with mistakes that suggest the bearded maestro frequently let his eye wonder in the editing suite; we're not just referring to the presence of amphibious irritant Jar-Jar Binks.
Everybody with a passing interest in matters of The Force will have heard about the clumsy Stormtrooper who brained himself while lumbering through the corridors after Darth Vader, but this is far from the only careless error that made it into the final cut of the films. There are an astonishing number of continuity errors, fumbled lines and dubbing that would put a 1970's kung-fu film to shame. Here, using strong insights that would foil even the strongest Jedi mind trick, we shall explore ten of the most glaring errors that may have slipped under your radars.
From ropey special effects to extras disappearing and reappearing in the same scene, we can't help but wonder how much attention Lucas was paying to the finished product. While reissued prints of the films and future special editions have eliminated some of the bloopers, they are all preserved for eternal posterity thanks to vigilant YouTubers. There's been a disturbance in The Farce (sorry)…
10. Lightsaber Wire
When we watched the original Star Wars movie (none of this Episode IV nonsense here) as innocent children, we always wondered just how the Jedi and Sith operated their lightsabers. Was Alec Guinnessactually blessed with powers of the Force? Could Dave Prowse control the Midi-chlorians around his blade? The answer was far more prosaic and obvious to anybody who paid close attention to the scene in Star Wars where Obi-Wan Kenobi faces off against Darth Vader. As the two circle one another, the wire that connects the lightsaber to the battery pack hidden in Guinness' robes can clearly be seen poking out of his sleeve. Could such editorial tardiness be the real reason the classical thespian was notoriously grumpy about his most beloved role in later years?
9. Luke's Ventriloquism
8. The Potato And Shoe Asteroids
7. Leia's Quick Costume Change
6. The Youngling Materialisation
5. Anakin's Fireproof Eyelashes
4. Dust No Match For Force
3. The Millennium Falcon Flies Past Itself
2. Luke's Color-Changing Light Sabre
1. The Unconvincing Ewok
10 Mistakes In The Star Wars Universe You Haven't Noticed
And Now... A Few Links From Our Sponsors