1
The woman who stabbed her boyfriend after he farted on her
Let's start this list with a bang! Things can escalate in a bad way pretty quickly by just adding alcohol. In May 2013, Deborah Ann Burns, 37, of Immokalee, Florida was having an argument about money with her boyfriend of six years, Willie Butler, 53. Both were drinking, and as Butler went to the kitchen, he farted on Burns' head. Burns confronted Butler – he then threw a knife at her, which missed.
Burns threw the knife back and hit her target. Burns ran outside with the knife lodged in his stomach. Burns gave chase and hit him on the arm with a stick. Cops arrived to find a bleeding Butler standing in front of his mailbox, but he was too drunk to give a statement.
Burns denied cutting Butler but was arrested and charged with aggravated battery with a deadly weapon. (Source | Photo)
2
The pop star who was sued after hitting a fan in the head with his butt during a concert
In January 2015, a jury ruled that 1980s pop star Rick Springfield was not responsible for a woman's injury at a 2004 New York State Fair concert. Springfield was sued by 45-year-old Vicki Calcagno of Liverpool, New York, who claimed she suffered serious injuries when Springfield fell into her during the show. She said Springfield's buttocks hit her head, and she was knocked unconscious.
The trial was by all accounts an emotional one for Springfield – the "Jesse's Girl" singer ran the gamut of emotion from anger to tears, to laughter. He accused Calgano's lawyer of being "very aggressive" with his questions, but when asked if female fans have ever grabbed him, Springfield said it's common for women at his concerts to "grab my butt if they're feeling a little saucy."
Springfield was exonerated and had some great quotes to tell Yahoo Music about the trial he jokingly dubbed "Assgate" or "ASSault and battery." He summed up the case by saying, "She was claiming all these damages. I mean, I work out, but my ass isn't that hard! So I figured that it was bogus." (Source | Photo)
3
The woman who sued Live Nation after getting splinters on her butt during a concert
New Jersey schoolteacher Linda Vanston was at the NYCB Theater at Westbury sitting on a bench outside an Engelbert Humperdinck concert on April 29, 2011. As she slid to the other side of a bench to make room for a fellow concertgoer, Vanston got some souvenirs to take home with her – a backside full of splinters.
In 2014, Vanston sued concert promoters Live Nation for unspecified damages. "1,000 splinters that wedged in her thighs and buttocks have been coming out, around a dozen a day, since then," Vanston's lawyer told the press. Her suit claims that she has received "painful injections to help dislodge," the splinters. She also had to take time off work and has limited mobility from the incident.
(Source | Photo)
4
The thieves who "butt-dialed" 911 and stayed on the line detailing their crime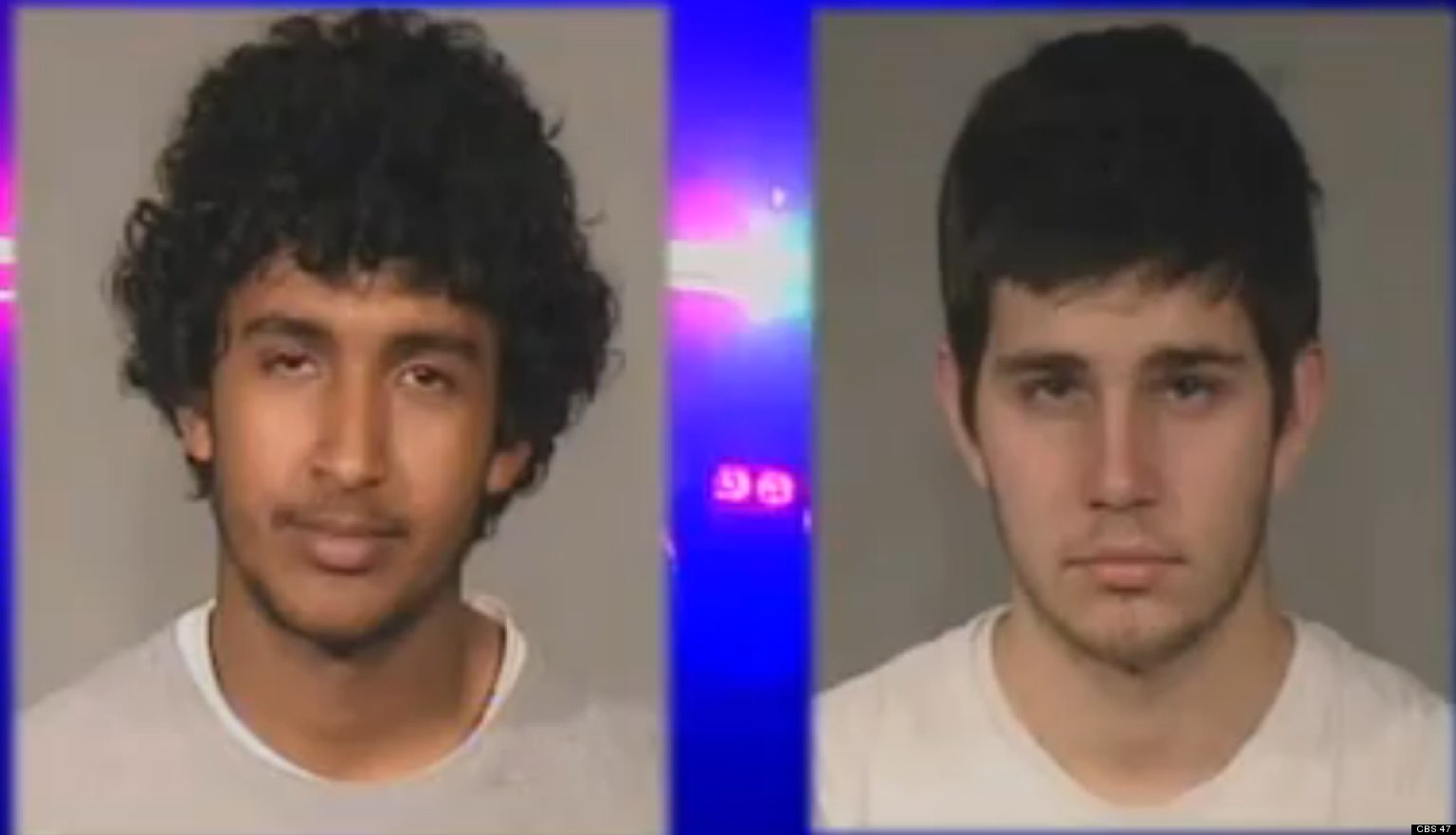 You never know when "butt-dialing" will get you in trouble. Two Fresno men, Nathan Teklemariam and Carson Rinehart, both 20, were in the middle of a crime spree when one of them accidentally "butt-dialed" 911.
When the 911 dispatcher answered and asked the callers to state their emergency, he was surprised to hear the men talking about how they wanted to "smoke weed so bad right now." The operator listened as the two men then broke into a car – he heard a window shatter as the men stated they found prescription drugs.

Police were already in the area searching for the men based on clues that the 911 dispatcher was feeding them. The two men saw the cops approach and were heard to say, "Oh, he's following me, dog. Wow, what the f**k did I do?"
The suspects initially denied any wrongdoing, but police said they found items that were taken from the car. Teklemariam and Rinehart were eventually charged with burglary, conspiracy and possession of stolen property.
After they had been cuffed, the police told the bungling burglars how they were caught. "This fool called 911?" one of the suspects said. "Damn." (Source | Photo)
5
The brother who shot his sister in the butt over a penis cake
In March 2015, Christopher Taft of Holly Hill, Florida shot his sister in the buttocks with a BB gun in retaliation for her making him a birthday cake in the shape of a penis. The 21-year-old told police that he thought it would be funny to shoot his sister with a BB gun as a joke, and did not intend to hurt her.
Although the BB was lodged in the victim's skin, she refused to be transported to the hospital and drove herself.
Taft was taken to Volusia County jail and charged with aggravated battery and battery.
What a waste of a perfectly good penis cake. (Source | Photo)
6
The woman who stole money from her boyfriend and hid it in her butt
Bobby Gulley of Bulls Gap, Tennessee knew his girlfriend, Christie Black, was stealing cash from him. He just had to catch her in the act. Gulley laid the perfect trap for his thieving partner, which she couldn't resist. He left two envelopes containing $5,000 (in $100 bills) and a bag of pills on a foosball table overnight before the couple went to bed.
On the morning of August 27, 2013, Gulley awoke to find the money was gone. What did his girlfriend do when he confronted her about the missing money? She vomited up the bag of pills right in front of him! Christie also admitted that she stole the money and hid it in her rectum. Gulley promptly called the police. In a panic, Christie tried to get the money out of her rectum with a set of tongs and a toilet brush.
Christie later claimed that she took the money and the medicine because Gulley was going to kick her out of the house, and she needed money for a place to live.
Christie was taken to Hawkins County ER where the money was removed from her ass and given to police for evidence. After being released from the hospital, Christie was arrested and charged with theft.
(Source | Photo)
7
The man who was stabbed by his girlfriend after smacking her butt
On the evening of August 26, 2012. Bethlehem, Pennsylvania resident Tiffany Sherry, 24, was suffering from a bad sunburn. Still, was able to finish her chores. While she washed dishes Tiffany's boyfriend, Michael Martinez, decided to smack her on the butt.
After experiencing an excruciating amount of pain from the smack, Sherry came at Martinez with a large steak knife. Martinez scrambled out of the kitchen and into the living room where the children were playing. "What are you going to do, stab me in front of your children?" Michael asked. Tiffany asked her children to leave the room and proceeded to stab Michael in the stomach and shoulder. As he tried to flee, Tiffany stabbed him again in the upper back while screaming that she was going to kill him.
Martinez was taken to St. Luke's Hospital, and Sherry was arrested. She was charged with aggravated assault, simple assault, making terroristic threats and reckless endangerment.
Sherry was also arrested in 2008 for stabbing a man with a fork due to an argument over diapers. (Source | Photo)
8
The woman who had cement butt implants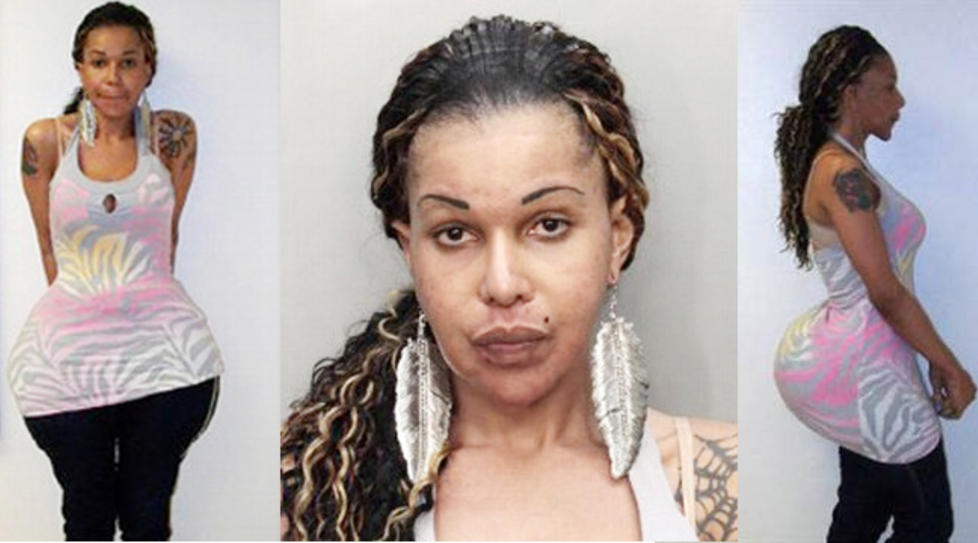 In 2011, Florida police arrested 30-year-old Oneal Ron Morris for allegedly injecting a concoction of substances into the buttocks of his "patients." For $700, Morris injected women with cement, mineral oil and Fix-A-Flat tire inflator and sealant. The incisions were sealed with Super Glue.
Morris was caught and arrested thanks to an unidentified woman who contacted the Miami Gardens Police Department in Florida. Her botched procedure took place in May 2010. At first, the victim was reluctant to come forward but ended up in two South Florida hospitals due to severe abdominal pain and infected sores on her buttocks accompanied by flu-like symptoms. (Source | Photo)
9
The woman who defecated on the floor in retaliation for her husband's cheating
Hell hath no fury like a woman pooping for revenge!
On December 21, 2013, 51-year-old Brenda Schumann found another woman in bed with her husband. She stormed into their bedroom at around 2:30 a.m. carrying a rifle and threatening to kill both her 42-year-old husband and his lover. After her husband had managed to get the rifle away from her, Schumann proceeded to urinate on the carpet outside the bedroom then defecated on the kitchen floor.
The jilted pooper caused more mayhem by destroying household items before driving off. Police tracked her down to another apartment, where she tried to hold the door shut to prevent them from getting inside.
When arrested she said, "I found him in bed with a naked chick what was I supposed to do." Schumann was charged with aggravated assault/domestic violence, aggravated assault, battery and resisting arrest without violence. (Source | Photo)
10
The woman who was fined $1004 for dropping a cigarette butt
This next entry deals with a butt crime of a different nature – a cigarette butt. Tina Copeland of Coventry, England was walking home from her local Sainsbury market when she flicked her cigarette butt on the pavement. All of a sudden, "I heard these tires screeching behind me, and two women got out and started sprinting towards me." The women asked Copeland if she was aware that she committed a criminal offense. "The way they spoke to me was horrible – they acted as if I had murdered somebody," Copeland said.
The West Midlands woman refused to pay the $150 fixed penalty notice and is now facing a $604 fine and $400 court costs following a court hearing at Nuneaton Magistrates' Court. The Coventry City Council said it has a "zero tolerance" policy towards litter and residents are provided with bins to avoid cigarette butts being dropped onto the pavement. (Source | Photo)
And Now... A Few Links From Our Sponsors