The 10 Most Shocking Public Places People Have Done The Deed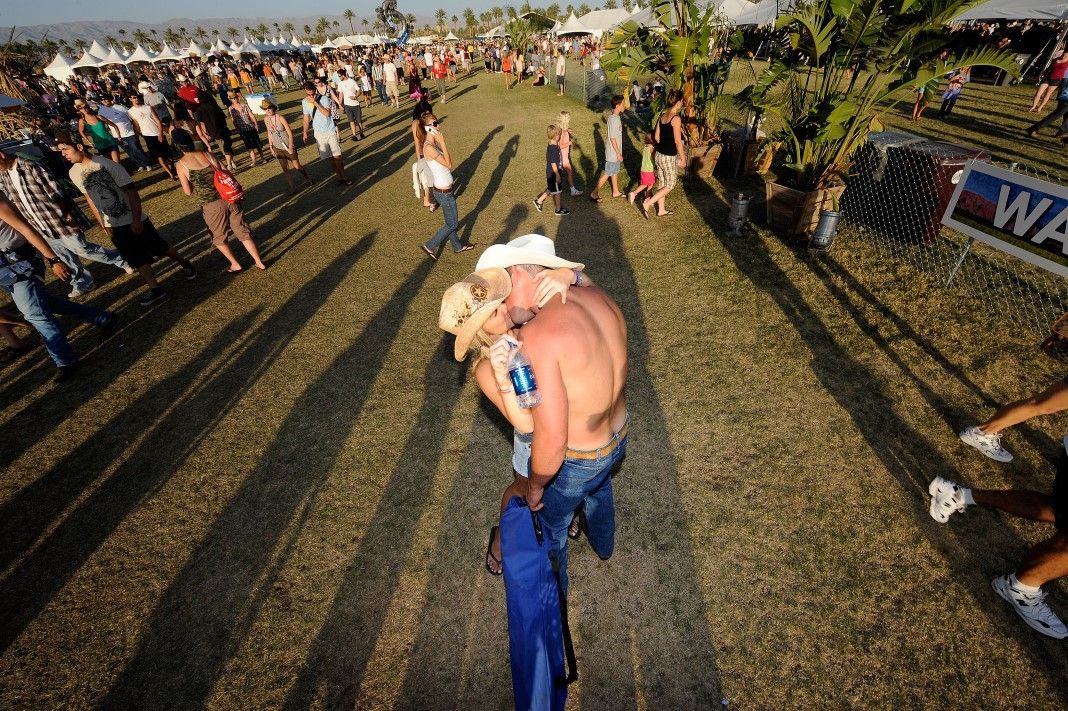 Getting frisky in public is a surprisingly common fantasy, and something that a good number of people would likely do if they had the courage for it – and an interested partner. The risks are high. Not only could you be laughed at or recorded for the public record, as the people on this list were, but you could also end up in trouble with the law. In some cases, you could even end up as a registered sex offender. That risk is part of the appeal for many participants. Perhaps they don't expect that it will ever go wrong.
Well, for these people, it definitely did. We've put together a list of the most shocking places people have been caught getting frisky. You've got to hand it to them, though. They may have wrecked their relationships, gotten criminal records and humiliated themselves in the worldwide press – but hey, at least they were creative!
It also forces you to wonder how many other, even crazier places people have done it, and actually managed to get away with it…
10. A Music Festival
Everybody agrees that music festivals are dirty, dirty places, and anybody who thinks that no sex happens there is living in a dream world – but you'd assume that people would at least get to a tent. One couple at an unnamed festival in 2015 couldn't wait that long. They try to be subtle, but anybody watching that knows exactly what's going on. Even so, it seems like they managed to get away with it, somehow. They're lucky security didn't walk by, but you have to wonder if they even realized that they were spotted.
9. A Busy Barcelona Metro Station
Mind the gap, please! One couple that had met overnight in Barcelona just couldn't wait to get back to the privacy of his place, or hers. In full view of the commuters on the platform – because yes, it was that time of day – they just went right at it against the wall. Trash can to their right, commuters with their cell phones out on their left. (Yep, the footage is still online. Google is your friend.) Presumably they were also caught by station CCTV, but it's unclear whether the authorities ever caught up with this couple. Chances are they were so wasted, they can't even remember that it happened.
8. A Paragliding Club's Live Stream
A paragliding company in Brazil set up a live stream for their members to watch from home – but they definitely weren't expecting to provide this kind of entertainment. Unfortunately for the couple, who were apparently trying some pretty adventurous things, they were spotted on the live stream feed, the police were called, and they were taken away to the police station… with their clothes on, of course. Sucks to be them, though. Presumably they just thought they were getting busy on a random field, and had no idea they were being broadcast for the world to see.
7. The Las Vegas Observation Wheel
What happens in Vegas stays in Vegas – or so the saying goes. Unfortunately for one couple, their Vegas shenanigans went a hell of a lot further than that. Chloe Scordianos and Philip Panzica III were caught having sex on the High Roller Observation Wheel, a well-known Vegas attraction with excellent views of the city. They were spotted by the ride attendant, who asked them to put their clothes back on via the ride intercom. Awkward. Seems like they actually improved the attraction, though. The riders in the adjacent cabins were seen filming the couple on their cell phones. Supposedly, the problem of sex on the High Roller has gotten much bigger since, so at least they have the comfort of being trendsetters.
6. A Hardee's Parking Lot
Prepare yourself, leaders. This list is about to get classy. In March 2016, a young man and woman were arrested for having sex in a Hardee's parking lot at rush hour. They parked right beside the drive thru to give the early morning commuters a show with their breakfast, and have since been charged with first-degree indecent exposure. Not the best way to start your day…
5. A McDonald's Bathroom
Sticking with the fast food theme, but just a fraction more gross, is this next item on the list. These two customers were able to get past the grossness to start 'lovin' it' together behind the locked door. Filmed by a customer, and interrupted by a manager who is clearly not impressed, the couple finally emerge looking sheepish – and not even fully dressed! – aftershe threatens to call the cops. Apparently they spent a whole hour in there, which is the most impressive part. Most people can't stand to spend two minutes in a McDonalds restroom.
4. A Courthouse Roof
It'd be pretty out there for anybody to have sex on a courthouse roof – but one of the people in this story was even a U.S. Marshal. The courthouse in question, in Harrisburg, hit news headlines after a neighbouring resident took the photographs and sent them for investigation. Predictably, the courthouse was more keen to assure the public that their security was sufficient than it was to comment on the sexual indiscretion. There's no mention of what happened to the Marshal in question, but we're guessing it wasn't good.
3. A Cathedral's Confession Box
"We are atheists," claimed this couple. "For us, having sex in church is like doing it in any other place." To each their own – but you'd have to have some balls to perform oral sex inside a confession booth during Mass! The couple, who were described as 'goth-rock,' were heard moaning and groaning by the parishioners who were there to worship. Whether this was a statement or a fetish or just two desperate people, we may never know. Either way, it's got to be one of the most unique places people have ever had sex. Oh – and for anybody wondering? The presiding bishop said that the box would have to be cleansed with a special ceremony, and that the act was "an outrage of notable proportions which bespeaks unutterable squalor."
Frankly, many people would consider that a compliment.
2. A Maternity Ward
More and more women have started to discuss the strange phenomenon of having orgasms during childbirth, so maybe this story isn't that surprising. In the UK, a couple were caught having sex in the maternity ward in Bristol by a cleaner. In fact, while not supported by science, sex is often regarded as a good way of inducing childbirth. Strange as it sounds, it's hospital policy for couples to simply put a 'Do Not Disturb' sign on their door if they're looking to squeeze in some last-minute sex. This story is unusual, however, in that this woman was literally just about to be induced, and the couple were so loud that they were apparently disturbing other patients. Think about that for a second. How loud do you have to be to disturb people in a maternity ward?
1. A Mets vs. Indians Game
Baseball's not for everyone, but these fans took boredom to the next level. On the Mets vs. Indians game on April 17, 2016, fans and security alike watched as a couple got it on in the bleachers. Maybe thinking they'd get away with it, the couple went all the way up to the top of the stands, but with nobody else sitting around them, it only made them stand out more. You've got to hand it to them, though. Nobody's more competitive than a sports fan, and what better way to deal with that competitive spirit than to score a home run of your own right then and there?