The most infamous form of communication between stars and fans is the direct message, better known as the DM. The rapper Yo Gotti even has a song about this interaction called "Down in the DM," demonstrating to us all that it all really does go down in the DM. For anyone not in the know, a direct message is a private message on Instagram or Twitter that no one else can see in their social feeds. Users can DM anyone who is following them. So this means that your favorite celebrities can interact with all of the fans who follow them if they really want to. And plenty of them have done just that. Well, maybe not DMing every fan, but plenty of stars have reached out to some of their followers— especially the attractive ones, if you know what I'm saying.
Believe it or not, your favorite celebrities have slid into the DM's to hit on their fans. And as you can expect, these instances did not stay private for long.  Not only was the thirst too real, but it's also become a public matter plenty of times. And it is always embarrassing, to put it mildly.
But whatever, these are celebrities. These are people who are rich and famous, so getting turned down by a fan is not going to make a major dent in their confidence. But for us normal people, it provides plenty of laughs and reminds us that even celebrities can get dehydrated from time to time. The thirst is very real. Check out these 11 celebrities who got caught sliding into the DM's and failed.
11. Drake – Trying To Get With Adult Star
Personally,  I would be elated if Drake ever tried to slide into my DM's (hint, hint), but I guess there are some ladies who feel differently. Drake got caught trying to get at adult film star Mia Khalifa when she (very obviously) hinted that he was trying to get at her on Instagram. How do we know she was referring to Drake? In a radio interview, the star said that the culprit's name rhymes with "rake." So that seems pretty obvious to me. Khalifa said that he sent her "half naked" photos and that it was "just so cringe worthy." Poor Drake.
10. James Franco – 17 Is Legal In New York
This Instagram DM encounter is rather infamous. James Franco, 35 years old at the time, got caught hitting on a teenager (and failed) through a private message thread on Instagram. The girl was 17 and the media had a field day with this one. Franco made the scandal even worse when he made this statement during an interview with Howard Stern: "Seventeen is legal in New York, but that being said, it's still pretty damn young." Umm, yeah it is.
9. Cristiano Ronaldo – Allegedly Requested Photos From Minor
Cristiano Ronaldo has been caught creeping in ladies' private messages multiple times. I don't get why a popular and good looking athlete would turn to social media to get women, but apparently it does happen (pretty often). Sixteen-year-old Meredith Mickelson called out the athlete for DMing her on Instagram and posted screenshots of the conversations on Twitter. And just in case you were wondering if there could be some leeway with age of consent here since Ronaldo is from Portugal, the girl was actually an American teen, making the exchange extremely questionable to say the least. In another incident,Cristiano Ronaldo was pretty relentless in his pursuit of a model named Aline Lima on Instagram after she innocently asked him if he received a letter from her boyfriend who was a fan of the athlete. He repeatedly asked her for photos and ignored her messages about having a boyfriend and being uncomfortable. Welp, that's pretty mortifying.
8. Jose Canseco – "Your Pretty How Old Are You"
Jose Canseco is pretty infamous for having an erratic Twitter and sending private messages plenty of times. BuzzFeed posted a screen shot of an embarrassing conversation that started with Canseco saying, "Your very pretty how old are you." Aside from the obvious desperation and lack of smooth moves, that message also demonstrated Jose Canseco's lack of basic grammar skills. In another humiliating situation, Canseco asked a Twitter user to send him photos and then replied back saying he "had a girlfriend and made a huge mistake." Well, yeah obviously. Creeping on fans, especially when you are not single is definitely not the most sound decision in the world.
7. JR Smith – You Want The Pipe?
JR Smith was very direct during a Twitter DM interaction with a fan, who happened to be a high school senior at the time. It's unclear if JR Smith knew how old the girl was during the incident, but his thirst was pretty entertaining and hilarious when he straight up asked her, "You trying to get the pipe?"The question became instantly iconic and people taunted him and made fun of him for it online and on the sidelines at games for months. This is something that the NBA player will never be able to live down— ever.
6. Tyga – Creeps On Minors
As if Tyga didn't have enough bad press from dating a teenage Kylie Jenner, things actually became even more scandalous for the rapper. A "teen model" who is only 14 years old hired famed  lawyerGloria Allred to help her lead a press conference to speak out about her contact with Tyga. So what is she alleging went down? She accused Tyga of "sending uncomfortable messages" and she felt pressured to interact with him via FaceTime. And this isn't the first time that Tyga has had some Instagram-related drama. He was called out by some eagle-eyed fans for commenting and liking photos on model Val Marcado's Instagram account. I just wonder what Kylie Jenner thinks of all the speculation?
5. Drake Bell – Asked For Foursome 
Drake Bell decided to hit on multiple fans through a direct message on Twitter. He asked a fan for her photo and she shared one with her and two friends. The actor was pretty impressed with her and her other friends in the picture and responded with these three messages: "Whoa all three are sexy as hell!" "We should have a foursome party lol hahaha" and "Where you live?" Damn, that's bold. Not only did he get very sexual very quickly, but he also had the audacity to solicit a foursome in an initial conversation with a stranger. Then he asked her to follow another personal Twitter account so the direct messages could get even more sexual and he detailed multiple things that he would do to her body. This dude has no shame— at all.  I wonder how everything worked out for him though. Did he ever get that foursome going?
4. Swizz Beatz – Shady Beats?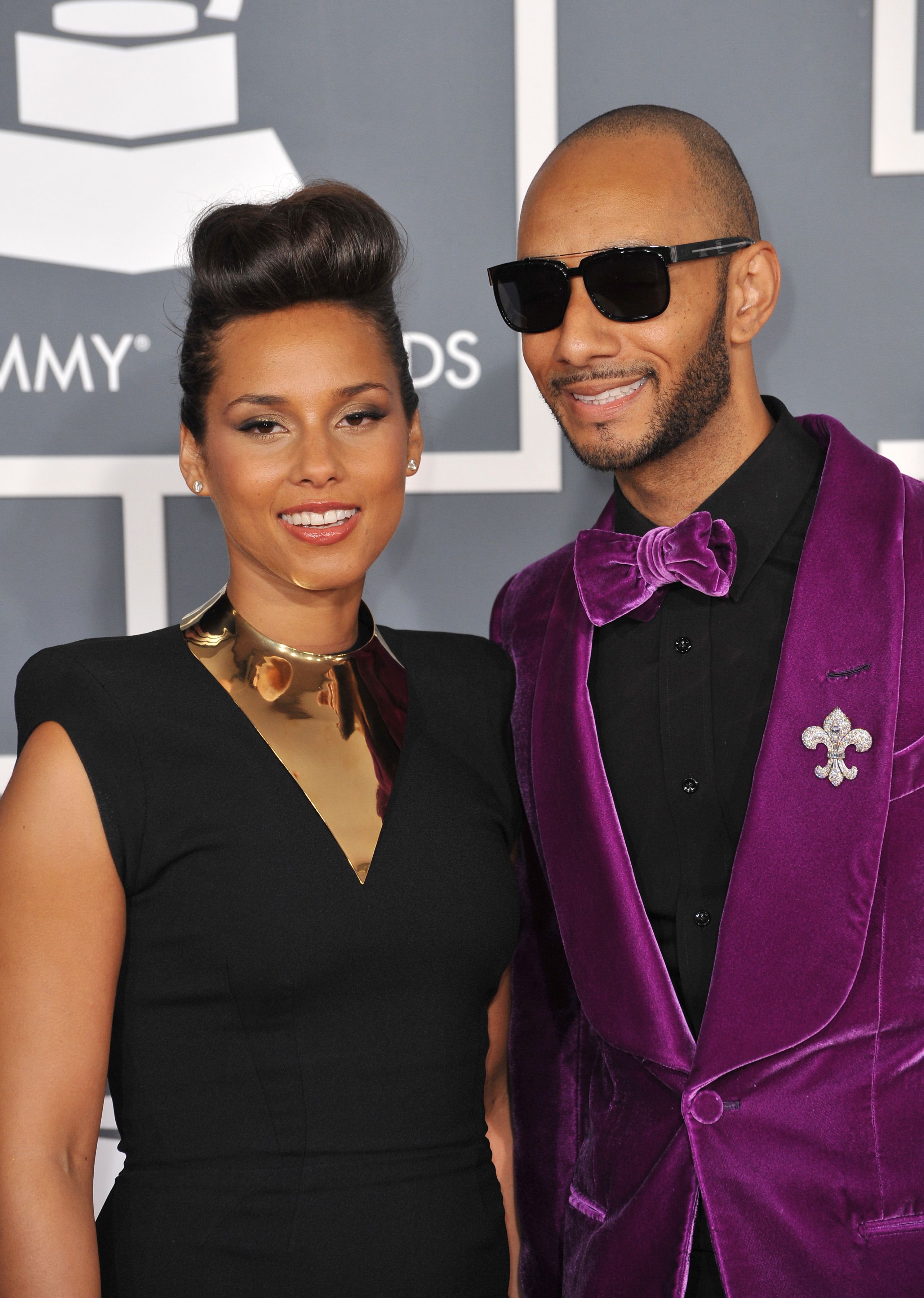 This is one of the rare instances when a rapper sliding into the DM's was actually innocent. People thought that Swizz Beatz was trying to step out on Alicia Keys when he direct messaged a fitness model named Lita Lewis. He was caught liking her photos and commented for her to check her DM's so the rumors ran rampant that he was being shady.  In order to clear his name, Swizz Beatz let the private conversations go public to show the world that he was not doing anything behind his wife's back. In fact, he was asking Lita about personal training options for Alicia Keys. Thankfully he was able to clarify what was going on, but there was some scandal brewing for a little bit before that.
3. Casper Smart – DMed Transgender Model
You might not consider Casper Smart to be a celebrity, but it makes sense for him to be on this list when he was sneaking into the DM's while dating superstar Jennifer Lopez. I don't know why anyone would look outside the relationship for companionship when he is dating JLo. That is just beyond my comprehension. But apparently this did happen. Casper Smart had a direct message exchange with a transgender bikini model named Sofie Vissa on Instagram and the two exchanged photos. And a little bit after this news broke, JLo and Casper cut ties (before getting back together as usual).  I have no idea what he did to get back in Jennifer's good graces but I hope he is worshiping her as much as she deserves.
2. AnnaLynne McCord – Accidentally Sent Topless Photo To Fan
This is a case of DM gone awry. AnnaLynne McCord thought she was having a private exchange with someone via direct message. Instead of having a personal interaction, AnnaLynne's interaction was very public when she accidentally posted a topless photo of herself on Twitter and sent it to a fan. The fan commented on the photo and AnnaLynne took it down and thanked her. Clearly, AnnaLynne needs to read over what she is doing before she clicks send because more people than she intended to peep at the racy pic.
1. Marcus Jordan – Hit On Adult Film Star
Yes, I know that Marcus Jordan is not actually a celebrity, but he is the son of basketball legend Michael Jordan so I have to count this one. Plus, the story is way too ridiculous not to include in this list. Marcus meant to privately message an adult star named Rachel Roxxx, but he accidentally tweeted her. This means that his message was very public. So what did he say? "too bad u wasnt n the chi this weekend was ready for round 2, 1st black one huh? dm me back boo got more for u." Clearly this dude thought he was in the DM's. Poor guy. Also what was with the dollar signs at the end? Did that imply that he would pay to interact with her? Later, Marcus denied that he wrote that, but either way it was an embarrassing tweet on his account. I can't help feeling that it was actually meant for a DM, but whatever, not my business.
11 Celebs Who Tried To Private Message (But Embarrassingly Failed)
And Now... A Few Links From Our Sponsors