12 People Who Had A More Embarrassing Week Than You
We can't all be winners all the time. The road to self-actualization is filled with embarrassment and shade, and sometimes we have to bask in our own failure.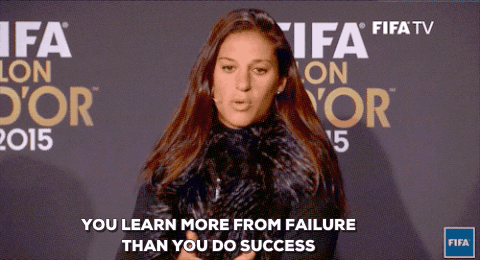 Since the internet can sometimes feel like a parade of other people's achievements, I decided to gather a few people who had a more embarrassing week than the rest of us. It's important to remember that we're all just little bumbling flesh bags struggling to get there (whatever that means).
So, here are 12 people who took the L for all of us this week.
On today's episode of men pay 0 attention to me lmfao pic.twitter.com/g8Uo4G8wKH

— Morena ✨ (@Lovely_Giox3) April 23, 2018
Out here making friends pic.twitter.com/4zaqN2PpmJ

— decent pigeon (@decentbirthday) April 23, 2018
i've always been told not to cry after a spray tan pic.twitter.com/hCFIwRchd4

— alex (@alexvinklarek) April 25, 2018
I took a fat L last night! ? pic.twitter.com/O6e117Xv0W

— ••• (@a_ad46) April 25, 2018
I turned in my paper to my professor last night and this morning I realized I forgot to change the title…hows your day going? pic.twitter.com/FnornTF00n

— mørgxn (@morgs216) April 25, 2018
FUUUCK pic.twitter.com/DgONc7WVSW

— Alex Sparrow (@BBMBennett) April 20, 2018
my dog made a huge mess and then had the audacity to just sit and chill while i cleaned it up i mean LOOK AT HIS LITTLE ARM pic.twitter.com/T8dJxxEYac

— Audrey Rosenstein (@Audreyrosenstei) April 24, 2018
JUST CUT THE BULLSHIT AND THROW IT STEVE.

(i_am_half_burrito reddit) pic.twitter.com/lMR7UON4Bg

— Clint Falin (@ClintFalin) April 21, 2018
Just learned our 9y/o did an experiment on us. Lost tooth, told no one for 3d, kept tooth under his pillow. No $. Then he tells us he lost the tooth, next night there is money under his pillow. Then confronted us with his scientific evidence that the tooth fairy isn't real.

— Rogue Dad, M.D. (@RogueDadMD) April 23, 2018
I hung out with this guy a couple times last semester and this morning he tried to snapchat me and a bunch of other girls but accidentally started a huge groupchat and pic.twitter.com/CgSG5xGgro

— Elizabeth ? (@springbreak2005) April 20, 2018
Recently invited to speak at a conference and was asked which of my two affiliations I preferred to go on my name tag. Probably University of Central Lancashire, I replied. So that's what they put. pic.twitter.com/UqbPTieXvj

— Sandi Mann (@SandiPsych) April 25, 2018
That's a bit #starbucksnamefail
Like this pic.twitter.com/xR1HLhkoln

— Trish Groves (@trished) April 27, 2018
And Now... A Few Links From Our Sponsors