Celebrities are supposed to be rich. If they aren't rich, they can't afford all the items that make them so intriguingly remote: youth everlasting and designer clothes from this year's collection. So what happens to their celebrity when they lose all their money? For some, it dwindles altogether. A few of the celebrities on the following list had to get day jobs just to make ends meet. They certainly couldn't afford this year's designer collection (but you'll find them rifling through the half-off bin at your local H&M).
These celebrities lost their money for a variety of reasons. Oftentimes, it was related to court battles, which sucked them totally dry. For a few others, it was because they developed certain bad habits and they couldn't curb their impulse control until poverty did it for them, and even then… The rest of them just could not longer get work and cruised on royalties until TBS or some other D-list channel cancelled re-runs and all of sudden their monthy check hit menopause.
What we all know for sure is this: if you asked your average person how much money one of these celebrities has, he or she would grossly overestimate it. That's the one thing we tried to preserve in our research. These are celebrities who most people would say has millions, but for who that is sometimes sorely inaccurate.
Ready? Let's hop right in, to the 14 celebrities POORER than you'd think.
14. Mike Tyson – $1 million
At the height of his wrestling career, Mike Tyson was worth over $300 million. That's a lot of money, especially for someone who has a tattoo all over his face. It seemed too good to be true. And so it was, apparently. Two hundred and ninety-nine of his three-hundred million dollars have disappeared from financial irresponsibility and controversy. We wager that the giant tattoo across his face must have cost him a pretty penny, as must have the tiger he has for a pet. Perhaps it would be a good idea for Mike Tyson to make like George Foreman and brand an ultra-conveniant appliance with his name, thus regaining fame, fortune, and relevance.
13. Pamela Anderson – $5 million
You'd think that with all the posing for Playboy, appearing at Comedy Central roasts, running in a swimsuit in Baywatch, and Dancing With The Stars, Pamela Anderson would be worth many millions of dollars, wouldn't you? Well if you would, you'd be wrong too. Good ole Pam is only worth about $5 million. She has been put on the list of California's Top 500 Delinquent Taxpayers several times, not such a great financial position to be in. Although right before he died, Sam Simon gave her a ring worth almost $800,000, essentially increasing her fortune by 1/6. How thoughtful!
12. Kanye West – TBD
Kanye West's recognized net worth is $145 million. Kinda seems like he's rolling in the money. Well that's up until now. Just recently, Kanye West declared himself to be $53 million dollars in debt. Even though that represents only a third of his total fortune, who knows what's causing this spiraling cycle of owing money. He's apparently in such dire straits that he plead Mark Zuckerberg, ON HIS BIRTHDAY, to help him out because he's his "favourite artist" (Kanye is Zuckerberg's) according to his own personal, deluded conjecture. Although this is very likely a stunt, it's always fun not to take things with a grain of salt. Either way, we're relatively sure he'll recoup.
11. Allen Iverson – $1 million
Allen Iverson is another athlete whose large living caught up with him. Are you ready for the staggering amount of money he received during his 15 season career? $154 MILLION. That is so much money! How did he lose this much money? In retirement, he kept living like he was the hottest athlete in professional sports. Sources report that he spent $10,000 a month for clothes, household items, and entertainment (for a total of $30,000/ month). That isn't even counting all the money he owed on various mortgages, etc. In 2030, a $30 million trust fund will open to him, so things aren't that bad. But for the next fourteen years, Iverson will have to live sparingly, not like the king he's used to being.
10. Nikki Blonsky – Hairdresser Salary
Do you guys remember the 2007 adaptation of Hairspray with John Travolta? He played Edna Turnblad, the mother to main character Tracy Turnblad, played charmingly by Nikki Blonsky, the 4'9″ chubby actress almost as wide as she is tall. With her powerful singing voice and ebullient personality, Blonsky seemed poised to break into supporting character roles across Hollywood. She was quickly cast in an ABC show about fat camp called Huge, but that was cancelled almost as quickly. After that, her career basically vanished. She has since had to get a job in a hair salon (ironic, we know), trying to make ends meet but still auditioning here and there for dancing and singing roles.
9. 50 Cent – Penniless
"Get Rich or Die Tryin'" was apparently a complete hoax (unless you're like Donald Trump, and going bankrupt is just a step along to path to multiple billions) — last year, Curtis Jackson III, also known as 50 Cent, filed for bankruptcy. But get why! Cent had some beef with fellow rapper Rick Ross. So Fiddy got his hands on a video of Lavonia Leviston having intercourse with her boyfriend. He then commented on the video and posted it online, to embarrass her. How does this relate to Rick Ross? For one, she's the mother of his child. This was obviously illegal, and 50 Cent was fined some $6 million in the invasion of privacy lawsuit. Although his personal wealth is valued at $10 and $50 million, his debts are valued at the same range. In other words: the P.I.M.P is penniless.
8. Dennis Rodman – $-1 million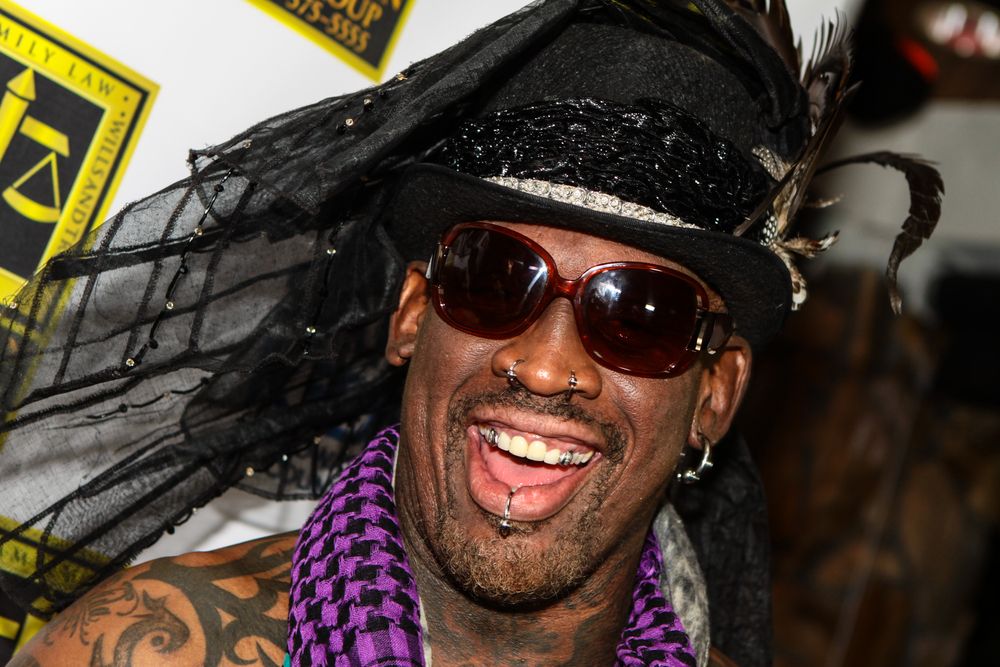 Aside from a very brief stint as Madonna's boyfriend, Dennis Rodman is known for being a professional NBA player (at 54, he's long retired). He was quite successful at it, earning $29 million in contract salary alone, notwithstanding the extra money he made from endorsements and sponsorships. So when, in 2012, he went to court to face charges that he owed his ex-wife $800,000 in child support, it should've been a breeze to pay it off, right? Wrong. His lawyers claimed that the former ball player was completely broke due to living lavish and couldn't afford a dime of the payments he had to make. So much for girls dating NBA players for their money!
7. Chris Tucker – $-11.5 million
Chris Tucker has been in some of the biggest movies you can think of: Rush Hour, Silver Linings Playbook, Friday(lol). And, for that reason, he was once the highest paid actor in Hollywood. He famously held out on returning to Rush Hour 3 until the producers agreed to give him $25 million for his performance. So what happened to all his money? Well, for one, in 2014, he was hit with a $14,500,000 bill for backtaxes from the IRS. You might be thinking: "Do another Rush Hour movie! Pay it all off!" Go check his imdb page, if so. There's a Rush Hour movie in the works. If you're thinking that that's redundant, there's also a second My Big Fat Greek Wedding coming out this year.
6. Nicolas Cage – $18 million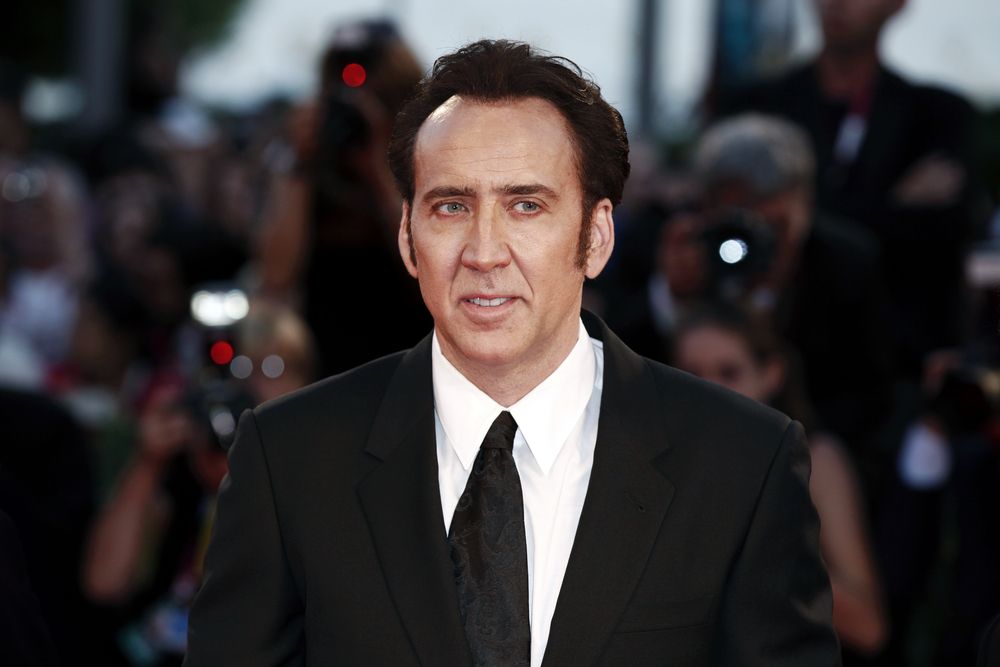 $18 million might seem like a lot of dough to the average onlooker. "What I would give to have a fraction of that wealth in my bank account", he or she might think. But when you contextualize this within the rest of Nicolas Cage's career, it stops seeming like as much. Believe it or not, this meme-ified, long-toothed oddball used to be one of Hollywood's hottest commodities. Between 1996 and 2011, he earned $150 million just for acting alone. But living lavish caught up with him (sources say that he bought a fossilized dinosaur head just 'cause). He also owned an island. Trouble with the IRS forced him to sell off a lot of what he owned, ensuring his net worth dropped like a stone.
5. Jon Gosselin – $100,000
Jon Gosselin quit his job at an IT company to become a full time reality star. He made $22,500/ episode during the show's run of 108 episodes. That's quite a bit of money, coming out to more or less $2.5 million. The show ended, as did his married to Kate Gosselin, and his finances began to slip. He ended up with a total net worth of $100,000, which is decent, but not close to what merely existing in front of cameras used to make him. He now works as a disc jockey in Pennsylvania, apprenticing under DJ Koolie and literally not going broke (as opposed to actually making money). Eh, he always kind of seemed like a scumbag. Maybe this is for the best.
4. Kate Gosselin – $200,000
Kate Gosselin is obviously in a better financial situation than her ex-husband, whose career has positively tanked since the cancellation of her show. She's done okay: she appeared on Dancing with the Stars and Celebrity Apprentice, as well as the New York Times bestseller list for a couple of her books. But she's still not making that much money anymore; not exorbitantly more than your average person would make. Her net worth was set to skyrocket as she dated millionaire Jeff Prescott, probably angling towards marriage. But last September he dumped her for a woman many years her junior (and presumably one that did not have a literal gaggle of children), so she'll languish in mediocrity for the next little while.
3. Gary Busey – $500,000
Gary Busey used to be a believable star. He played Buddy Holly, the first rock star, in the 1978 bio-pic The Buddy Holly Story. With all the tons of appearances he's made since then, there's no way he didn't have money saved up. It seems like he was the hardest working man in show business, not even turning down roles where he played himself, essentially to make fun of himself. Unfortunately, all the work didn't pay off. Recent estimates say that Busey had a personal worth of around $50,000, but with debts to the IRS, the UCLA Medical Facility, and Wells Fargo going up to $1 million. Why is all his money gone? According to his manager, it's because of "past unfortunate choices, associations, events and circumstances that visited themselves upon this great American icon."
2. Tony Danza – School Teacher
Tony Danza starred in the 80s sitcom Who's The Boss? that aired for eight full seasons. Even if he wasn't making a gigantic amount of money per episode, he was probably making enough to live kind of lavish. But recently, Tony Danza decided that he was going to become a teacher. Oddly enough, his net worth is listed as $40 million, perhaps alluding to his love of teaching above his actual need for money — he's 64. If he could keep his expenses down to $2 million/ year, he could live the rest of his life without working another day.
1. Teresa Giudice – Bankrupt
Teresa Giudice, of Real Housewives of New Jersey fame, and her husband have been battling foreclosure on their redone mansion for years. But it looks as though the bank is about to finally collapse on them. They simply cannot afford their lifestyle anymore. They tried to sell it for a couple of million dollars, but there were no takers. Perhaps they simply couldn't divert much energy into the process, because they were federally indicted and imprisoned during their bankruptcy proceedings. Uh-oh. Although Giudice will be released from prison to the address of the contested house during the filming of the new seasons of Housewives, she'll have a lot less money than ever before.
14 Shocking Celebrity Net Worths – The Poor Edition
Sources: time.com, perezhilton.com