THE 16 MOST UNDERRATED ACTION MOVIES YOU CAN WATCH RIGHT NOW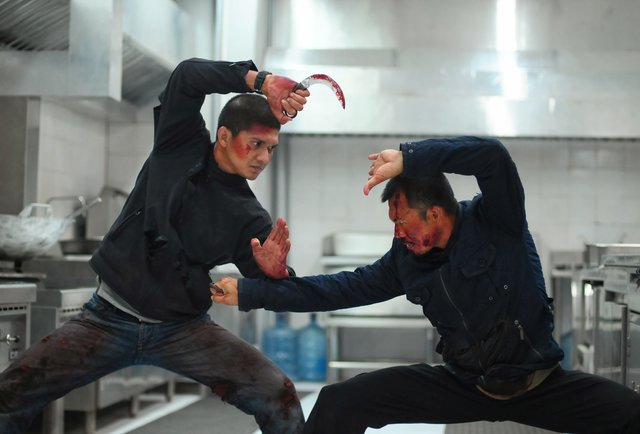 What makes a great action movie? Is it a fresh, compelling story? Unrelenting pace? Eye-popping stunt choreography? Gritty fisticuffs? Self-aware winks? The answer no doubt involves a unique, incalculable combination — the kind that leaves you with something like a Die Hard or a Raiders of the Lost Ark. Those are the kinds of classics that net big audiences, stand the test of time, and set the bar high for big-budget, contemporary competition.
Of course, there are scads of projects released every year that don't seek to steal the same action-movie crown. There are those lesser-known love letters to the genre that — whether because of budget, distribution, or an imperfect formula — don't seem to land the same type of success, but still deserve attention for their quality, heart, and original flair.
What does an underrated action movie look like? We've provided more than a dozen recently released gems, which check several of the boxes outlined above. The best part? You can watch them all right now via streaming sites and online retailers.
The Raid 2: Berandal (2014)
The Raid: Redemption was wall-to-wall fighting, the cop-hero Rama (Indonesian martial artist Iko Uwais) punching his way up a skyscraper until reaching the villain's penthouse lair. For The Raid 2 director Gareth Evans doubles the action with 150 minutes of the nuttiest sequences ever committed to screen, from bone-breaking car chases to brutal wire-fu, and razor-sharp knife fights. A movie that will satisfy hardcore action enthusiasts and lose the weak to blood-splattered delirium.
Stream it on: iTunes, Amazon, Google Play
Ninja 2: Shadow of a Tear (2013)
Scott Adkins is a name you need to know. A trained martial artist and regular Jean-Claude Van Damme adversary, Adkins is the kind of charismatic fighter who would be huge if it were 1991, but delivers the goods in VOD genre movies and small blockbuster roles (see: The Bourne Ultimatum). Ninja 2 is his current masterpiece, a revenge movie where every scene is an excuse to fight. Fists, swords, barbed-wire flails — you name it,Ninja 2 has it. And unlike JCVD, Adkins makes the down moments not just bearable but believable. He's a talent who can act with punches and words.
Stream it on: Netflix
Tokyo Tribe (2015)
This crazed action movie stages the rap battle to end all rap battles. If Anchorman's anchor melee took place in a futuristic Japanese metropolis, doubled down on the weapons and kung-fu moves, and relied on shit-talking, percussive rhymes to do the talking, it would look a little like Sion Sono's gluttonous epic. Tokyo Tribe is all about the obscene, commenting on class issues and penis length all in one breath. The action is dazzling and the left turns, constant and outrageous, wring your brain for every ounce of logical juice. One does not watch Tokyo Tribe so much as submit to it.
Stream it on: Netflix
Why Don't You Play in Hell? (2013)
Follow Tokyo Tribe with Sono's other recent action vehicle, an adrenaline-pumping yakuza movie about the dream of making an adrenaline-pumping yakuza movie. Instead of raising the millions it takes to make a blockbuster, the "Fuck Bombers" AV club burrows its way into a gang war and starts rolling film. And if a scene needs machine gun fire? They'll pick one up and start shooting. Sono's coming-of-age story is insane, perverse, and an absolute must for fans of Quentin Tarantino and action movie history.
Stream it on: iTunes, Amazon, Google Play
Everly (2015)
Imagine a blistering one-room David Mamet play, then add about 300 rounds of ammunition, and you can start imagining Everly, Salma Hayek's shoot-'em-up thriller. Hayek stars as a prostitute warding off the gun-toting forces of her crimelord boss, who just learned that his Everly is bringing down his empire from the inside. As each layer of the story peels away, another wave of killers plows through Everly's door. Who knew? Hayek can blast them away like the best of brute action stars.
Stream it on: Netflix
Ip Man 3 (2016)
There aren't many biopics that also pass for decent action movies. Somehow, Hong Kong action star Donnie Yen and director Wilson Yip have made three separate movies based on the life of Chinese martial arts master Yip Kai-man, who famously trained Bruce Lee. What's their trick to keeping this series fresh? Play fast and loose with the facts, up the melodrama with each film, and, when in doubt, cast Mike Tyson as an evil property developer. The third movie in the series isn't necessarily the best — that's probably still the first film — but the fights are incredible, and Yen's portrayal of the aging master still has the power to draw a few tears from even the most grizzled tough guy.
Stream it on: iTunes, Amazon, Google Play
The Guest (2014)
After writer-director Adam Wingard notched a semi-sleeper horror hit with 2011's You're Next, he'd earned a certain degree of goodwill among genre faithful and, apparently, with studio brass. How else to explain distribution for his atypical thriller The Guest through Time Warner subsidiary Picturehouse? Headlined by soon-to-be megastar Dan Stevens and kindred flick It Follows' lead scream queen Maika Monroe, The Guest introduces itself as a subtextual impostor drama, abruptly spins through a blender of '80s teen tropes, and ultimately reveals its true identity as an expertly self-conscious straight-to-video shoot 'em up, before finally circling back on itself with a well-earned wink. To say any more about the hell that Stevens' "David" unleashes on a small New Mexico town would not only spoil the fun, but possibly get you killed.
Stream it on: Netflix
Kung Fu Killer (2014)
There's a stoicism to Donnie Yen that makes him an ideal action movie anchor, grounding the ridiculous set-pieces around him with a sense of seriousness and gravitas. That Buster Keaton quality serves him well in Kung Fu Killer, a twist-filled thriller about a master martial artist released from prison to track down a serial killer (Wang Baoqiang) targeting other retired fighters known for being the best at a particular skill (kicks, throws, weapons, etc.). The plot is mostly an excuse to stage clever, bloody throw-downs like a duel in the giant skeleton of an animal, a sword-fight on a filmset, and, in theFrogger-inspired finale, a cartoon-like staff-battle on a highway. Luckily, Yen's understated turn keeps the movie from spiraling into self-parody.
Stream it on: Netflix
Skin Trade (2015)
Skin Trade is a throwback in the best — and occasionally the worst — sense of the word. This Dolph Lundgren passion-project about human trafficking will undoubtedly remind action-junkies of Steven Seagal's 1994 explosion fest On Deadly Ground, which gave considerable screen-time to the pony-tailed action star's growing concern for the environment. There's an earnestness to these movies that you either go with or you don't. Sure, the cognitive dissonance of watching Lundgren and Ong-Bak star Tony Jaa beat the shit out of bad guys while attempting to shed light on a serious issue can be distracting, but it's also inspiring to watch the movie reach for legitimacy outside the direct-to-DVD bin.
Stream it on: Netflix
Turbo Kid (2015)
Feed your inner childhood with this sci-fi thriller, a delightful homage to the '80s that plays like a campy mash-up of Mega Man and Mad Max on BMX bikes. François Simard, Anouk Whissell, and Yoann-Karl Whissell's 93-minute post-apocalyptic romp follows an orphaned comic book fan (Munro Chambers) who, equipped with a Power Glove-style gauntlet, fights to overcome his tragic past, as well as a water-obsessed tyrant (Michael Ironside). You'll have heard every line of dialogue in here — but in the best way. And despite all the blood-drenched disembowelments and on-the-nose tropes, by film's end you'll likely find yourself genuinely touched by its surprising romantic subplot. This is the action-adventure movie your parents would have banned, had it been released much earlier in VHS form.
Stream it on: Netflix
Assassination (2015)
If some films on this list feel like action junk food, this South Korean treasure is your gourmet helping of pan-roasted Brussels sprouts with crisp prosciutto: at its higher-brow heart is an espionage-style spin on Japan's war-era occupation of Korea. But Choi Dong-hoon's period piece also comes topped with political intrigue, an intricate frame story, a twisting assassination plot, no dearth of double crosses, and, of course, flashes of good ol' fashioned shoot-outs. All that yields a complex-yet-satisfying yarn about deceit and comeuppance in 1930s Seoul and Shanghai.
Stream it on: Netflix
Wyrmwood: Road of the Dead (2014)
Wyrmwood might be what you get if you mashed bits of House of 1000 Corpses and The Walking Dead with the latest Mad Max. Sure, you've heard the premise before: there's something in the air that's making people turn. But Kiah Roache-Turner's low-budget Aussie gem also offers viewers a dance-happy mad scientist, psychic zombie whispering, shoot-'em-up action, and apocalyptic road fury. The 98-minute flick wastes no time getting started, and it fills its downtime with self-aware laughs because everybody here knows the end is near. First-aid kit? More like beer kit.
Stream it on: Netflix
Jarhead 2: Field of Fire (2014)
Yes, they really made a direct-to-video sequel to Jake Gyllenhaal's wartime malaise movie. And yes, it's solid. While rah-rah patriotic-man-on-a-mission movies are making a comeback, Jarhead 2 is the rare gem that's reverent toward our armed forces, action-packed, and devoid of any jingoistic dog-whistling. The movie follows a mixed band of Marines and Afghan National Army soldiers tasked with freeing a female Afghan activist from Taliban control. Cheap, Jean-Claude Van Damme-style action drivel this is not.
Stream it on: Netflix
Kung Fury (2015)
David Sandberg's Kickstarter-funded short plays like the surreal dream you would have after a weekend of too many '80s action movies and Street Fighter tournaments. It comes with laser raptors, arcade-style fisticuffs, the worst criminal of all time (aka Kung Führer, as played by The Lonely Island's Jorma Taccone), someone named Hackerman, Thor, a phone commercial, and time travel — at every turn, whether it's a plot twist or a tongue-in-cheek quip, there's something absurd. The bad news: it only cracks the 30-minute mark. The good news: there's more on the way.
Stream it on: YouTube (above), Netflix
Dead Snow: Red vs. Dead (2014)
Thanks to a zombie-arm transplant, Tommy Wirkola's Dead Snow sequel promotes the first movie's sole survivor (Vegar Hoel) to commander of his own underworld army of Russians. The red team joins up with a three-piece American Zombie Squad — led by Martin Starr — to prevent the returning threat of Herzog and his soulless Nazis from wreaking havoc on a small Norwegian town. "I've seen a thousand zombie movies and this isn't in any of them," Starr says in one moment of meta admiration. And it's true: thisDead Snow is almost like Sid Meier let someone stuff a Civilization game with zombies. It's the kind of combat-stuffed, gore-tastic movie in which intestines and other body parts become weapons; it's also the kind of tongue-in-cheek, Sam Raimi-esque love letter that wears its influences on its sleeves and won't disappoint those with strong stomachs and a sense of humor.
Stream it on: Netflix
No Tears for the Dead (2014)
Lee Jeong-beom's follow-up to The Man From Nowhere boasts beautiful cityscape cinematography and tightly edited firefights, with Jang Dong-gun starring as a South Korean-born, Stateside-raised hitman. After accidentally executing an innocent little girl, however, Dong-gun's coldblooded character decides to atone for his ways by protecting his next target: that same girl's mother. Compared to Assassination, it's a much more straightforward story, a choice that allows for the marathon string of adrenaline-pumping, blood-spattered sequences that result when one disobeys a hit boss. Although the characters here love their inaccurate guns, the close-quarters combat and glimmers of blade acrobatics shine as the true highlights.
Stream it on: Netflix
And Now... A Few Links From Our Sponsors