If all you know about lingerie is that you love it, then boy, have we got a surprise for you. Twenty surprises, actually, because we have a list of the 20 sexiest things you didn't know about lingerie. From how bras and panties originated to the people we have to thank for their conception, these are some little-known facts that shed some more light on lingerie. Have you ever wondered what Victoria's Secret really is? What about the evolution of shapewear, from girdles and corsets to push-up bras? And how did they even come up with a way to support breasts while still pushing them up anyway?
Well, calm down because we have all the answers here. Enjoy reading about your favorite lingerie and undergarments and why women just seem to love buying a new pair of panties every other day. Learn what the ancient Greeks and Romans were wearing, and how the sports bra came into existence. This is one heck of a list, and we hope you find some interesting tidbits. Of course, it may not be suitable dinner conversation, but maybe the next time you are in the bedroom you will have a greater respect for the bra.
20. The Greeks Started it
The ancient Greeks are the first known civilization to stress the importance of supporting women's breasts. The ancient Greeks wore bras called the apodesme. For some reason, after the ancient Greeks were obliterated from society, so was their form of women's undergarments. While the Romans held on to supporting women's breasts, after their civilization crumbled, the importance of the bra didn't emerge again until the 1300s. Go figure! Even so, we can go back 3,000 years and see wall paintings that depict ancient Greek women in bra-type garments. They supported the chest while hoisting the breasts upward. In fact, in the Mycenaean civilization, people admired breasts and they were considered somewhat sacred.
19. The "Monoboob" was a Thing
Women may now absolutely dread the idea of having a monoboob (also known as a "uniboob") but back in the early 20th century, females actually wanted one. The monoboob is essentially a look where the female appears to have one very large breast, as opposed to two smaller ones. It is actually easier for busty women to have a monoboob, because each breast is so large that it kind of squishes against the other. And while that may be some people's cup of tea, most women are desperately trying to avoid that scenario. The good news is that females now have so many options when it comes to bras and shapewear.
18. Victoria's Secret is That She's a Man
Okay, a man and a woman. Yet we find it very interesting that one of the most famous and successful lingerie retailers in the world was started with some input from a dude. Roy Raymond and his wife Gaye started Victoria's Secret in 1977 in California, USA. You see, Roy greatly disliked shopping for lingerie in the department stores, so Victoria's Secret was planted as a seed in Roy's head. He spent eight years doing his underwear research and came to the conclusion that both men and women needed a more laid-back and comfortable place to shop for lingerie. With $40,000, he and Gaye started the first Victoria's Secret and well, the rest is history, as they say!
17. The Sports Bra's Origins
Ah, women just love the sports bra. There is nothing worse than trying to do your morning run or tackle those push-ups with your boobs just bouncing all around. Not to mention it can be a huge distraction for other people who are exercising with you! Just ask Lisa Lindahl, who conceived of the idea of the sports bra back in 1977. Her sister was out doing her run one day when she complained about how her breasts wanted to go for a run, too. With the help of a costume designer, Lisa got to work on designing a bra that would keep those bad boys in place while the rest of the body got some exercise. THANK YOU.
16. Women in the U.K. are the Bustiest
Yet another reason to love those Scottish girls. Loads more men are going to be flocking to Scotland now! The lasses over there are averaging 34DD cup sizes. In England, the median cup size is 34C (which is still pretty decent.) As for the Irish? They've got 34C as well, and over in Wales, women are wearing a smaller but sweet 34B. While we are not quite sure why those in the Northern United Kingdom have bigger breasts, we don't think anyone is really complaining about it. If we want to get even more specific, the bustiest ladies can be found in Leeds, Liverpool, Aberdeen, and Glasgow.
15. Small, but Sweet
Women is Japan may have the smallest breast size, but that does not mean they aren't pretty to look at. Just ask the men. We all know that the Japanese are typically more petite, so it would be awfully strange for them to have large breasts, wouldn't it? That being said, small doesn't have to mean boring, and there are still plenty of lingerie options for women who are less endowed. Anyone these days can show off their assets, and with the onslaught of push-ups bras and other modern undergarments, creating the illusion of larger breasts is really not all that difficult.
14. Madonna's "Bullet Bra" was Made by Gaultier
Remember when Madonna first rocked her glamorous "bullet bra?" She was already a fashion and music icon, but that undergarment worked wonders. The date was June 25, 1990, and a tight and toned (and much younger) Madonna rocked the stage for her Blonde Ambition Tour. The bullet bra was designed by Jean-Paul Gaultier and solidified her place in music and fashion history. In 2012, the bullet bra sold at auction for a whopping $52,000! Many fashion insiders have stated that Madonna's bold look helped women feel more comfortable with the bodies and femininity. It gave more power to the female figure and the bullet bra has even gotten some modern upgrades!
13. Bras Helped Iconize the "Sweater Girl"
Here's an oldie but a goodie: Lana Turner, anyone? She was one of the first "sweater girls," who came to fame in the 1940s and 1950s. They too usually wore cone-shaped bras under tight sweaters to emphasize their chests. This was the beginning of what we came to know as "pin-up girls" and they were the dream of many a male human. The Sweater Girls started in Hollywood and soon became popular with mainstream culture, much to the chagrin of more prim and proper folks. Gosh, what would they think now? The Sweater Girls would be pretty tame in the present moment; don't you think?
12. Maidenform was an Alternative to Corsets
These days, the Maidenform brand has pretty much everything a woman could need as far as underwear and lingerie is concerned. There are comfort panties, no-wire bras, and cool designs like racerbacks. Yet this company has been going strong for nearly a century. Maidenform launched back in 1922 and was a response against the new idealized female figure that was flaunted by the flappers: the flat-chested boyish look. Maidenform wanted women to be proud of their feminine bodies and their products emphasized the roundness, curves, and contours of the female body. These days, the company is the top brand for shapewear among women in the United States.
11. The Average U.S. Woman Wears a Size…
36C. Sure, not as busty as those Scottish gals, but still a very nice cup size indeed. In the past 15 years, American women have increased in cup size from 34B up to 36C. That's pretty significant! Researchers are not sure how much of that jump is due to breast procedures and cosmetic surgery, but there are probably a few factors involved. Another consideration is that Americans have been getting heavier as the decades pass, and that may also explain the shift to C-cup range. As people gain weight, their breasts tend to get larger, too. That would explain why Japanese women are typically smaller in the bra department.
10. Panties for 3 Weeks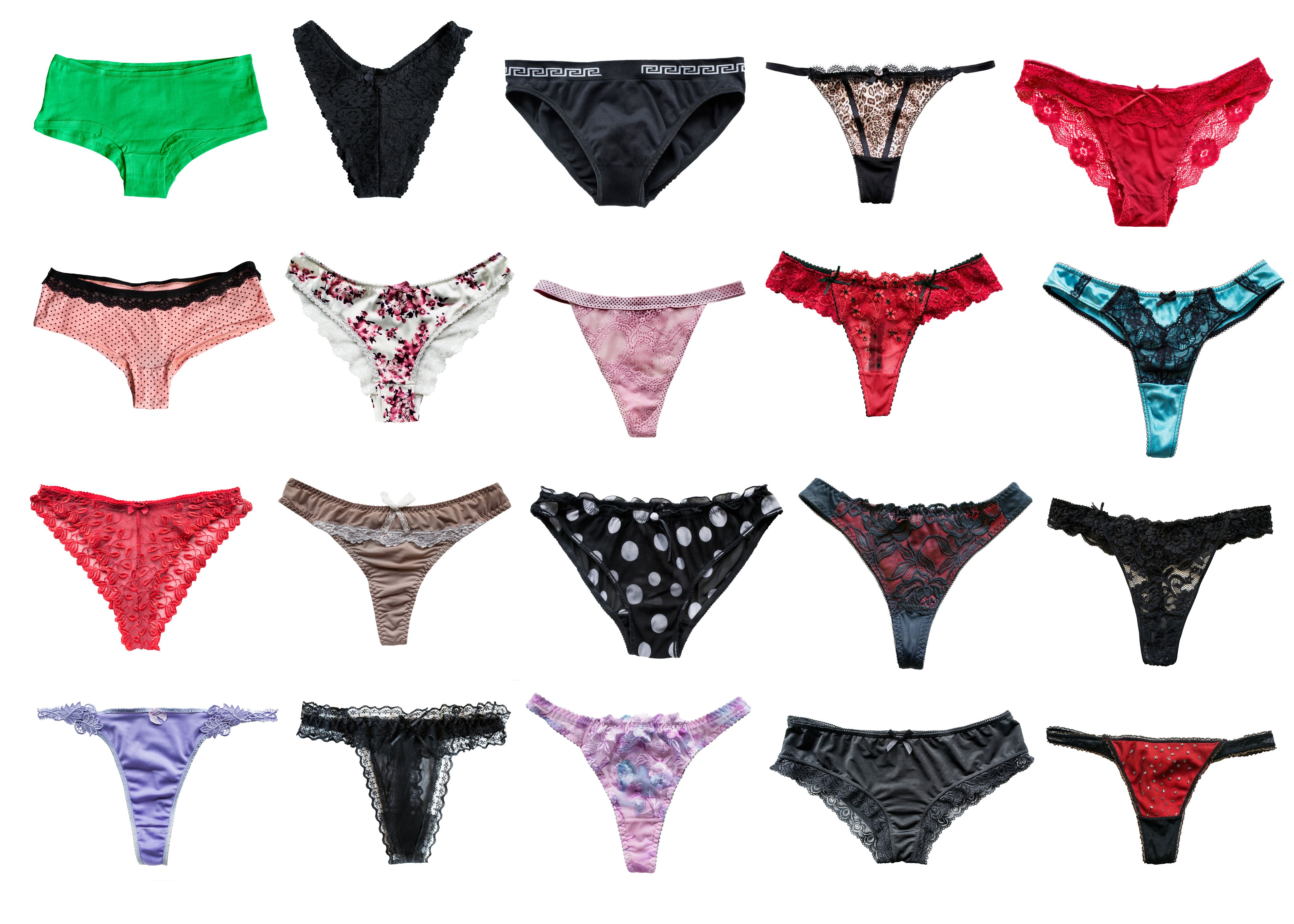 That is how many pairs of underwear the average woman has in the United States. 21 pairs seem like a good amount to us. Plus, ask any woman and she will tell you that wearing a new pair of panties just feels so good. There is no feeling like it! When you consider how many styles are available to women nowadays, can you blame them for wanting to accumulate a nice-sized collection? We have thong, bikini, brief, boyshorts, and shapewear galore! New colors, patterns, and materials are keeping things interesting for everyone.
9. Corsets Were Made of Whalebone
The corset; women seem to have a love/hate relationship with this undergarment. It can be totally sexy and help to hold everything in, but there is also the chance that a woman may run out of air and just collapse (have you seen Pirates of the Caribbean?) Anyway, corsets typically include some boning or ribbing and hopefully very flexible material for the bulk of the garment. In the 1900s, corsets were actually constructed of whalebone, which hurt the whale population. Nowadays, designers prefer to use plastic. It is lightweight, affordable, and offers some give. Modern designs may or may not include lacing and other details.
8. Dita von Teese is the Corset Queen
Dita von Teese may be one of the most famous modern-day pin-up and burlesque girls. She is known for her luscious dark hair, sultry eyes, and whittled-down waist. It was actually all of her corsets that shrunk her waistline down; at one point she could get it down to a staggering 16 inches! We're not sure how safe that is, but we do know that Dita von Teese is a superb burlesque performer. She performs for audiences around the world and is often a guest for such elite socialites as Marc Jacobs, Christian Louboutin, and Chopard. She also has an online store where you can purchase clothing, beauty products, fragrances, and of course, lingerie.
7. Cup Sizes Were Invented in the 1930s
Typically there are 4 bra cup sizes: A, B, C, and D. Now, we could always go a bit further: DD and so on. Heck, some women even go up to a G size. And then there are smaller women who may be a AA. Either way, the very first cup sizes were introduced by Warner's in 1935. Today, many brands and countries still use the A, B, C, and D cup sizes, but with numbers as well. This is called Imperial sizing: 32A, 34B, 36C, etc. Traditionally, women calculated their cup size by measuring under the breasts and adding 4 inches, which would give her the band size. Measuring across the breasts themselves would give them the cup size.
6. Britney Designs Bras
Really! You can buy from the Intimate Britney Spears collection, so if you thought that her career was backsliding, think again! She sings, she dances, and she now has her own lingerie and swimsuit line. We must applaud Brit; she really pulled herself back together and she looks great! Very svelte and sexy, and her new intimates collection shows off all her assets. They are now available to women who are looking to infuse some high-end fashion into their lives without the hefty price tag. There are a variety of styles, colors, and patterns, whether you are looking for a sexy black bra or a flirtatious petal-covered bikini.
5. Italians Love Red Undies
Wearing red underwear on New Year's Eve is said to bring good luck. Every country and culture has their traditions and superstitions, and this is a fun one! Women don their red bras, panties, or maybe even some sexy lingerie and ring in the New Year right. We actually would rather have this New Year's tradition rather than stuffing our mouths with grapes or clutching dollar bills in our hands at the stroke of midnight. Italians are full of passion, so this superstition seems to suit them just fine. Another thing the Italians do on New Year's Eve is to toss their old things out of the window! Watch out for flying panties.
4. G-String = More Sexually Creative
Do you or does your partner prefer to wear a g-string? That may mean that more sexual creativity is sparking. After all, you can't really shy away when you're wearing this type of lingerie, so you can expect quite a time in the bedroom. The women who opt for the g-string are typically more extroverted, unafraid to speak their mind, and present themselves very well and with confidence. We agree; it does take a lot of gusto to bare almost everything in such a skimpy undergarment! Now we wonder if the color of your g-string symbolizes anything. Hm, anyone willing to take a color personality test?
3. Thongs Were a Response to Exotic Dancers
The creator (a man) thought exotic dancers were wearing too much skin. So…a thong was supposed to fix hat problem? Um. This was back in 1939, when a guy named Fiorello LaGuardia, who happened to be the mayor of New York City, deemed exotic dancers to be too showy. They needed to cover up those nude bottoms with thongs. Then in 1974, designer Rudi Gernreich brought the thong back into style with a new iteration. Nowadays, the thong is kind of blasé, but we're sure there are people out there who are totally unopposed to it. So expect it to be sticking around.
2. Bras are Science-y
When you think about it, the female chest can be a nice science lesson in the laws of physics. After all, women want to keep those babies up, but what goes up must come down, according to Newton's second law of motion. The breast consists of 15-20 lobes, no muscle, and a certain portion of fat, depending on the woman. In order to support breasts in the best way possible, experts have had to study how breasts move. They then need to construct an undergarment that will support that motion without allowing the breasts to just go wild and out of control. What a great excuse to do a science experiment, eh?
1. Girdles Were All the Rage From the 1920s to 1960s
Girdles may make you think of your grandma, but nowadays they can be quite sexy. Girdles have come a long way since their beginnings in ancient times! We have found evidence of girdles dating back to the 8th or 9thcentury, and the ancient Greeks and Romans used undergarments similar to the modern girdle. During the 1920s, girdles became the go-to undergarment for women. It helped them stay feminine yet modest, and the look spanned all the way until the 1960s. At this point, females started to transition to less-confining pantyhose. Today, women can still opt for girdles, but there are so many other options, too: corsets, shapewear, Spanx.
20 Interesting Things You Didn't Know About Lingerie