21 Celebrity Encounters That Are So Boring They're Fascinating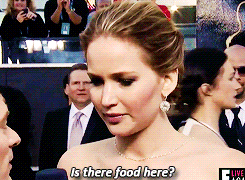 Celebrities are just like us. Which means, at their core, they are also deeply boring. Of course, we all have fascinating tidbits about ourselves, special interests, and wild stories. But at our core, most human beings really just want to eat some good food, have loads of enjoyable sex, and feel a general sense of being loved. All the rest is mostly pageantry.
No amount of media literacy can truly hamper the fact that, from time to time, it's easy to compare ourselves to celebrities. When someone's (perceived) glamour and career advancements are plastered in the papers, it's only natural to at one point think "dang, maybe I shouldn't have squandered my teen years burning pens and making mix CDs of Wheatus covers?!"
So, in order to remind us all that celebrities are in fact just like us aka boring, I have scoured the depths of author John Moe's Twitter thread full of mundane run-ins.
Honestly? The every day nature of these interactions is so anti-climatic they feel more fascinating. These are little baby Chekhov stories brought to us by the beauties on Twitter, and hey, if you have your own encounter – it's not too late to jump in.
One time Mika Kunis tried to play with a dog I was walking when we were in line at a cafe, and I (not recognizing her at firs) said, "I'm actually trying to get her to calm down." She was very apologetic.

— ???? ?????? ? (@gregkarber) April 28, 2018
mostly empty bar at a concert venue. David Byrne suddenly appeared next to me. Bartender came over to take David's order. David turned to me. "Did you order?" "Yeah. I ordered from the other guy," I said. "Ok," said David Byrne. https://t.co/vvGW0PeLQ5

— audible gasp (@morninggloria) April 28, 2018
I once asked a random guy for directions. He turned around. It was Will Ferrell. He gave me directions. They were correct. https://t.co/hG3Zppd7cH

— Kumail Nanjiani (@kumailn) April 29, 2018
I denied Willem Defoe entrance to a bar on New Years Eve since we were closed for a private party. He politely understood.

— skilleahy (@skilleahy) April 29, 2018
Michael Caine browsing for laptops in a branch of PC World off Tottenham Court Road. https://t.co/I27D9vRKve

— Nick Pettigrew (@Nick_Pettigrew) April 28, 2018
Ewan McGregor outside LAX with @rob_pearson86 :

Rob: Ewan McGregor is behind you.

Me, turning to face Ewan, 4 feet away: Oh yeah.

Ewan's eyes: DON'T SAY A FUCKING WORD TO ME. https://t.co/4ypyw6KK8A

— David Jackson (@DavidJackson_85) April 29, 2018
At hotel bar in Dublin, old guy at next table is angrily talking into mobile phone and says: "I need a to write that down". Pats pockets – no pen. I lend him mine. He returns it after writing something down, mutters thanks, leaves bar. Van Morrison. https://t.co/VBEd0kt6Ll

— Christian Cassidy (@WestEndCassidy) April 29, 2018
Chris Rock held the door open for me as I was leaving a Vietnamese restaurant with takeout https://t.co/WGj5V2Ho9p

— Zachary Shevich @ Tribeca (@ZShevich) April 28, 2018
Sold Sienna Miller a teapot.

— Steve McMahon (@stevemcmahon13) April 28, 2018
I once said "showtime" to my own mirror does that count https://t.co/gCkmi0EJZX

— josh groban (@joshgroban) April 29, 2018
I used an ATM shortly after Liv Tyler https://t.co/bYDvlaC0EN

— Emily Nussbaum (@emilynussbaum) April 28, 2018
I was in line behind one of the Backstreet Boys at an airport McDonald's and he asked me if 20 was too many nuggets. https://t.co/9t9Vk0P6FG

— Akilah Hughes (@AkilahObviously) April 29, 2018
Mark Wahlberg stops behind me at a newsstand on Columbus Avenue. He burped. https://t.co/dbi2jbY3NS

— Lizzie O'Leary (@lizzieohreally) April 28, 2018
Back when I worked at a grocery store just off Mulholland, sold John Lovitz almost an entire shelf of cat food. https://t.co/O4VdaomGZV

— southpaw (@nycsouthpaw) April 28, 2018
Tom Selleck came into the candy store I worked in to buy a milkshake and I said "you're tall" and he said "your hair's pink" then he left https://t.co/7K7aQkAbqH

— Kate Leth ?✨? (@kateleth) April 29, 2018
When I was working at the Mobil station in Woodstock, NY, Ethan Hawke came in and bought a pack of Juicy Fruit. ".75 cents" i said. He gave me a 5 dollar bill. I gave him four dollars and 25 cents. He said "Thanks." https://t.co/LIgbNPrfI1

— josh ruben (@joshruben) April 29, 2018
I asked Winona Ryder where the bathroom was, and she very kindly said it was "down the hall." https://t.co/1eHsOP9Pgx

— Meaghan (@meaghang) April 29, 2018
Sarah Michelle Gellar asking me how to connect to the WiFi on her iPad at Coffee Commissary https://t.co/Wb7mlsBEqG

— Ira Madison III (@ira) April 29, 2018
I talked to Martin Freeman for about 15 minutes in a queue in the dry cleaners because i recognised him and thought he played hockey with my brother. He chatted the whole time and never once let on who he was. https://t.co/ViLzKSJo5a

— Laura Shepherd-Robinson (@LauraSRobinson) April 29, 2018
I saw Dave Navarro at a vegan restaurant and then saw him a few months later at the same restaurant https://t.co/RAryVZJPdu

— Gabriella Paiella (@GMPaiella) April 29, 2018
I let The Edge reverse out of an office building driveway in Ballsbridge, he waved. https://t.co/MedhWAGRrq

— Gareth (@GarethSoye) April 29, 2018