THE 22 GREATEST N64 GAMES

21. Tony Hawk's Pro Skater (1999)
While there were any number of high-quality, real-world sports titles for the N64, few were as fun as this trick-filled romp. Personalizing your skater, selecting the right gear, and executing stunt after stunt across a handful of urban environments ensured replayability. With four different game modes for both the single and multiplayer skater, there was no shortage of challenges to overcome or airborne feats to accomplish.
19. Mario Party (1998)
One machine, four controllers, and dozens of silly mini-games defined the Mario Partyexperience, which cemented the N64's reputation as the group-friendly console. They really don't make games like these anymore — not even for the Wii generation — but little matches the rush of standing beneath a shower of coins as you gloated (perhaps drunkenly) to your friends.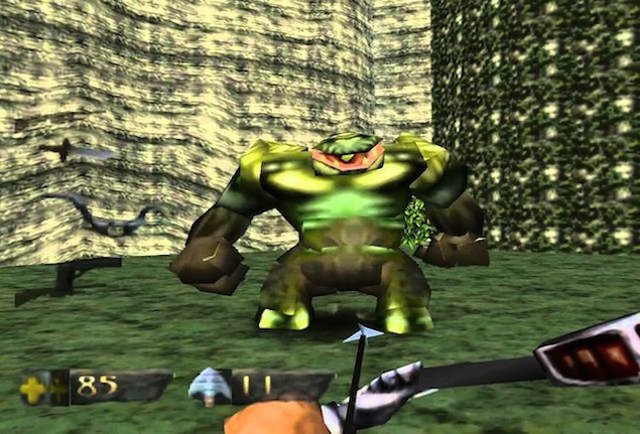 12. WWF No Mercy (2000)
WWF No Mercy was essentially the Punch-Out!! of the N64 generation. With a robust move set, a seamless control system, and a roster of iconic wrestlers, the game gave fight fans a title-taking brawler. But it was the create-a-wrestler system that really defined the game, allowing players to design their own unique fighter from dozens of body types and elaborate costume options. For once, everybody could be their own Vince McMahon.
11. Mario Kart 64 (1996)
Mario Kart 64 is one of those rare titles that transcends age. From little kids in living rooms to college kids in frat houses, almost everybody sat around with three other controllers chucking turtle shells and power-sliding around corners. Mario Kart 64introduced many of the mechanics upon which the modern titles are built, but it's still the One True Kart Racer in the minds of many.
6. Super Smash Bros. (1999)
A modern-day no-brainer, it wasn't until 1999 that Nintendo had the foresight to combine their stable of classic characters into a single, uber-addictive brawler. Unlike Mortal Kombat or Street Fighter, Super Smash Bros. has never been known for its mechanical nuance or delicate balancing. Players have simply been mashing buttons and unevenly matching characters for more than 15 years, all thanks to this OG pile-on of epic personalities.
5. Star Fox 64 (1997)
With the horsepower afforded to the then-next-gen N64, a fully 3D space-combat game was inevitable. More inevitable: a remake of the Nintendo classic, Star Fox. Giving players the freedom to navigate the galaxy in a variety of laser-blasting vessels, Star Foxput a fresh coat of paint on one of the console's most iconic and beloved characters, Fox McCloud.
4. Perfect Dark (2000)
While not as groundbreaking as its predecessor, GoldenEye, Perfect Dark evolved its shoot-em-up mechanics into a visual feast of sci-fi espionage. Following futuristic super-spy Joanna Dark, the title folded in elements of stealth and stylized weaponry to keep the formula interesting. Fans may have clamored for yet another 007 shoot-em-up, but what they got was an alien-ridden urban shooter for the sci-fi set.