5 People Having A Worse Week Than You
5. Jared Kushner, because it doesn't look like he's going to bring peace to the Middle East.
Despite having no security clearance or experience in diplomacy other than soliciting foreign governments for money for his family business, Jared Kushner has been tasked by his father-in-law with making peace in the Middle East.
It is not going well.
Donald Trump has officially moved the U.S. Embassy in Israel from Tel Aviv to Jerusalem, an exciting moment for Evangelical Christians who think that it'll help bring forth the rapture, but a bad one for people hoping for a two state solution. Palestinians have been protesting the move at the Gaza border, and over 40 people have been killed (and 1,600 hurt) by Israeli forces.
While all this was going on, the Kush's voice made a rare public appearance as he spoke about the embassy move as huge for the "journey to peace."
"I believe peace is within reach if we dare to believe that the future can be different from the past" – Jared Kushner, senior advisor to President Trump, calls for unity at opening of US embassy in Jerusalemhttps://t.co/hpatusvTgV pic.twitter.com/XBRCeqkVDb

— BBC News (World) (@BBCWorld) May 14, 2018
This is not what the "journey to peace" looks like, my dude.
Left: #Jerusalem
Right: #Gaza

(Pictures taken at the same time this afternoon) pic.twitter.com/0ySzaGjQC9

— Patrick Galey (@patrickgaley) May 14, 2018
US embassy opening in Jerusalem is a political stunt to fulfill campaign promise for Trump at cost of future reconciliation btwn Israelis/Palestinians, both of whom must have narratives recognized and claims addressed if we are ever to see a peace accord https://t.co/nOolNNC29i pic.twitter.com/CZEXsenuRM

— AmericansforPeaceNow (@PeaceNowUS) May 14, 2018
Helluva contrast: chryon vs. footage. pic.twitter.com/M1VSDE3lrB

— Sahil Kapur (@sahilkapur) May 14, 2018
Perfect screencap pic.twitter.com/zHkigfTCd1

— Will?Menaker (@willmenaker) May 14, 2018
It's almost like he made things worse.
4. Meghan Markle's dad, because he got busted for staging photos and was therefore uninvited to the wedding.

This photo is real. OR IS IT?
It is with a heavy heart I report that all those adorable photos of Meghan Markle's dad so wholesomely studying up on England before his daughter becomes a duchess are fake news.
Thomas Markle Sr. was spotted reading Images of Britain: A Pictorial Journey Through History at a Starbucks in Mexico…
literally nothing is more pure than Meghan Markle's dad doing some reading to learn more about england pic.twitter.com/6lgvHg0pHK

— Dana Schwartz (@DanaSchwartzzz) April 4, 2018
…and reading about his son-in-law-to-be at a local internet café.
Meghan Markle's dad looking up Prince Harry at internet café is just so pure https://t.co/2F3thgvRfp pic.twitter.com/segnOlHM9D

— Luca Tyler (@LUCATYLER_) May 10, 2018
He was even spotted walking with weights (#SheddingForTheWedding) and going to the tailor, making for an adorable "getting ready" montage that would work perfectly with "Walking on Sunshine" in the movie.
LOL @ meghan markle's dad doing staged paparazzi photos!!! im cackling these are so funny. the googling photos in an internet cafe one really got me. ? pic.twitter.com/0UeN3XuX2s

— is this thing on??? (@betsylucileray) May 14, 2018
With some creepy screenshots of CCTV footage, The Daily Mail revealed that the pictures were staged, and Mr. Markle scored around $180,000 for selling them.
Oh man. I am so upset about Meghan Markle's dad. I'm so naive, I'd totally fallen for the how sweet and humble it was that he was going to the Internet cafe to read about his daughter, researching England, trying on suits and leaving a pot plan for Dora. ?? pic.twitter.com/SwuRGxNr6H

— Katie Glass (@katieglassST) May 13, 2018
Meghan's super fame-hungry half-sister Samantha told the press that the photos were here idea, but it wasn't for the money.
"I'm entirely the culprit. I said to him to show the world 'I'm getting in shape and getting healthy' so I suggested it to benefit him and the royal family," Samantha said.
According to TMZ, this debacle is such a big deal that Thomas Sr. is no longer going to the wedding:
Thomas says, he suffered a heart attack 6 days ago but checked himself out of the hospital so he could attend the wedding. He's now decided not to go because he doesn't want to embarrass the Royal Family or his daughter.
Damn. Looks like the British royal has a strict policy against grifting…unlike the American Royal Family.
---
3. Drake, because he's no longer number one.
Drizzy had a rough day last week when, whether he knew it or not, Rihanna proclaimed that the two were no longer friends.
"We don't have a friendship now, but we're not enemies either," she told Vogue. "It is what it is."
Now Drake's blow this week isn't personal, but professional. For the first time since January, October's Very Own isn't at the top of the Billboard Hot 100.
Childish Gambino's powerful, political "This is America" is now the number one song in America, dethroning Drake's dance-y bop "Nice For What."
Billboard Hot 100: #1(new) This Is America, @donaldglover.

— chart data (@chartdata) May 14, 2018
To stay on top, Drake better serve up something that could also inspire between 1000 and 10001 think-pieces.
---
2. The British Who Wants To Be a Millionaire host, because he made that one mistake Who Wants To Be a Millionaire hosts shouldn't.
OH DEER OH DEER!! That moment when you definitely know the answer, except you don't.
??? #Awks
?????#Millionaire @MillionaireUK pic.twitter.com/vRja4sgy1L

— ITV (@ITV) May 11, 2018
In a glorious tribute to male of the species' habit of misplaced confidence, Who Wants To Be A Millionaire UK host Jeremy Clarkson done f**ked up his one job when he insisted that he knew about ibex.
"I'm not even going to look at the screen. That's the correct answer," Clarkson said, when the contestant answered that an ibex is a type of deer.
Welp.
An ibex is a goat—a very majestic goat that can scratch its butthole with its own head.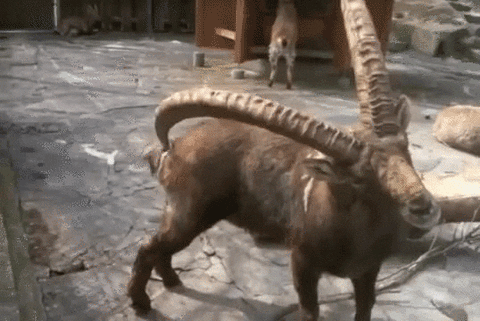 Clarkson was officially inducted into the Backpedaling Hall of Fame when he insisted that he's "seen ibex boinging along and they definitely looked like deer."
The poor guy was promptly eliminated, loosing £15,000.
Sad!
---
1. Megan Fox, because she's being mom-shamed for having sons with long hair.
Women on Instagram decided to celebrate Mother's Day by freaking out about the fact that Megan Fox's sons Noah and Bodhi have long hair even though they're BOYS.
What? How can hair on male follicles even grow that long?!
Many of Fox's followers had her back.
Be gone, trolls. Git.
And Now... A Few Links From Our Sponsors