5 People Who Hilariously Trolled Scammers By Giving Them A Dose Of Their Own Medicine
The only feeling better than completely avoiding the pernicious forces of scammers (circling all of us like vultures), is the deeply satisfying feeling of trapping a scammer at their own game. It takes a certain amount of humor and savvy to effectively scam the scammer, but when done properly (and subsequently shared with Twitter), it is truly a beautiful feat.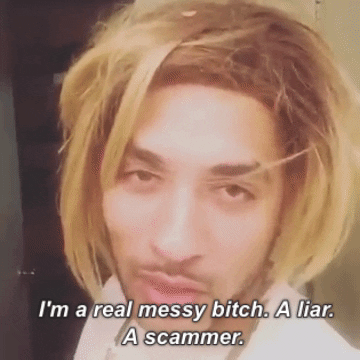 Since it's far too easy to miss out on the truly cathartic clap-backs exchanged between scammers, and the witty prey who turn around to scam back, I have graciously compiled some of my favorite examples of this trend.
So, please, enjoy the show. Maybe you'll even feel inspired to take notes for your next run in with a malevolent scammer.
1. This attorney who schooled a scammer.
It finally happened. I finally got a call from a scammer claiming to be the IRS and I could finally pull all of the tax law and privacy law I know out of my brain. This is a good day. This is MY day, people.

— Art of the Hadeel (@twittysuch) April 3, 2018
She was fully ready to take down this scammer with some cold, hard, facts. Since she's well versed in the ins and outs of both tax and privacy law, calling out the scam was a breeze.
THREAD — SUMMARIZED TRANSCRIPT
-I receive a phone call from someone with a Maryland phone number, they identify themselves as being from the IRS and that I have "defaulted" on my tax payments for 2017.

— Art of the Hadeel (@twittysuch) April 3, 2018
Considering that uh…tax day isn't even here yet and I know the IRS will never call you, I decided to put it on speaker phone and fire up Ye Olde Audacity to entertain myself while I wait for my morning tea to steep.

— Art of the Hadeel (@twittysuch) April 3, 2018
Me: I defaulted on my tax payments? That sounds serious. Why wasn't I ever sent a bill?
Person: You can take care of it over the phone with me. We take most major credit cards and prepaid Visa gift cards
Me: I'm gonna stop you right there. I want to know why I wasn't sent a bill.

— Art of the Hadeel (@twittysuch) April 3, 2018
Person: We send several bills, you ignored them.
Me: Did I? I think I would have remembered getting a bill from the IRS.
Person: You chose to ignore them.
Me: No, I don't think I'd ignore a CP523. It's a pretty distinct looking envelope.

— Art of the Hadeel (@twittysuch) April 3, 2018
Person: No, we sent you a bill and–
Me: It's called a CP523.
Person: What.
Me: The IRS doesn't send "bills". They're not Comcast. They send a CP523. I DID throw away a coupon for one of those Casper mattresses.

— Art of the Hadeel (@twittysuch) April 3, 2018
Person: Ma'am, if you don't take this seriously, we can send the police–
Me: No, you can't.
Person: I WILL SEND THE POLICE.
Me: Ok, send them. I'll be waiting.
Person: -silence-
Me: I hear sirens, is that them? (I live next to a fire station) Is that….the police?

— Art of the Hadeel (@twittysuch) April 3, 2018
(aside: I'm trying my absolute best not to LOSE IT at this point because this is HILARIOUS)

— Art of the Hadeel (@twittysuch) April 3, 2018
Person: -silence-
Me: Do y'all take PayPal?
Person: No.
Me: What about bitcoin?
Person: We can take–
Me: You're committing a federal crime. Did you know that? Did you know you're breaking the law and you're not very good at it?
Person: *hangs up*

–END THREAD–

— Art of the Hadeel (@twittysuch) April 3, 2018
Her flawless call-out deserves an Oscar, or at least a solid nomination.
2. This woman who creeped out a Facebook scammer.
This exchange has a blossoming three-act structure and everything.
3. This woman who gave a phone scammer a taste of their own medicine.
When a scammer came for (former) Twitter user Shaina Gimao, she decided to turn the scam around and offer up some prayers to the Lord. Just, read this beauteous exchange.
Her commitment to the bit really drives the point home.
4. This woman who made a Facebook scammer publicly humiliate himself.
When a woman (whose real name remains anonymous) was messaged by a Facebook scammer named Anil, what followed was a very absurd stream of messages, resulting in him humiliating himself in a public Facebook status.
This whole scene blew up, to say the least.
5. This man who elaborately proposed to a Twitter scammer.
I'm getting married to Clara Julliard Scott, and EVERYONE'S INVITED! https://t.co/mIH4XPr2k3 pic.twitter.com/cion03aWkC

— Vaibhav Vishal (@ofnosurnamefame) January 23, 2017
When Vaibhab Vishal received some DMs from a suspiciously attractive woman (aka a scammer pulled a photo from Google), he decided to see if he could woo his scammer into everlasting marriage.
This one truly came circle, completing the cycle of life.
And Now... A Few Links From Our Sponsors