Woman starts 51,000-acre fire to help "bored" firefighters
Come on baby, "like" my fire…
On July 20, 2013, Sadie Renee Johnson threw a firework into a bush on the side of the road near her home in Warm Springs, Oregon. The fire was found relatively quickly but spiraled out of control, spreading over 51,000 acres and costing $8 million to contain. She was arrested after she posted "like my fire?" on her Facebook page. When she pled guilty to the crime, she said she did it because she was concerned her firefighter friends were bored, but insisted she didn't think it would grow so quickly.
(Source 1 | Source 2)
Man floods town because he wanted to strand his wife
James R. Scott was unhappily married. But instead of getting a divorce, he decided it would be a good idea to flood a bridge so his wife couldn't get home. On July 16, 1993, he removed several sandbags from the levee near West Quincy, Missouri, causing the swelling Mississippi River to flood the area as well as the bridge. (The brige was the only one between Missouri and Illinois for 100 miles.) The event became known the Great Flood of 1993.
Initially Scott was thought to be one of the people trying to avert the disaster. However, suspicions began to mount and he confided to a friend that he had caused the flood to strand his wife so he could have an affair, fish, and party. He was sentenced a year later to life in prison.
(Source 1 | Source 2)
Captain sinks cruise ship as "publicity stunt"
There are reports that the theme from Titanic was playing when it happened
Italians are known for their bravado, but this was just plain stupido. Francesco Schettino, captain of the Italian cruise ship Costa Concorida, was on the bridge with his new girlfriend when he decided to attempt to impress her with a "sail-past salute" which required the ship to tread into extremely shallow waters. Claiming he had done the route a few times before, Schettino turned off the alarms before attempting the maneuver. The huge 4229 passenger boat capsized and 32 people were killed. Schettino was sentenced to 16 years in prison. (Source)
Pyrotechnics Show at Concert kills 100 people
Moments after the fire
The tour manager of metal band Jack Russell's Great White is considered responsible for one of the most devastating nightclub fires in U.S. history. During the opening moments of the band's show at the Station in West Warwick, Rhode Island, Daniel Biechele set off some pyrotechnics. It was something he had done many times before and he claimed he had permission from the club's owners. However, the club's low ceiling was covered in acoustic foam. Fire quickly engulfed the entire club, causing the death of 100 people, including guitarist Ty Longely, and injured 230 more. Biechele who was sentenced to 4 years in prison said at his arraignment he never meant for anyone to be hurt in any way. (Source)
Man causes highway crash to rescue cat
Here kitty kitty
Michael James Schneider was trying to be a good humanitarian – he saw a cat on a Florida Turnpike and pulled over in attempt to rescue it. Unfortunately, this noble deed resulted in a 5-mile traffic traffic jam, critical injuries to Mr. Schneider as he ran to the freeway's center lane, and the death of a 75-year-old woman in another car. The cat was also killed in the incident.
(Source)
Stockbroker trades $520 million in drunken blackout
There are a few things you should not do while drunk: drive a car, text an ex, and now we can add trade oil futures to the list, thanks to the misadventures of Steve Perkins.
"Slippery Steve," as he is known to friends, spent the early morning hours of June 30, 2009 taking $520 million of PVM Oil Futures' money and buying 7 million barrels of oil, resulting in a $10 million loss. The next day when the unauthorized trades were discovered, he confessed to being completely wasted. Slippery Steve was fined £72,000 for his misdeeds, and fired, but don't feel bad. He was hired the day after his fine was levied by another brokerage company who said he was "a good man who did a stupid thing."
(Source 1 | Source 2 | Photo)
Woman trying to "fix" 19th century fresco ruins it
A well-meaning octogenarian living in Borja, Spain took it upon herself to "restore" an image of Jesus Christ. Unknown to the caretakers, a portrait of Christ painted by Elias Garcia in 1930 was restored beyond recognition by Cecilia Giménez, who was an untrained painter. It was initially greeted with shock by the community and when it went viral on the Internet, the woman went into hiding. However, interest in the "re-imagination" of the painting made it a local tourist attraction and some consider the image a pop icon. (Source 1 | Source 2)
Man with pressure cooker, propane tank parks near National Mall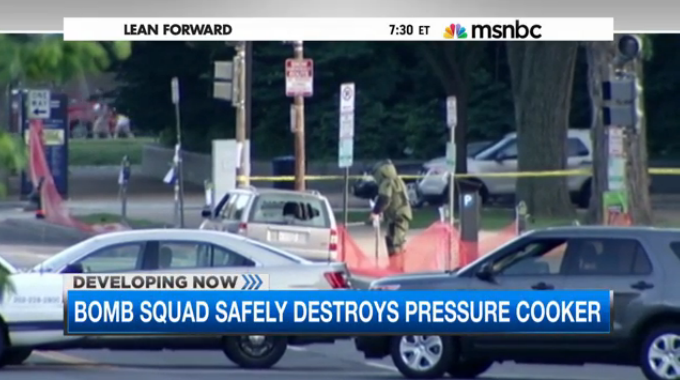 Authorities are rightfully alert of any suspicious vehicles around sensitive areas, especially in these post-9/11 and post-Boston Marathon Bombing times. Israel Shimeles temporarily forgot about those concerns when he parked his car, which containing a pressure cooker and propane tank, near the Washington National Mall 15 minutes before a Memorial Day concert was to take place.
Both of these items had to do with his job – he owns a food truck and the pressure cooker was for cook rice – but both can be also used to make bombs. The cooker was detonated and Shimieles apologized for any inconvenice he caused. (Source)