Do British police have a bovine bias?
Tragedy has struck the British town of North Tyneside. Bessie the Cow, allegedly searching for new grass to eat, got loose from her home in Rising Sun Country Park on Sunday.
Unfortunately, unlike other instances of animals getting loose in Britain, police chose not to settle the situation peacefully — say, with a tranquilizer — and came down with excessive force. According to witnesses, 15 police vehicles and a helicopter responded, along with at least three snipers. Bessie was standing "docile" in a field peacefully when police gunned her down.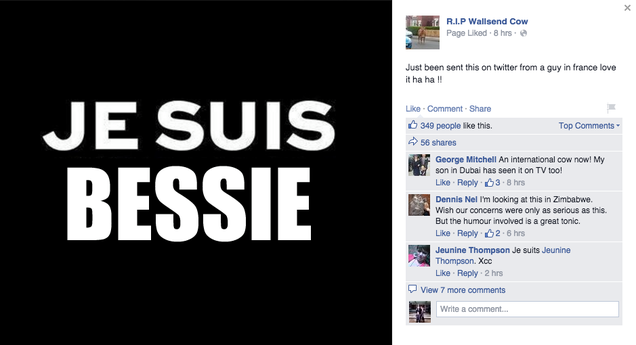 Since then, thousands of people have joined a memorial group in memory of Bessie The Cow. "It's not every day you get a cow getting shot in a field nearby," explained group creator Dave Turner. "I think we need to mark this occasion with a serious send-off for Bessie." They're also selling mugs, pictured below.
If you're in the area, there's a candlelit vigil on Friday, where people will celebrate the life of a curious, if somewhat stupid, cow whose life was cut short. RIP, Bessie.
And Now... A Few Links From Our Sponsors