Conor McGregor And Floyd Mayweather 'Agree To Billion Dollar Fight'
Conor McGregor and Floyd Mayweather have made a deal and will fight, reports the Sun.
The agreement is yet to be formally signed as a result of a 'third party hold up', but it is going to happen.
A source close to McGregor told the Irish Sun: "Conor McGregor and Floyd Mayweather have agreed a deal to fight and have both settled on their respective fees.
"The contract hasn't officially been signed yet because of a third party hold-up but all the details have all been agreed on.
"The fight could even be announced within two weeks."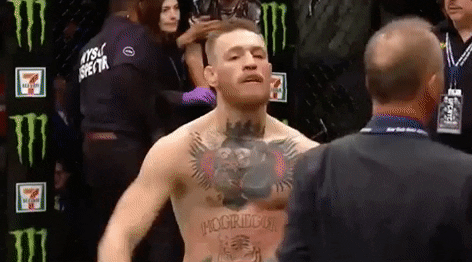 McGregor was supposed to attend a €100-a-head party on Friday night, but withdrew from it today following an 'unavoidable schedule change'.
A spokesman for the hotel said in a statement: "The Red Cow Moran Hotel in association with Industry Entertainment regret to announce that the evening event with Conor McGregor scheduled for Friday 17th February has been cancelled due to circumstances beyond their control.

"An unavoidable schedule change will see Conor McGregor in Las Vegas at the time of the event."

OH SHIT, IT'S ACTUALLY HAPPENING.
It's been a whole load of 'will they, won't they' for months now, with McGregor's agent, Audie Attar, confirming that his team were 'very interested' in setting up a match with Mayweather a few months back.
Then recently, at an interview event in Manchester, McGregor said: "There's a lot of business to do out in Las Vegas. They tried to fine me $150,000 for throwing a bottle of water. It was a can but whatever. We'll call it a bottle of water and say no more about it…
"Ah no look I'm gonna fuck this whole sh*t up again. I love the Vegas commission. We've come to an understanding. I'm gonna fly out there and fix it. I'm gonna get my Las Vegas boxing commission and then we'll see where the fuck Floyd's at?!"
McGregor's coach, John Kavanagh, previously confirmed that the pair were talks for a potential fight in 2017.
He added that Mayweather's current winning record of 49-0 seems to be especially tantalizing. He said: "He's 49-0. I'm sure he wants that 50th fight. It's a nice number.
"Right now, ask the average guy on the street, who do you want to see Mayweather fight, what fight's going to get the most interest, and it would be a superfight with Conor."
We can't wait.