Cute Southern Chick Goes Wet Noodlin' And Catches An ABSOLUTE MONSTER Catfish
It takes some serious balls to go noodling. If you're not familiar with the sport of noodling (or noodlin') it's essentially hand fishing for catfish, and noodlers seek out muddy holes along the banks of rivers and lakes where catfish burrow down, they then stick their bare hands in those holes and pull out these fish. The catfish still fight like hell, thrashing around, and it's actually quite common for a snapping turtle or snake to be hunkered down in one of those holes instead of a catfish.
This chick used her bare hands to wrassle up a larger catfish than I've ever caught in my entire life. In my defense 99.99% of the catfish I've ever caught are saltwater catfish (and sail cats) which don't get that big, but I've still caught a handful of freshwater cats and each of them pale in comparison to this chick's trophy noodle fish, and she used her bare hands while I was fishing with a rod and reel.
There's more to this video than just her accomplishment though, this video wouldn't have been nearly as amazing without that relative/friend/whatever narrating it with one of the twangiest Southern accents I've heard in quite some time. That narrator with the Southern twang adds the perfect je ne sais quoi to this video that really elevates it to a top notch viral sensation, and it's probably the reason that I've watched it about five times now. Anyways, let's watch that action shot once more in GIF, shall we?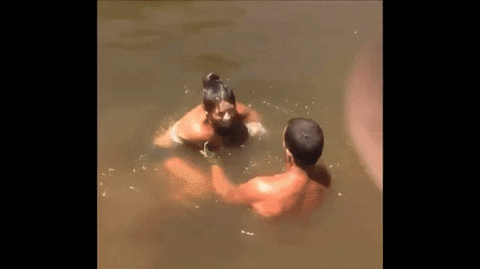 And Now... A Few Links From Our Sponsors