Damon Wayans Jr.'s 'Racist' Fourth Of July Joke Did Not Go Over Well
On Fourth of July, New Girl star and member of the Wayans comedy dynasty, Damon Wayans, Jr. tweeted a joke that didn't go over especially well with white Americans. His tweet read, "Happy white people proud of their racist ancestors day."
Happy white people proud of their racist ancestors day

— Damon Wayans Yunior? (@wayansjr) July 4, 2017
Unsurprisingly, a lot of people had a problem with this, and tweeted their outrage back at Wayans.
Just another example of Hollywood talking down to Americans. They hate this country & their fans. #FabricatedRacism sadly returns @wayansjr

— Déplorable Espécial (@ViperNtheTemple) July 4, 2017
A joke some took too personally. So what. Jokes aren't illegal.

— Damon Wayans Yunior? (@wayansjr) July 4, 2017
When I think of all the men and women who have died for our independence, laughter does not come to mind.

— jan (@ricknjan) July 4, 2017
Exactly! Thank you for saying this? these types of statements no matter the context can not be considered Jokes

— ? Stuart Baker ? (@PACMANIACWV) July 4, 2017
Pretty sure black on black slavery alive and well in central africa. But that wouldnt fit the victim mentality and phoney virtue signaling

— Craig McKenzie (@Craig50085) July 4, 2017
So, do the ancestors of the black soldier's who fought and died for our freedom get to celebrate? Or should they just hide untill the 5th?

— Stevie Renee ? (@StevieRenee3) July 4, 2017
https://twitter.com/ShariMcGriff/status/882374225763368961
You have the option to leave at any time Damon. Ingrates like yourself reap this Nation's bounty while bitching about being suppressed. #USA pic.twitter.com/RjhBkYG7Nb

— Mr. Bandy Shanks™ (@The_Mad_Rebel) July 4, 2017
Wayans is definitely sticking by his joke, and if you're offended, that's okay with him. That's totally legal, too.
Yep, it was a joke. But feel free to be offended by it. 😉

— Damon Wayans Yunior? (@wayansjr) July 4, 2017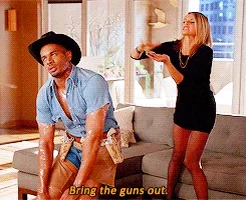 And Now... A Few Links From Our Sponsors