English War Veteran Goes To Jail For Stashing An Incredible Hoard Of Weapons(including A Missile!)
Harry Jones, a 76-year-old veteran, was arrested after the police found a hoard of firearms, including a missile, at his home. More than 40 prohibited weapons were seized. Many of them could date back to the First and Second World Wars.
1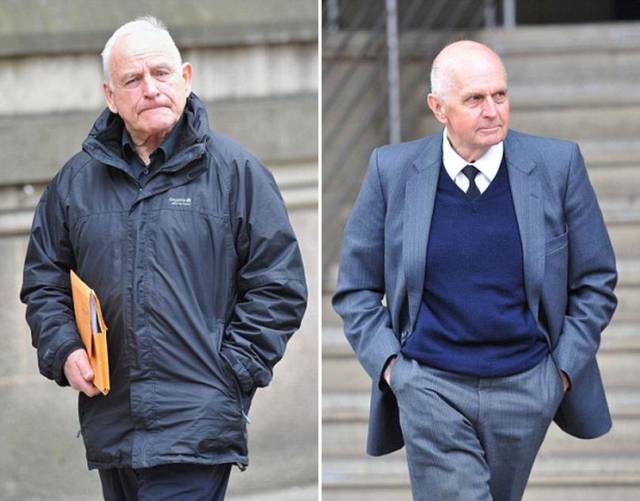 RAF veteran Harry Jones was secretary of the Tameside Gun Club for nearly 40 years and was a trusted authority on weaponry.
But his obsession with firearms led to him amassing the huge stash of weapons, including nine handguns and an Al Capone-style Tommy gun kept in a violin case – all in full working order.
The hoard could have caused carnage if it had fallen into the wrong hands, a court heard.
2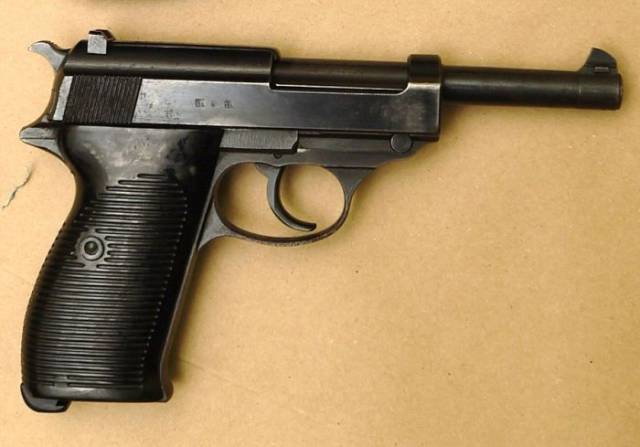 Former RAF armourer Jones was awarded a service medal for his conduct during the Aden Emergency in the early sixties and has held a lifelong interest in military history and memorabilia.
It took officers four days to sort the international collection of guns, shells and helmets which filled every room in his house, and an Army lorry was needed to remove it.
But Jones, described by his lawyer as 'a good man', has now been jailed for two years at Manchester Crown Court after admitting charges of possessing prohibited weapons.
The search of his home was prompted by a routine check of the Tameside Gun Club's premises at a converted army facility in Mossley, back on July 9, 2014.
Prosecutor Henry Blackshaw revealed that there was one locker which officers were unable to access, which belonged to John Robson, a 71-year-old engineer from Preston.
When officers forced entry to it they found turret machine guns from Lancaster bombers, wing-mounted machine guns from Spitfires, and nine buckets containing sub-machine gun components and armor piercing ammunition.
3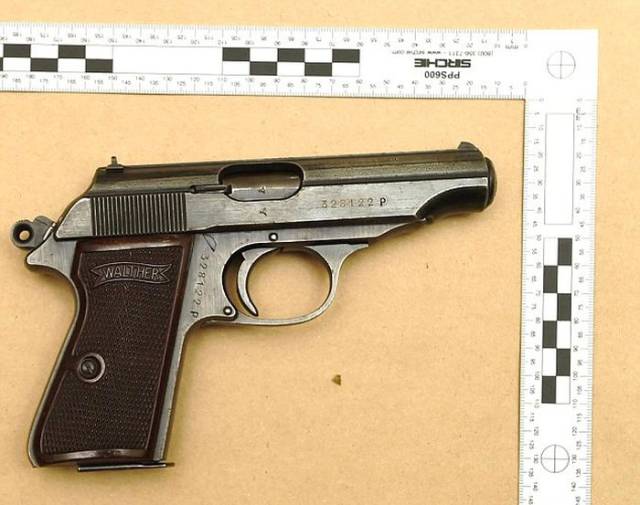 The court heard that while police were examining the find, Jones pulled up at the gun club's premises. Knowing he kept weapons at home, police asked to go and search his property.
There, he gave them the first of the illegal weapons they were to recover – a Walther PP he kept under a pile of clothes in the hallway.
Legally held ammunition was kept in carrier bags in the hallway and kitchen in what Mr Blackshaw described as a 'chaotic and cluttered' house.
'There was a deactivated heavy machine gun next to the settee which his adult daughter was sleeping in, pointing at the patio doors', Mr Blackshaw said.
'The house was absolutely full of military paraphenalia. The Tommy gun was in the master bedroom.
4

5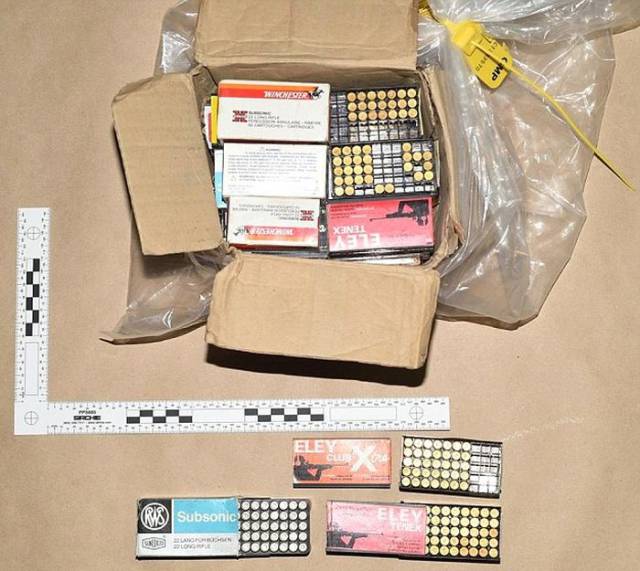 6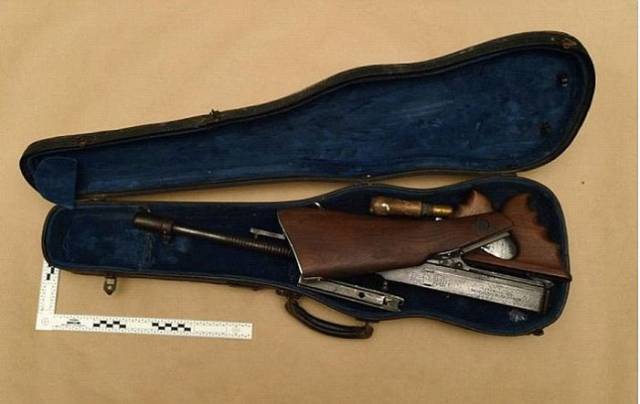 'There was a violin case on the floor, which when opened had the component parts of a Thompson sub-machine gun, and ammunition for it, 19 rounds.
'Patented in 1915 by General Thompson, and developed to be a trench clearing weapon, after the war the Tommy Gun became the weapon of choice of Probition-era gangsters in America', the prosecutor added.
Three legally held semi-automatic.22 rifles in soft cases were also lying on the bedroom floor. Jones had gun safes – but none of the illegally held weapons were kept in them.
Instead, 'they were secreted around the property in a way they wouldn't be found by a routine inspection', Mr Blackshaw said.
Jones, who in civilian life had worked as a mechanical engineer, later told police that he had taken up to 'nine to 11' handguns into his possession over the years.
7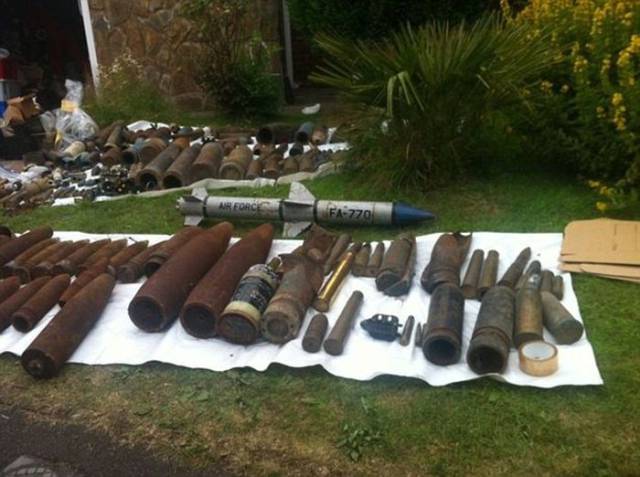 He said in each case he had been handed them by strangers. As a registered firearms dealer, he was entitled to have guns surrendered to him by the public.
But instead of handing them over to the police, as he was duty-bound to do, he took them home and kept them.
'His reason for retaining these guns', Mr Blackshaw said, 'was that he had a hope that when there was a change of government, 'the Connies', as he called them, would be returned to power – which he was right about – and that firearms law would be relaxed, so he would be able to possess such guns lawfully.
'He plainly, from the tone of his interviews', resented the change in the law, which he blamed on political opposition to the Conservatives.'
8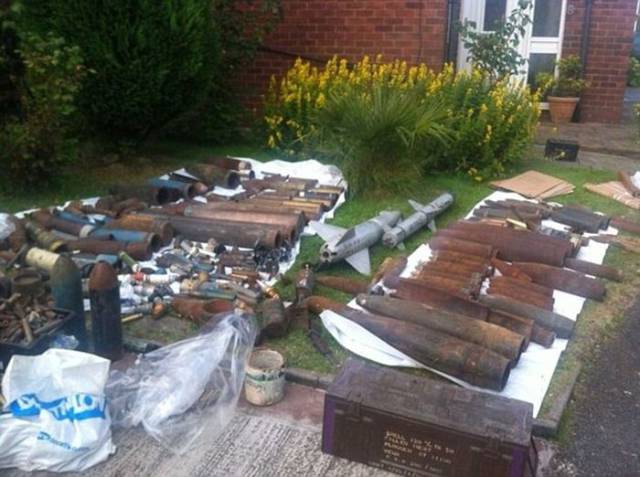 The court heard Tameside Gun Club was one of only ten in England and Wales which had the authority of the Home Secretary to hold sidearms of 'particular value' on its premises – so as club secretary Jones was a trusted man.
He had a lengthy relationship with GMP's licensing unit, and he was also a skilled armourer who had the ability to make his own ammunition.
Patrick Cassidy, defending, said Jones had joined the RAF in 1958, had served in Aden (Yemen), Libya, Malta and Malaya, and had an interest of military history that spanned from the Boer War.
He had never been in trouble, had a history of raising money for charity, and had been secretary of the gun club since 1978.
Mr Cassidy said the state of his house reflected the 'certain decline of assiduousness' which had led to the offending.
He said: 'The malevolence is borne of his interest and fascination in military conflict, and not in any way, shape or form a connection with criminal activity.