FASCINATING FACTS OF THE DAY: 22 Unbelievable Facts That Will Make You Say "Holy Shit"
The truth is stranger than fiction, sometimes there are such incidence or acts/objects that defy the comprehension boundaries of a human being  yet these unbelievable facts exist, forcing us to shed our previously held beliefs, widening the windows of our knowledge. These 22 facts are the incontrovertible proof that sometimes bizarre is normal.
1. This mind-bending illusion is called Anamorphic Illusion. It's all about perspective!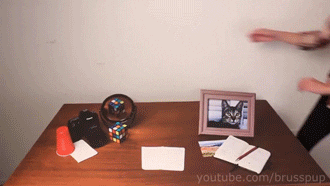 Anamorphism is an optical illusion, a form of art that dates back to 1500's. This painting technique causes a distortion of an image and requires the viewer to see the image from a particular angle to get the perspective of the whole image. It is considered to be the 3D tech of its time as it allowed the objects to be portrayed with depth(something that could not be done in any other way).(source)
2. Researchers have printed the tiniest color picture ever, this picture measures 80 µm x 115 µm. That's about the cross-sectional area of a human hair.
Researchers from ETH Zurich and it's start-up company Scrona have created the smallest inkjet printed color image of a clown fish around their sea Anemone home using the innovative 3D NanoDrip printing technology. The image is the size of a single pixel and has been created using quantum dots – nanoparticles engineered to emit a specific color. These quantum dots provide depth and vibrancy to the color. The printed color picture is so small, one requires a special microscope to see it. Guinness World Records have announced that Scrona Ltd. and the ETH Zurich are the official World Record Holders for the smallest inkjet-printed color image.(source)
3. Michael Jackson's autopsy report confirms that he was bald and wore wigs to conceal it.
The autopsy on the King of Pops's Michael Jackson revealed some shocking details about the last days of the legend. The singer had shrivelled away to a mere 112 pounds and there was virtually no food in his stomach apart from partially dissolved pills. There were numerous needle marks on his hips, thighs and shoulders believed to have come from the painkiller injections. His hair had fallen out and was reduced to a fuzz, Michael had taken to hiding his bald pate with a wig.(source)
4. An Indian construction worker has surprisingly survived being impaled by a two-metre iron rod that skewered his skull.
Mohammed Guddu, a 24-year-old Indian resident was accidentally impaled by a rod that fell from the fourth floor when he was mixing cement. The impact was such that the rod protruded out of the back of the skull. X-rays showed that the rod was tightly lodged in his head. He was rushed to a government hospital where the doctors cut open the skull and pulled out the iron rod in a five-hour surgery. The construction worker is out of danger but has developed paralysis on the left side of the body. The doctors are optimistic about his chances of regaining complete movement of the body by 3 months. The doctors attribute his survival to the fact that the rod pierced a non-eloquent region of his brain and skipped the vital arteries.(source)
5. Muhammad Ali Dodged 21 Punches in 10 Seconds in April 1977 exhibition match.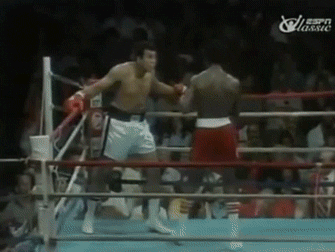 The 35-year-old Boxing legend Muhammad Ali was nearing the fag end of his career and Michael Dokes  at 19,was a young, eager pup who was rearing to go.  A 1977 exhibition match between these two was bound to create some sparks and it did, early in the match,  Dokes threw punches faster than the 'lightning' while Muhammad Ali did 'Keanu Reeves' and escaped every one of the 21 punches and did a little "wiggle dance" taunting Dokes' skill. (source)
6. Treasures of gold, diamond, and diamond encrusted statues of Gods and Goddesses worth $22 billion discovered in "secret" underground vaults  beneath Sree Padmanabhaswamy temple, in India.
Gold coins, jewels, trinkets and diamond embedded gold statues of Gods and Goddesses  worth $22 billion was discovered in a secret vault beneath the Sree Padmanabhaswamy Temple, Trivandrum, India. The treasure hidden in six vaults was an open secret and the wealth was accumulated over centuries. All the precious treasures are from the devotees who present it to the God as thanksgiving.(source)
7. A Chinese artist vacuumed up Beijing's air for 100 days and made a brick from what he collected.
A Chinese artist, known as 'Brother Nut' spent 100 days wandering around the capital city of Beijing with his industrial vacuum cleaner sucking up the toxic particles from the air. Beijing, the capital city has an AQI (air quality index) of 600, this is 20 times the human limit and dangerous to health. Brother Nut came up with the idea of creating a brick from the atmospheric dust to generate awareness about the perils of the polluted atmosphere.(source)
8. Brinicle, also known as 'icicle of death' are formed when salt-rich water leaks out of sea ice and sinks into the sea. The rapidly descending tube of ice freezes everything it touches on the ocean floor, including living sea organism.
Brinicle or 'icicle of death' is formed when saline is introduced into the Antartic ocean. Brine, which is denser than the water begins to sink, the extremely cold brine begins to freeze the sea water around it. When it touches the sea bed, it forms an icy web killing all the sea creatures in its path.(source)
9. Bill Haast, the "Snake Man" was bitten at least 173 times by poisonous snakes. He injected himself with 'snake venom mix' every day for more than 60 years. He is responsible for saving numerous lives of snake bitten victims. He died a natural death after celebrating his 100th birthday.
Bill Haast who has been bitten at least 173 times, 20 of them almost fatally built up his immunity by injecting himself with the mix of venom from almost 32 species of poisonous snakes. He did this every day  for over 60 years. Haast  has jet-setted around the world donating his anti-body rich blood to 21 snake bite victims and saving their lives.(source)
10. Billy Milligan, An American criminal split into 24 personalities to cope up with his troubled life.In the process, his other personalities committed robberies, felony and rapes.For each of these personalities; his speech pattern was different, his accents were different. He sat in different ways on the chair.
Billy Stanley Milligan was an American citizen who became famous due to a highly publicized court case in Ohio in 1977.  After robberies and felonies, Milligan was finally arraigned on charges of rape (three rapes). Milligan who was diagnosed with multiple personalities pleaded insanity. He was the first person to use the multiple personalities as the defense and was acquitted on the basis of the same reason. He was sent to a mental hospital for further observation and treatment. Milligan passed away at a nursing home, Columbus in Ohio due to cancer. He was 59.(source)
11. A Chinese man bought and raised two puppies, cared for them despite their frequent killing and eating of  his chickens, and then discovered they were actually bears.
Wang Kayui from the village of Yunnan bought the two cubs from a Vietnamese. The well behaved cubs did not cause any misgivings in Wang's bosom. Warning bells began to jangle only when the cubs turned adult. They began to look less like dogs and displayed a strong desire for more food, attacking and killing Wang's chickens to satiate their hunger. The truth clicked when he came across leaflets from the Public Security Bureau on endangered wild animals and realized that he was keeping Category 2 protected endangered animals by accident. He informed the local police, who collected the bears and deposited them in the Yunnan Wild Animal Rescue Centre.(source)
12. There are houses for sale in Detroit that cost $1 apiece.
The mortgage crisis and the bankruptcy of the American automobile industry have caused large-scale unemployment among the Detroit locals. The financial crash has forced wholesale foreclosure of the properties among the people who are unable to repay the loans taken from the bank or who simply walked away from the house after the value of the property dropped lower than the value of the loans taken on them. Banks are selling off the properties usually located in the worst neighborhood for a few dollars each. (source)
13. A woman has a blood vessel in her eye that spells out the word "love".
The mother of the YouTube user LivingOak posted a video of her mother looking to the right. Shockingly, LivingOaks's mother's burst blood vessel on the eyeball spells "Love" in a cursive style!(source)
14. In 2011, Richard Handl was arrested in Sweden for splitting an atom in his kitchen, he claimed that it was his hobby.
Amateur scientist, Richard Handl wanted to create a working 'nuclear reactor' at home. He managed to get the requisite radioactive elements such as radium, americium, and uranium. Handl, who claimed to be interested in 'Physics and Chemistry' was curious to find whether he could split atoms at home. He kept a meticulously detailed blog about his experiments. Before conducting his 'atom-splitting'experiment, he called up Swedish Radiation Safety Authority to confirm that he was not doing anything illegal. He was arrested after that call.(source)
15. The skin of all human beings is covered in stripes from head to toe. They're called Blaschko's Lines. They are invisible to human eye.
Blashchko's lines are lines of normal cell development in the skin that traces the migration of the embryonic cells. The stripes follow a V-shape over the spine, S-shape over the abdomen, an inverted U-shape from the breast to the upper arm, and perpendicular lines up and down the arms and legs. These lines don't follow any blood vessels or nervous structures. These stripes are invisible to human eye . However, certain skin diseases follow the Blaschko's lines. These lines can be seen under the UV lights.(source)
16. An elephant-sized sloth existed and went extinct only 10,000 years ago. It was one of the largest land mammals, measuring up to 6m(20ft) and weighing 4 tons.
The Megatherium or the elephant-sized sloth were endemic to South America that lived around 5 million to 11,000 years ago.  Though they were not huge as a dinosaur or even a woolly mammoth, they could still hold their own place in the list of the biggest land animals. They were extremely strong animals with well-built muscles but were not known for speed. They had long arms ending in claws. Scientists speculate these was used to grab the trees and pluck the leaves.There is a suggestion that the animal may have been a meat eater as well. Megatherium were part of anteaters, armadillos, and modern tree sloths.(source)
17. In the process of trying to catch serial killer Andrei Chikatilo, Soviet police ended up solving more than 1000 unrelated crimes, including 95 murders and 245 rapes.
Andrei Romanov Chikatilo was a prolific serial killer nicknamed Butcher of Rostov. He committed sexual assaults, mutilations, and murders by luring unsuspecting women/girls and boys to secluded spots. His crime spree lasted 12 years and was spread over Russia, Ukraine and Uzbek. He confessed to a  total of 56 murders and was tried for 53 of the killings. Major Mikhail Fetisov of Moscow police led the investigation of the murders, as a result of this investigation, various unrelated crimes, including murders and rapes was solved.(source)
18. A cat has "predicted" the deaths of 25 residents in a nursing home in the US. The cat displays sudden affection for dying residents by curling up next to the dying residents.
Oscar, the cat of Steere House Nursing and Rehabilitation Centre in Rhode Island has a peculiar tendency to seek out the dying people and curling up next to them during their last hours.The animal behavior experts in the US say that there is nothing psychic about Oscar's actions rather it is all biochemical. Jacqueline Pritchard, an expert in animal behavior in the UK agrees with the surmise of the US experts and avers that the cat was sensing and smelling the biochemical released by the dying organs.(source)
19. Man with Suicide victim's heart marries the suicide victim's widow and in a bizarre re-enactment, kills himself the same way as the donor did.
Sonny Graham received the heart of a young man, Terry Cottle, who had committed suicide (self-inflicted gunshot wound). The grateful man kept in touch with Cheryl Cottle, widow  of Terry Cottle and years later married her after getting divorced from his own wife. The marriage lasted for three years. 12 years after first receiving the heart from Terry Cottle, Graham committed suicide by shooting himself with his shotgun. The heart was ticking well.(source)
20. A man lost about 50%-75% of his brain to hydrocephalus (water on the brain),  yet he managed to lead a normal life.
Scans of a 44-year-old man's brain revealed that a huge fluid-filled chamber called ventricle actually took up more than three-fourth of the room in his skull leaving little more than a sheet of actual brain tissue. The father of two who works as a civil servant has an IQ of 75, which is less than the normal IQ of 100 but he is not considered to be a retarded. Max Muenke, a paediatric brain defect specialist at the National Human Genome Research Institute in Bethesda, Maryland, US commented that the slow rate of fluid buildup (probably taking years or decades) may have allowed the brain to redistribute the functions that would normally be done by the part that is being pushed aside.(source)
21. There is a spider that turns into a "wheel" and cartwheels away when it is in danger.
The Wheel spider or the Golden Wheel spider is a huntsman spider that is native to the Namib desert of South Africa. The spider is nocturnal spending its day hidden under the rocks or inside its sand burrow.  The wheel spider, when threatened adopts a strange defense mechanism known as flic-flacking. Flic-flacking is essentially flipping on the side and cartwheeling away from its predators. The Golden Wheel spider can cartwheel at speeds up to 44 turns/sec.(source 1,2)
22. For ten centuries, the feet of Chinese women were tightly bound from the young age as part of their traditional custom, causing the breaking and bending of the bones of the toes. This resulted in misshapen feet that resembled the hooves of the animals.
The foot would be bound between the age of four-six, the traditional custom would be accompanied by several other rituals meant to ward off the bad luck. The procedure required bending of the toes until it broke and pressing it into the sole of the foot. The arch of the foot would be broken next. A long, ribbon would be tightly wound around the feet all the way up to ankles. This process would be repeated many times over a period of two to three years. Then the girls feet would be permanently bound for the rest of her life. This would result in a misshapen foot that was almost like hooves. The peculiar gait strengthened the muscles of the thighs, hips and buttocks of the Chinese women, which was considered to be an attractive attribute to the Chinese men of that era.(source)
And Now... A Few Links From Our Sponsors