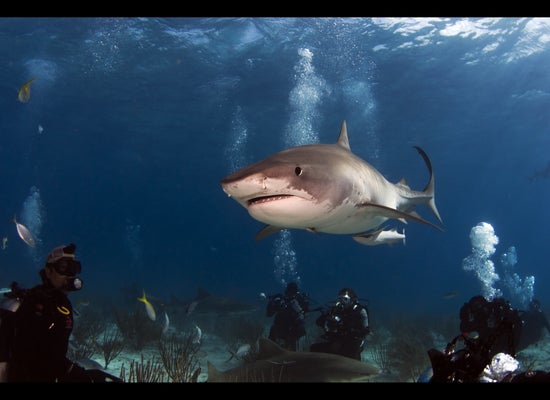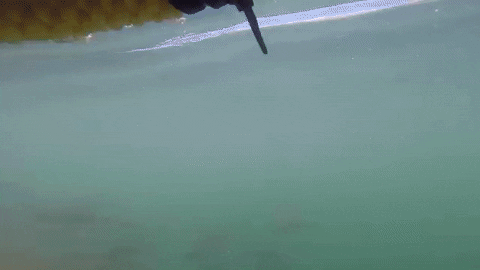 Great white sharks can swim up to 35 mph and have been known to launch themselves through the water — and sometimes completely out of it — to attack.   "Shark Alley" is known worldwide for its abundant great white shark population. Cage diving is popular among visitors to view the creatures up close and personal.
Many tour companies bait the water to attract sharks. In this particular video, you can see a piece of bait fly across the screen just ahead of the shark, leading it to crash into the cage.  The practice of baiting is highly controversial among shark conservationists and researchers. Some critics say that chumming the water with bloody bait may teach sharks to associate food with humans.
Without bait, diving with sharks is not known to be harmful. It is inherently risky, as are most ocean-related activities, but because humans are not natural prey for sharks, the practice is often seen as more educational than adrenaline-inducing.  Divers entering waters known as "Shark Alley" assume a certain amount of risk.
Spencer Reilly captured the below footage on Nov. 2 while on his honeymoon in Gansbaai, South Africa. He was in a shark diving cage with seven other people, including his new wife, when a great white shark swimming at incredible speed rammed the cage.
"It happened so fast there was no time to really be scared," Reilly told The Huffington Post. "Then it was just pretty exciting."
Reilly said he and his wife didn't realize how far the shark had come into the cage until they reviewed the video.
What Does "HOLY SHIT" Sound Like Through A Scuba Regulator?
And Now... A Few Links From Our Sponsors