JUSTIN BIEBER TO FEMALE FAN: Look at You … YOU MAKE ME SICK
What happened to this girl is my worst nightmare. To find out that for years you've been worshiping a false idol is something I wish to never experience.
This girl's mother revealed just how devastating Bieb's snub was.
She said: "My daughter was bawling her eyes out. She was dying to meet him and then he humiliated her."
Just met Justin, girls shoved phone in his face for a photo & he said "why are you all so disrespectful, you all make me sick". I'm so mad pic.twitter.com/p9Ro2RT9bW

— Antigoni (@Antigonisyl) March 11, 2017
Bieber was grossed out by a female fan getting all up in his space for a pic, and he let her know it … straight up.
Justin was in Melbourne, Australia Saturday, where a young girl tried snapping a selfie of herself next to the pop star as he grubbed on some finger food. He lectures her on respect … and then burns her with a harsh line.
Bieber … don't bother him … he's eating.
Hey, sweetheart. Little lesson here: the heartthrobs are always dickfaces. Gotta start worshipping the nice guys. Sheeran probably adopted this puppy after the shoot.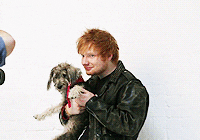 And Now... A Few Links From Our Sponsors