Kanye Met With President-Elect Trump And Everyone Has So Many Questions
Many have made comparisons of Kanye West and Donald Trump, even said the two megalomaniacs are both cut from the same cloth. On Tuesday, the two moguls met at Trump Tower and nobody knows what the fuck to make out of this incredibly outré encounter.
"He's a good man," Trump said of Kanye. "We've been friends for a long time."
When asked what they spoke about, Trump said, "Life."
Details of the impromptu and strangely incredible meeting were not disclosed.
Ye did not answer any questions and stated, "I just wanted to take a picture right now."
Pres.-elect Trump poses with Kanye West at Trump Tower; says he and West are "just friends, he's a good man" and says they discussed "life." pic.twitter.com/oSyXbXkxRY

— ABC News (@ABC) December 13, 2016
"You take care of yourself, I'll see you soon," Trump told the rapper as he left.
There is no truth to the rumor that Kanye and Trump had to use a special freight elevator in the Trump Tower to accommodate both stars and their gigantic egos.
Last month, Kanye went off a bizarre diatribe during a concert to say he would have voted for Trump in the election.
"I told y'all I didn't vote, right?" Kanye said at a concert in San Jose. "But if I were to vote, I would have voted on Trump."
Days after his rant he was hospitalized.
Did Kanye die his hair blonde in preparation for this amazing meeting or because he was inspired by Trump's poof?
Side note, this may be the greatest black handshake by a U.S. President not named "Barack Obama" in the history of this great nation.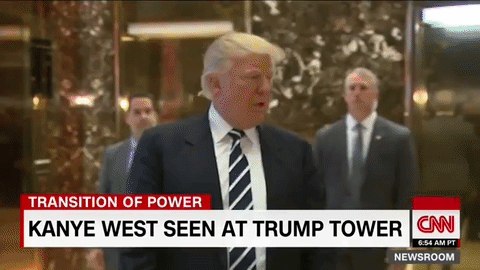 Kanye has stated in the past that he would run for POTUS in 2020, so this lovefest could turn into a bitter rivalry sooner than later.
WHAT DOES THIS MEETING MEAN!?!?!
Will Kanye West be offered a position in Trump's Cabinet? Secretary of Kanye West? Secretary of Really Expensive Sweaters with Holes in Them? Secretary of Rants That Nobody Wants to Hear?
Was this a planned event to distract the media about the CIA reports about Russia interfering with the 2016 presidential election?
Are Kanye and Trump working on a new collabo album titled "Electoral College Dropout?"
Notice that Kanye met with the President-elect on Taylor Swift's birthday? Coincidence?
Is Kanye writing a new national anthem for Trump's America to unite the country?
How will momager Kris Jenner profit off this meeting?
Is the Apocalypse nigh?
Were the two power-brokers discussing having Kanye perform at Trump's inauguration? I can't wait to hear Kanye spit "New Slaves" on the West Lawn of the U.S. Capitol before Donald J. Trump is inaugurated on January 20, 2017.
And Now... A Few Links From Our Sponsors