Man Mauled To Death After Entering Tiger's Enclosure Inside Zoo [GRAPHIC]
A tourist has been mauled to death by three tigers in front of his wife and child.
Chinese media claims the father died after he entered the enclosure, inside Ningbo Younger Zoo, in east China, and walked towards the hungry cats as they were feeding.
The victim, a young man, was snatched by the big cat at the Ningbo Youngor Zoo in Zhejiang province and dragged away under trees.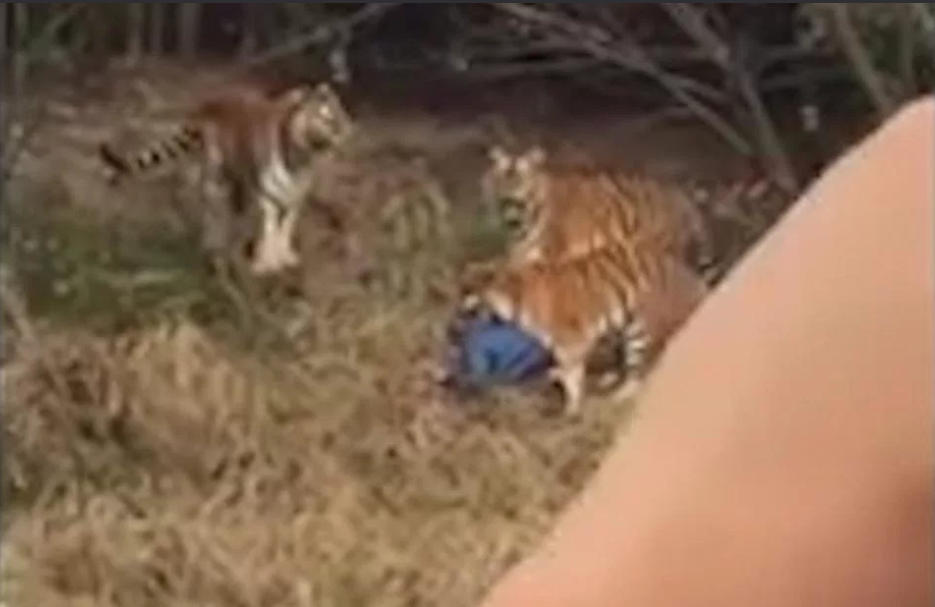 Credit: YouTube
Pictures posted to social media shows a man writhing in agony on the floor as the three animals bite and claw his body, with one tiger shot and killed during the incident
Visitors watched helplessly as the man's clothes were ripped off and he lay face down on the ground in just pants.
The big cats were undeterred when zoo keepers tried to scare them off with firecrackers and water canons and local reports say the man died from his injuries.
According to ntdtv.com one tiger was then seen dragging the man's blood-soaked body into the enclosure woods by his foot.
Credit: YouTube
A horrified witness told the South China Morning Post: "I saw the tiger mauling the person, whose face was covered with blood. Every time he sat up, the tiger pushed him down again."
Bystanders said he walked into an isolation zone shortly before 2.30 p.m. local time and crossed a river that separates the enclosure from visitors.
The zoo was closed at 3pm while police and local forestry bureau staff arrived at the zoo at about 3:15pm.
I doubt I need warn you about the potential dangers of zoo enclosures…
And Now... A Few Links From Our Sponsors