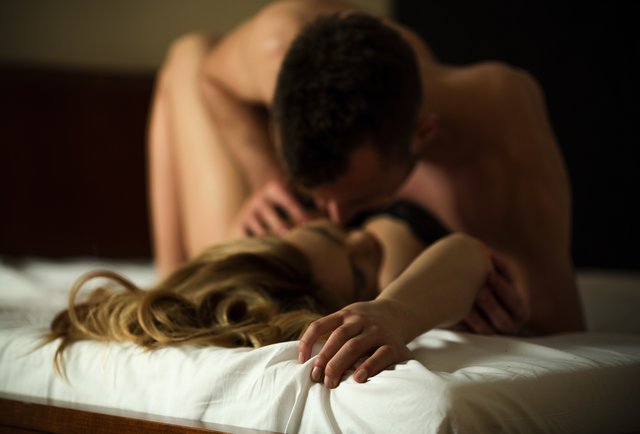 You know what's worse than no foreplay? Bad foreplay.
Most men will swear they've got the magic touch. But there's more to foreplay than placing a tongue or finger on her hotspots. "He fingered me like he was tickling a cat!" said Michelle, 25. "I need to actually feel you legitimately touching me to feel some sort of satisfaction."
Approaching her body like you're in science class
It's not clear why some men think using phrases in medical textbooks is sexy — but too many of us have had perfectly hot moments ruined by men saying words like "vagina" and "anus." Using our night together to do your own side research is also a big no-no. "I once hooked up with a guy who went down on me and looked at my vagina with an inquisitive expression as if he were studying a map," said Natalia, 26. "Yes, they're all different. But I'm not a science textbook. Stop studying and get on with it!"
Acting like an MVP
Yes, sex is like a workout in that it's hot, sweaty, and gets your heart rate up. But treating her like your teammate is not going to make her want to play again. "I once had sex with a guy who did not give me an orgasm but still gave me a high-five after he had one," said Kelsey, 32. "And then said, 'Man, I'm good.' I was floored."
Changing positions just as the going gets good
This is where paying attention to your partner's responses comes into play. If she's moving or moaning like she's into it — or better yet, telling you, keep doing what you're doing. "There is nothing worse than the guy who is so eager to get to the next position that he completely steals your orgasm," said Monica, 36.
Maneuvering her body like a blow-up doll
You're visual, we get it. Still, moving her limbs around like Gumby so you can achieve the POV you're used to seeing in your favorite porn is unsexy… and super creepy. "I once had this guy spread my legs apart like scissors and focus intensely as he hammered away," said Felicity, 32. "I don't even know if he remembered I was there."
Bad kissing
Kissing is to intercourse what gas is to a car. If you're a bad kisser, you'll never get anywhere in bed — no matter how great you are at the actual act. As the definition of a great kiss varies from person to person, look for clues in the kisses she gives you.
"Whether you're a sloppy kisser who wipes her face with your tongue or one who thinks a dozen rapid bird pecks will fire her up," said Brandy, 40, "a bad kisser will always get a signal by the way she reciprocates. Does she deliberately go slower, does she hold your head a certain way? Does she back off with a confused and disheartened look on her face and then wipe her chin? These are all clues you might want to make a few changes."
Being done as soon as you're "done"
You don't have to spoon and cuddle all night. But showing no affection after the act is just bad form. "Men who don't cuddle or leave right after sex just come off as selfish and socially awkward," said Lisa, 40.
Freaking out for finishing quickly (or not being able to perform)
It happens (see statistics above) — but we know it's not your fault. "We are all human and sometimes we all finish too fast, not at all, or have trouble with the equipment," said Sarah, 25. "There's no need to add more anxiety to the situation by having a small breakdown." Instead of apologizing and getting upset, keep kissing us and help us finish another way. The more creative and into it you are, the better.
THE MISTAKES YOU MAKE IN BED THAT SHE DEFINITELY TELLS HER FRIENDS ABOUT
And Now... A Few Links From Our Sponsors