Model Goes OFF On Instagram Rant Claiming Drake Ghosted Her After Getting Her Pregnant
Looks like Drake might have some explaining to do as model and former stripper Layla Lace went on an Instagram rant saying he ghosted after getting her pregnant.
She has since made her account private, but this being the internet, naturally it was all saved by others.
Several pics below (just swipe right) show her rant, some text messages, as well as her alleged positive pregnancy test dated April 17th.
She wrote…
So I guess still in this era this is the new thing that after you tell a dude you pregnant they stop answering they phone !!!!

One lesson i have learned out of this whole situation is to never be so naive when a guy disrespect you !!! Like you dont even have to do nothing wrong to this man its really unbelievable how he will just feed you with lies and hurt you for NO reason.Once you forgive and accept it just know he @champagnepapi will continue to treat you like sh*t !!!

i should of ran for the hills but no i felt for the "Good Guy" image that this assholee portrayed to be.What a #Fraud I feel so stupid !!! I never told this man "No" I did everything he told me to do Smfh !!!! (((NEVER))) asked him for a dime !!! cause i got my own bread whatever he did for me he did it on his own !!!

i had to remind my self that this man was once a "Actor" So why the hell did i fall for his bullshit !!! What make matters worse is that when you try to be private about shit and keep ya mouth shut nobody cares !!! its ashame that i even have to come out of my character !!!

I hate that i gotta put my buisness out like this.But fuck it people now a days only respect when your messy and ratchet !!! Smfh !!! FUCK YOU Drake !!! You and I know i was good to you !!! This is how you treat them dusty thirsty ass bitches that be on ya dick !!!!

Not the female that wasnt even checking for you !!! Just respect me thats all i ask for !!! (((RESPECT))) THE BULLSHIT WAS UN CALLED FOR !!! Smfh But dont worry ima make sure i make a field day out of your fucking ass !!!
She doesn't sound very happy.
Lace later wrote…
"ALSO IMA MAKE THIS VERY CLEAR I NEVER CHECKED FOR THIS LIL 2 INCH DIRTY DICK ASS NIGGA !!! HIS LIEING ASS SENT FOR ME !!! NEVER DID I THROW MY SELF AT HIM !!!! NEVER A GROUPIE !!!! NEVER DID I ASK FOR ANY OF THIS !!!! NO WE DIDNT MEET AT NO VIDEO SHOOT/STUDIO/CONCERT OR IN NO CLUB !!! THIS MAN MADE IT HIS BUIESNESS TO ASK TO MEET ME OFF OF SEEING A PIC OF ME THAT WAS SENT TO HIM BY HIS MANS.I NEVER ASKED HIS MANS TO SEND DRAKE A PIC OF ME EITHER LETS JUST MAKE THAT CLEAR TOO !!! WHEN I MET HIS MANS I HAD NO CLUE HE EVEN KNEW DRAKE !!! UNTIL THE NEXT DAY WHEN HIS MANS HIT ME UP ON INSTAGRAM AND TOLD ME THEY WERE FRIENDS !!! EVEN THOU I WAS NERVOUS TO EVEN MEET DRAKE HE MANAGED TO PERSUAD ME INTO LEAVING MY COUNTRY WITH HIS MANS TO MEET HIM.I WAS LIVING MY LIFE DRAMA FREE BEFORE ALL OF THIS AND HERE HE COMES OUT OF FUCKING NOWERE !!! CORRUPTING MY FUCKING LIFE !!!"
She still doesn't sound very happy.
And because I KNOW you're curious, here's the woman in question…
A post shared by LoveWomen (@lovewomxn) on
A post shared by LoveWomen (@lovewomxn) on
Poor Papi…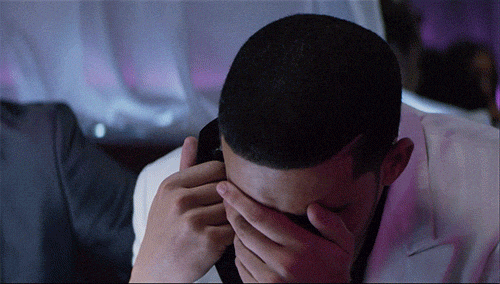 And Now... A Few Links From Our Sponsors