NY Hospital Worker Dies While Wanking At Work To Porn And It's Either The Best Or Worst Way To Go
I guess in the end a death is a death is a death and we're all just floating on a breeze and nothing matters anyway so its best to die doing what you love. Like drugs or your mom. Or how this New York hospital worker passed–by masturbating to porn while on the clock.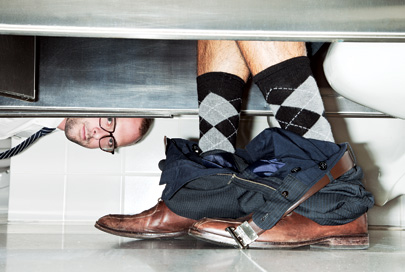 According to NY Daily News,
A Bronx hospital worker found dead by a colleague may have died of a heart attack while masturbating, police sources said Wednesday.

The 48-year-old man was found about 10 a.m. Tuesday in a remote area of North Central Bronx Hospital.

A source said no foul play was suspected and that it appeared the man had partly disrobed and was watching pornography on a computer when he died.
If anything is going to prompt us to make light of our own mortality, it's dying of whacking off. No one gets out alive, and if you can't laugh at that, you're probably not alive in the first place. With that said, RIP dude. Rub In Peace.
And Now... A Few Links From Our Sponsors