People Keep Sharing This Viral Hoax About A Man's Family Watching Him Lose His Virginity
This hoax story from a site called East Asia Tribune claimed there is a family in Singapore that has a long-standing tradition whereby the men lose their virginity in front of their relatives. Like, all in one bedroom together: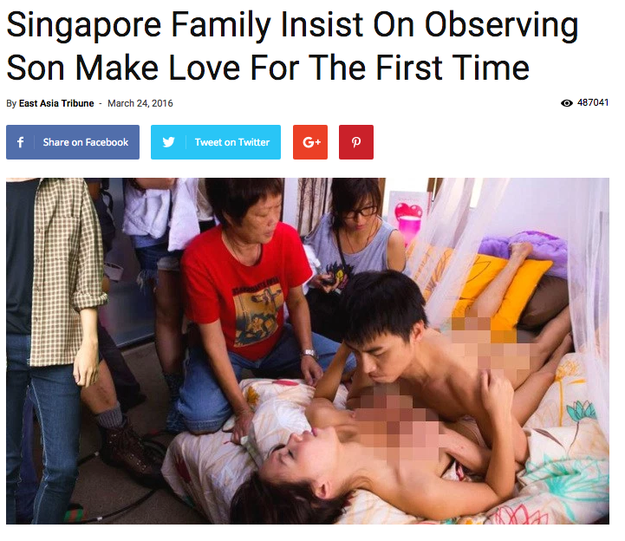 The story was first published at the end of March, but recently it's been spreading on Facebook and has been picked up by other websites.
To date, the original story has generated over 50,000 likes, shares, and comments on Facebook. East Asia Tribune's website says the story has been viewed more than 500,000 times.
But in reality this is nothing more than a successful piece of bullshit from an utterly dubious source. Let's break it down.
The original fake story claimed that "Singaporean social media has been captivated" by the tale, and said the photo was shared by a relative of the groom. But there are no links to the original photo, or to other social media posts. Mostly, it's being shared by other sites that copied the salacious story.
The East Asia Tribune took the photo and altered it for its story. The orientation was flipped, and the man on the far left has clearly been added via Photoshop.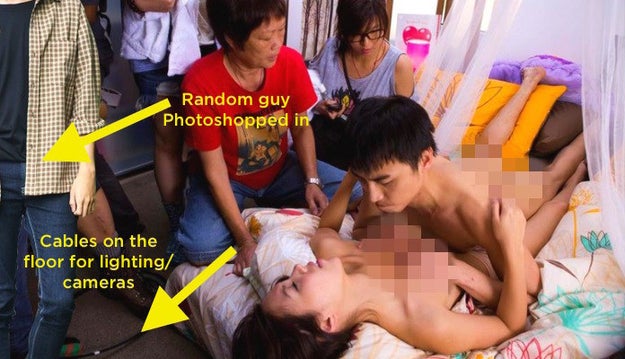 On the floor you can also see cables that would typically be there if someone had set up cameras and lighting for a video shoot.
That's notable because in its debunking of the story, Singapore website Mothership.sg claimed the photo is actually a behind-the-scenes still from Due West: Our Sex Journey, a 2012 softcore porn made in China.
A search for other images from the film appears to confirm this. One scene in the film takes place in a bedroom with some of the same items: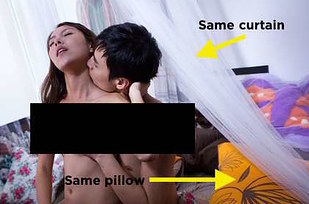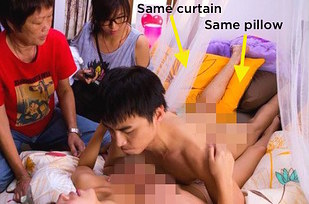 The East Asia Tribune claims a rich history in the"about" section of its website. It says it has offices in 23 countries, is headquartered in Shanghai, and "is a founding member of the Asia News Union Service." None of that appears to be true.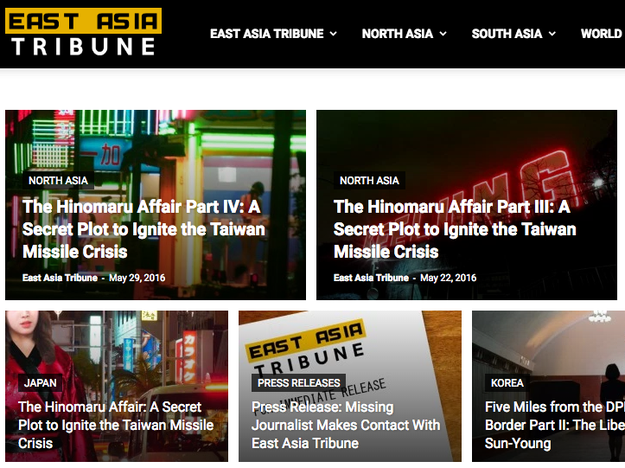 Domain registration records show EastAsiaTribune.com was only registered on March 23, 2016. There's no evidence of the entity existing before that date, let alone since 1972, or in more than 20 countries. The address it lists for its offices in China doesn't exist, according to Google.
The East Asia Tribune previously announced it acquired another site called The Batty Post in April for $59 million. The Batty Post claims an equally illustrious and fake history.
As for the "Asia News Union Service," it also doesn't exist. The Malaysian site Saysshowed in its debunking of the Singapore story that this organization was previously referenced online by a hoax website that was likely run by the same person (or people) behind the East Asia Tribune.
Also, the acronym for this supposedly professional organization is ANUS.
To recap: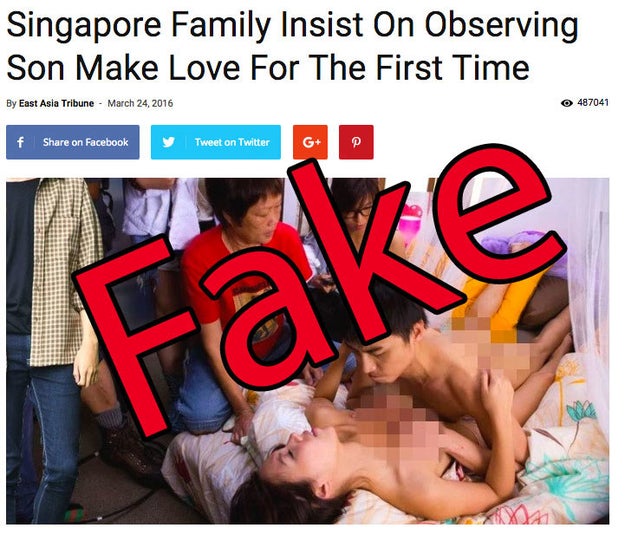 East Asia Tribune/BuzzFeed Canada
A website that exists to spread hoaxes found a meme on Chinese social media about relatives watching newlyweds have sex.
The site altered the image and made up a new story with fake quotes saying that all men in a Singaporean family lose their virginity in front of relatives.
The story was shared widely on Facebook to the point that other sites in Asia, Europe, and elsewhere wrote about it, causing even more social shares.
A few sites published debunkings of the story, but by then the original hoax had already attracted close to 500,000 views, earning a decent amount of money for the folks at the East Asia Tribune.
The internet, man.