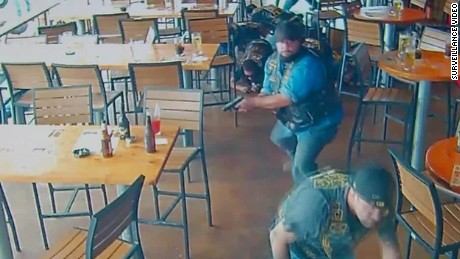 Whoa. That's all I can say upon watching this.
Today, CNN obtained and released surveillance footage and crime scene photographs from the shootout between biker gangs at a Twin Peaks in Waco, Texas that left nine dead, 18 injured, and almost 200 people arrested.
It's nuts. Not only does the footage show bikers crouching with guns drawn, pistols going off, waitresses scurrying away from the sound of bullets, and bloody bikers running from the parking lot, it documents all the weapons that were there.
Initial reports said police found shit everywhere and on everyone, and you'll see pictures of a handgun hidden in a toilet, shotguns and brass knuckles, and so many knives. So many knives.
Like I said. Nuts.
Police Just Released Footage From The Biker Shootout In Texas That Left 9 Dead And It Is Nuts
And Now... A Few Links From Our Sponsors