DO PORN STARS WATCH THEIR OWN MOVIES?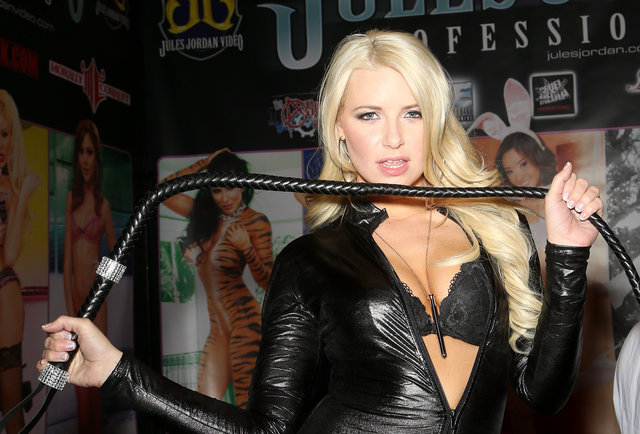 You know that feeling in the pit of your stomach when you listen to your voice on a tape recorder? It's awful, right? Always way more high-pitched and nasal — just an overall horrific experience.
With that level of discomfort from just listening to yourself, imagine how it must be seeing yourself on video… let alone seeing yourself on video having sex with multiple partners. Which brings us to our next question: what's it like to see yourself having sex with people?
To get the answers, we asked several porn stars whether they watched their own movies — and if so, how they felt watching their own undulating bodies in action.
"I doubt there's a single millisecond of footage of myself out there that I haven't seen. Shooting porn is my ultimate fantasy, so watching my videos is kind of like going back in my diary and rereading the entries, reliving the memories. Mostly, it's moments I'm happy to see, happy to be taken back to, all nostalgic like, 'Oh yeah, I love when he/she did that!' But then there are also moments I see and cringe, like when my stomach sticks out in a certain position, or when I'm orgasming in the scene, and I'm like 'oh God never make that face ever again.' Of course, I never remember those critiques when I'm shooting, so I'll probably just continue poking my stomach out and making weird faces forever." — Asa Akira
"Since my retirement in 2014 I have been able to watch my scenes without being highly critical of everything from the sound to the location to my makeup. When you are in the actual production side, all things become too technical and being critical becomes second nature. With that said and my newfound life with less-extravagant sexual encounters, I now can go back and watch my scenes with pleasure. Sometimes I smile and say, 'Wow you did that!' Other times I frown as I say, 'It is less than likely you will be having sex with that many sexy people at one time again!' I now can watch my scenes alone and enjoy the sexual escape of it all." — Lisa Ann
"I do not ever watch my videos, only the photos and trailers to them. That is because it wouldn't turn me on to see myself have sex. On top of that I am hypercritical about myself, so it's easier to be complimentary in still photos. I have no interest in critiquing myself all the way through a scene. However, if I had AMAZING sex with a performer, I will sometimes go and watch a clip from it, just to remember how great he was. This is rare." — Tasha Reign
"I edit my own DVDs and online scenes, so I do watch my own porn in the process. There have been many moments when I have been turned on while editing my own porn, especially when I am reminded of an amazing orgasm I had or my chemistry with another performer. However, I don't masturbate to my own porn. I usually masturbate to fantasies that I'd like to fulfill." — Angela White
"I used to watch my own movies, until they started to all look the same. It was always some mixture of excitement that slowly devolved into horror as my fake eyelashes fell off and my lipstick smudged away. Now I just assume that whatever I put out begins initially clean-looking and ends with me looking like one of those wet-eyed Chihuahuas that sort of make you want to wrap them up in a warm blanket and give them some dry food, except you don't, because you don't know that dog and that would be weird. Year one of my career I thought it was pretty exciting, though." — Kayden Kross
"To be honest, I rarely watch my own movies. Certainly I love porn, but if I come to a scene that I am in, I will glance for a bit. The problem is I would probably start critiquing myself if I watched them completely, so I refrain." — Seth Gamble
"I am very self-critical, so normally I don't like to watch my own porn unless it is something that was meaningful and special, like doing a scene with my husband and AVN Male Performer of the Year Mick Blue, or from a feature movie where there is a storyline." — Anikka Albrite
"I HAVE to watch my own movies. Because I need to approve them before they go out into the world and, most often, I have to watch them several times to tell my editor what changes to make. Recreationally though, I do watch the trailers to my movies, and I do watch the 'plots' of my feature-length films, because I am quite proud of some of them and I think they're pretty funny! However, if you are asking if I jerk off to myself having sex, no. I am a self-hating Jew and I don't like myself nearly enough to do that." — Joanna Angel
"I watch the intros if they're funny, but I run away when my pale ass comes out." — Small Hands
"It's really funny… I was just watching through my last scene yesterday. I personally don't get turned on by my own scenes, no. I actually watch my scenes and see what I can do better. I admire and criticize myself when I watch my scenes and I think, because of that, I've come a long way since I started. I do enjoy watching my Burning Angel girlfriends on screen, though, because those girls are fucking AMAZING!" —Axis Evol
"I used to fast-forward through them the first couple of times, but now I've watched all of them and I always feel weird being turned on by myself. Especially when I got DP'd. Is it vain to think I look great with a penis, or two, inside of me? Oh well." — Veronica Rose
"I'll peek at the previews that come out for sure. I like to watch the ones that are things I've done for the first time. Like my femdom one, anal, or DP. Most of the time I don't watch my own movies though. I think I'm too self-critical. But I think it can be used as a tool to become an even better performer!" — Amber Ivy
"I watch my movies once. When they first come out. And I critique them. Do I look pretty, ugly, how did I sound, was my acting on point? All those things. And after that, I never watch them again. I can't even get turned on by my own films just because I know how they're made." — Sheena Rose
And Now... A Few Links From Our Sponsors