Sex Toy Makes A Guest Appearance On The Island With Bear Grylls
Eagle-eyed viewers spotted something a bit off in a cut-away scene on The Island with Bear Grylls last night.
And, no, we're not talking about a sneaky disposable barbecue or rogue mobile phone – we're talking about this massive black dildo.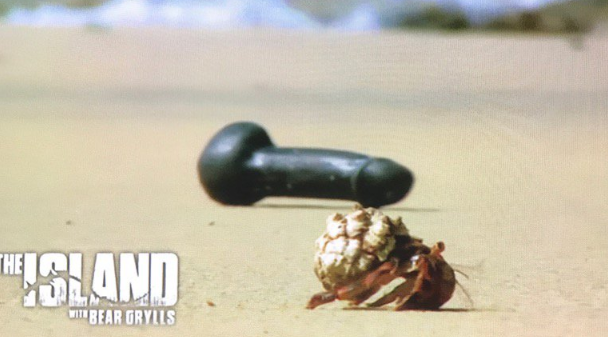 Isn't nature beautiful?
If you're not familiar with the Channel 4 show, it sees a group of people dumped on a beautiful island and left to fend for themselves. They film themselves, build a camp and survive using only minimal tools and training. This year the 'survivors' are split into two groups – the younger group and the older group.
After spotting the sex toy, which I can only assume washed up on shore and isn't included in the 'minimal tools' producers provide, people took to Twitter to ask Bear wtf:
@BearGrylls can u tell me what this us used for please on The Island tonight? Xx pic.twitter.com/vsf4Pd9FhB

— Clare Robertson (@wannabesurfchic) April 24, 2017
@BearGrylls What's type of crab is this? ? pic.twitter.com/bkksW8lswM

— Jon (@JonHammondx) April 24, 2017
@BearGrylls why did you put a crab crawling next to a dildo ???? #crabs #dildo #beargrylls #TheIsland pic.twitter.com/fL7HdUqQZ2

— christopher burton (@drfc_chris_drfc) April 24, 2017
I wasn't the only one who seen this the island with bear grylls? pic.twitter.com/tpNRqdtP5Y

— hal collins (@Hal_Collins1) April 25, 2017
The toy was found by one of the islanders who appeared to take a liking to it, so brought it back to the camp.
Fair enough, yeah, whatever. I still don't think you can class it as essential camping gear, though.
And Now... A Few Links From Our Sponsors