Suddenly, Idea of Britain Leaving EU Is Looking Very Real
In Britain these days, it's all about "Leave" vs. "Remain." Those are the two choices voters will have in a June 23 referendum on whether the UK should exit the European Union—or Brexit, as it's known in shorthand. Some coverage:
Rupert Murdoch's Sun tabloid just came out in favor of leaving the EU, and it urges readers to vote for Brexit here.
A political professor now puts the odds of leaving at 33%, up from 25% less than a month ago. Bloomberg assesses.
Along those lines, a major bookmaker predicts the Leave camp will become the majority by this weekend, per Business Insider.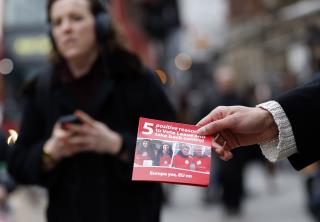 And Now... A Few Links From Our Sponsors