He made Target, his target!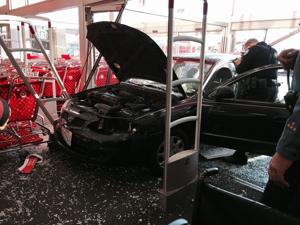 Authorities say a Target employee who was reprimanded by supervisors for his alleged advances toward a female co-worker reacted by crashing his car through the front entrance of the Washington store Wednesday morning.
No one was injured in the crash, which caused an estimated $20,000 in damages to the building.
The suspect, 21-year-old Nathan Glenville, Union, was charged Thursday morning in a three-count felony complaint with first-degree property damage, leaving the scene of an accident, and resisting arrest.
Washington police said Glenville has a strong infatuation for actress Margot Kidder, who starred as Lois Lane in the Superman movies in the 1970s and '80s. The female co-worker who spurned him, "resembled" Kidder in the Lois Lane role, according to Washington Detective Sgt. Steve Sitzes.
Glenville was "disgruntled" over issues with the co-worker "whom he felt rejected him as a love interest. As a result, Glenville has received disciplinary actions at work after the female complained to his supervisory about his behavior," police wrote in a probable cause statement filed in circuit court.
Glenville is being held in the Franklin County Jail on a $75,000 cash-only bond.
If Glenville manages to post bond, among conditions for release set by the court are that he have no contact with Margaret (Margot) Kidder or the female Target employee, according to court documents. He also would be required to wear a GPS tracking device.
Police were called to the store about 7:42 a.m. Wednesday after the man drove his 2000 Hyundai at a high rate of speed through the entrance. The car made it through the second set of entrance doors but its progress was stopped by a theft detection device and racks that hold shopping carts. "Just a few feet away from where the car stopped was an employee," the probable cause statement notes.
Employees told police the man continued to accelerate the engine in an attempt to drive farther into the store but the car was stuck. Glenville got out of the vehicle by breaking the driver's side window.
He then walked onto the parking lot where he saw the female co-worker, who was coming to work, "and charged at her," police said. The woman got into her vehicle and fled but was located later and interviewed by police.
Glenville was arrested as he walked toward Highway 100.
Sitzes said he was taken to a St. Louis hospital for a mental evaluation after he told police he planned to commit suicide by throwing himself in front of traffic on Highway 100.
The store closed briefly but reopened after it was determined there was no structural damage to the building, according to police.
When police attempted to restrain Glenville, he "resisted by struggling."
Police said surveillance video at the store shows Glenville pulling onto the parking lot several minutes before the crash. It was during that time that police believe he wrote a post on his Facebook page which stated: "To Margaret Kidder and the girl from work . . . whom I displayed love to, but never got it back in return.You (expletive deleted) are about to see how I handle this."
Sitzes said he spoke with Kidder, who lives in Livingston, Mont., by phone Wednesday evening and again Thursday morning.
He said the actress explained how Glenville has been sending her emails, letters, poems and drawings expressing his love for her. "Some of this stuff is disturbing," Sitzes told The Missourian.
The probable cause statement filed by police notes that "Glenville has fantasy ideologies about Kidder and has reached out to her on Facebook, email and phone. According to Glenville, Kidder rejected his attention."
Sitzes said police learned that Glenville recently had applied for a transfer to a Target store in Montana.
Target Employee Loses It Over Coworker Who Looks Like Lois Lane And Drives Car Into The Store
And Now... A Few Links From Our Sponsors