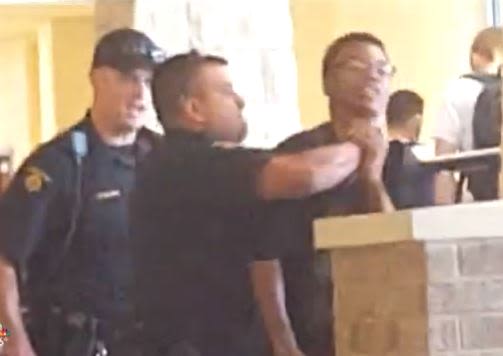 Apparently the kid was previously in a fight with another kid who wouldn't return his prescription basketball goggles. The Asst. Principal called the police because she said she felt unable to de-escalate the situation. Cops show up and tell the kid to leave, but when he picks up his backpack and tries to leave, Officer Rigo Valles tells the boy that he shouldn't have been rude and attempts to body block him. When the kid says he didn't say anything and asks the cop why he is pushing him, the officer grabs his arm. The 14yr old reached his hand over to remove the cop's hand from his arm, since he was told he could leave and shouldn't be assaulted and illegally detained.
Officer Valles, who clearly outweighed the kid and had a larger backup on hand, decided that his best move was to escalate the situation by choke slamming the 14yr old to the ground. His larger partner moves to the knew in the spine position.
Kashka Hughes, the student's father, plans on filing charges against the police department.
"The police officer that was actually in this particular situation, he should have been trained well enough to know that this is a 130 pound child and that the action that was taken was totally unnecessary," said Kashka.
Texas Cop Choke Slams A 14 Year Old At High School
And Now... A Few Links From Our Sponsors