Let's face it, depending on who you're watching a movie with, a
love scene
can be awkward for a variety of reasons. Mom, dad, and grandma are sitting next to you? Forget it, you don't even want two characters kissing for too long, let alone full-on going at it. But some love scenes transcend even circumstantial weirdness, and are so painfully award in and of themselves that you'd be embarrassed to watch them alone. Here's a list of love scenes that will have you begging, "Ugh, can we go back to the
graphic violence
, please?"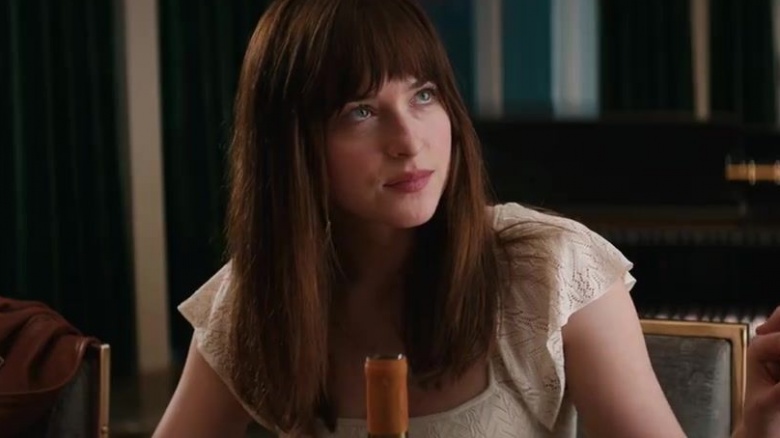 FIFTY SHADES OF GREY – HILARIOUSLY BAD IN EVERY WAY
Almost no other movie has received the level of critical derision and simultaneous fan acclaim as Fifty Shades of Grey. That's because the only people who like the movie are also fans of the laughable novels. Their publisher put sentences like "Hmm … My inner goddess is doing the merengue with some salsa moves" into print, and asked people to pay money for it. So, it's no surprise that the film's director created the same corny, heavy-handed, implausible romance that sees Anastasia, the mousy virgin, transformed into a kinky submissive at the hands of Christian, a man who would definitely be considered a creepy predator if he wasn't a billionaire.
Each love scene escalates further into ridiculousness to the point where the climax of the film occurs when Anastasia freaks out after Christian spanks her too hard. This happens in his "play room," which looks like it was teleported from the Tower of London and features hooks, whips, chains, and all other manner of medieval looking torture devices that Anastasia seemingly has no issue with. But seriously, Christian, take it easy on the spanking, would ya?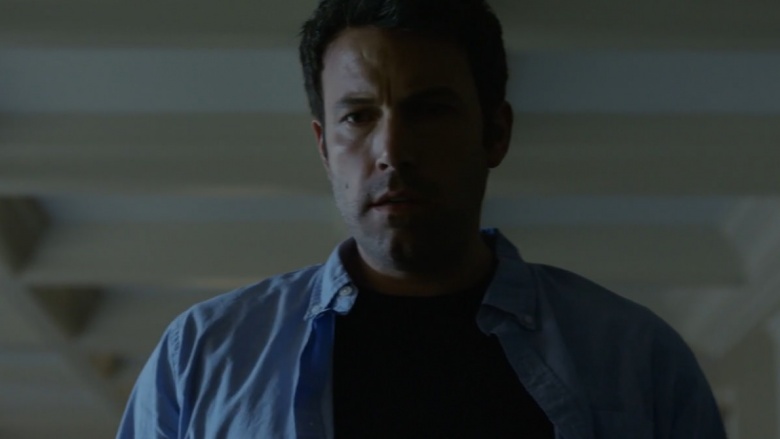 GONE GIRL – TAKES HARD LEFT INTO HORRIFIC
Gone Girl
has a few grisly scenes, but the one that takes the cake is undoubtedly the love scene/throat-slitting of Desi, one of Amy's ill-fated marks in her diabolical plan to frame her husband for murder. For the sake of getting right to the matter at hand, we'll set aside some seemingly large plot holes with the scene in general—like how would she later explain her access to a razor if she was supposedly Desi's captive? Anyway, the scene is set up for tension from the start. The lighting makes the room look like a bordello, and the score is nothing but foreboding tones that signal imminent dread rather than sexy time. And just when Desi's going to give us the always cringe-worthy moment of any love scene, we're sliced right into "OH MY GOD!" territory and everything changes. Needless to say,
Neil Patrick Harris
, who plays Desi, did not have the best time ever in this scene. But at least it was over quick.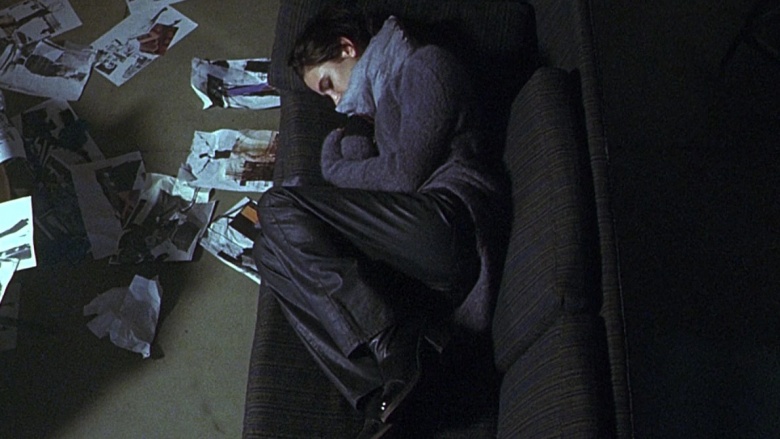 REQUIEM FOR A DREAM – DID THAT REALLY JUST HAPPEN?
The scene we're referring to occurs at the end of Requiem for a Dream, when each of the main characters are deep in the worst chapter of addiction. We're literally witnessing their rock bottoms. Jennifer Connelly plays Marion, a heroin addict who resorts to selling her body for the drug when she is recruited into doing a "show" for a bunch of demonic, salivating men who jeer and throw money on her and another woman during the performance. It's not so much a love scene as a horrifically graphic act that occurs amidst a swirling, brilliantly edited sequence that not only weaves together the awful predicaments that each character has found themselves in, but also imparts their panic and despair onto the audience through the effective, if not jarring use of shock value.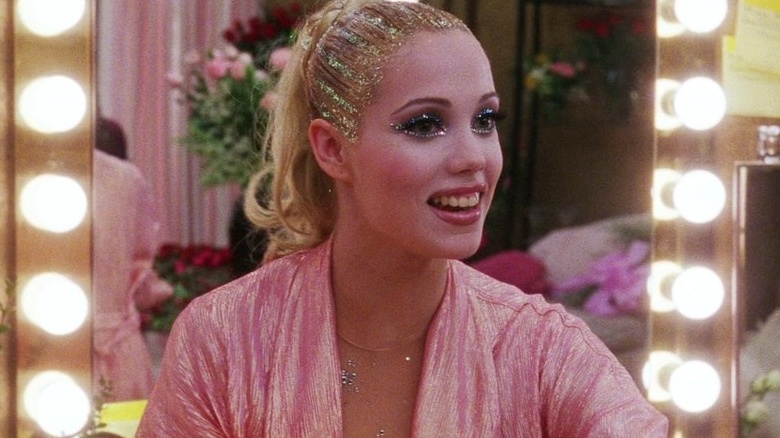 SHOWGIRLS – IS THIS A LOVE SCENE OR A BULL RIDE?
Showgirls came on the heels of director Paul Verhoeven's manic run of RoboCop, Total Recall, and Basic Instinct, so he was probably looking for that same kind of visceral reaction when he took on the world of nude dancers in Las Vegas. Unfortunately, he produced a campy melodrama that would have been more at home on Lifetime if it wasn't for the graphic sex, most specifically the now infamous pool scene. In it, Elizabeth Berkley writhes around on top of Kyle MacLachlan like someone just threw a toaster in next to them. If you can wipe the tears of laughter from your eyes in time, you can literally see the confusion on his face as he had to be thinking "What is she doing?! Oh well, at least I know they'll never use this take."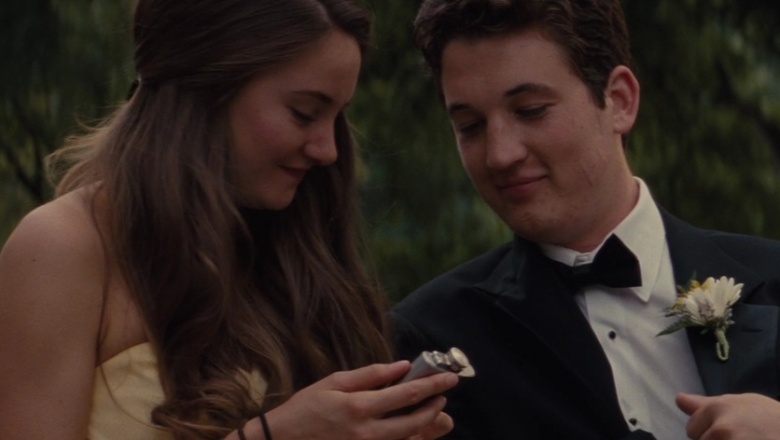 THE SPECTACULAR NOW – WAY TOO REALISTIC
With Miles Teller at his Miles Teller-est and Shailene Woodley at her perfect everygirl-ness, The Spectacular Now is generally regarded as about as sincere as a teen love story gets. The problem for us was that the filmmakers took that sincerity right into the bedroom for the pair's first time—and never before has four minutes of cinema felt like such an eternity. The giggling, the nervousness, the physicality of the scene—everything is so innocent and real that it makes you feel like you shouldn't be witnessing such a personal moment. Don't get us wrong, it's a totally sweet and endearing film, and you'll probably cry and laugh at this movie. But ask yourself this: if you could go back and watch your first time, would you? Right, that's what we thought.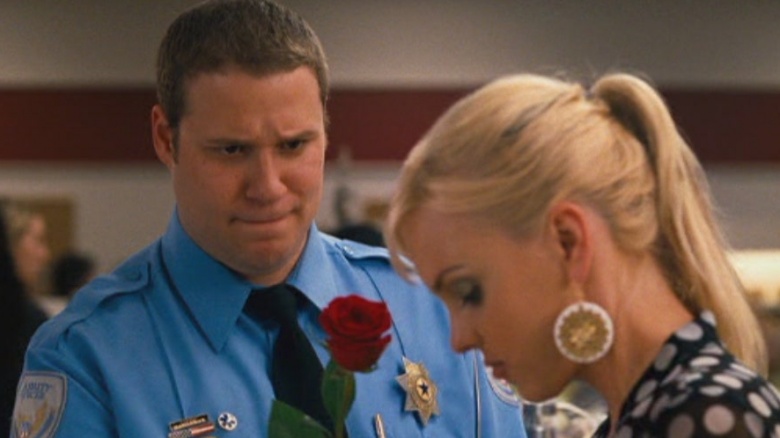 OBSERVE AND REPORT – STOPS BEING FUNNY
Almost any love scene in a comedy could make this list—MacGruber, American Pie, Knocked Up—because love scenes in comedies are specifically played for awkward laughs, but Observe and Report isn't a standard comedy. It's dark, twisted humor from the creator of Eastbound & Down, so when Seth Rogen finally lands his dream girl, Anna Faris, their love scene strays directly into seedy territory. They try to recover the scene with a joke, as the passed out Faris with whom Rogen is getting it on half wakes up and says "Why are you stopping?", but at that point the date rapey vibe has already been played for laughs. That's a gross exploitation of a terrible situation. Not to mention just watching a sweaty Seth Rogen fumble his way through love-making with any beautiful actress it tough to watch. It even made us empathize with Katherine Heigl, and that's no easy task.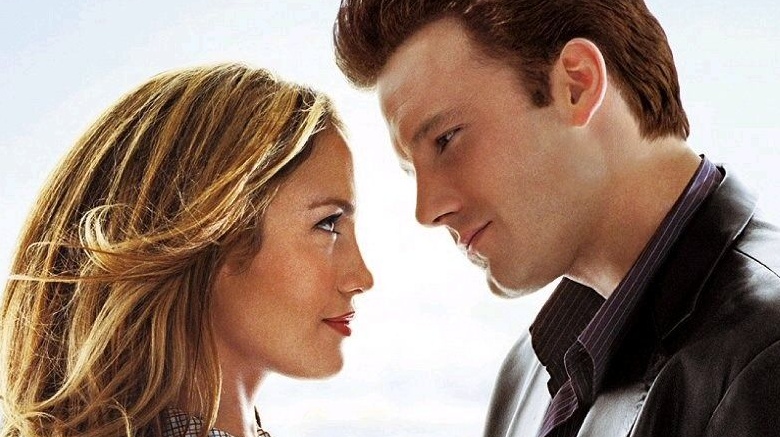 GIGLI – "IT'S TURKEY TIME. GOBBLE GOBBLE."
Just in case that line of dialogue up there—which is a direct quote of the pillow talk from this movie—wasn't a strong enough indicator of how awful Gigli is, here's another piece of info to solidify that framework: Martin Brest, the director, never made another film after Gigli. Now, onto the dreadful love scenes. According to IMDb, the studio forced Brest to turn what originally was a mob movie into a rom-com to "cash in on the relationship between Ben Affleck and Jennifer Lopez." So, our only explanation for the resulting love scenes has to be that they were a vindictive parting shot by a director already set on leaving the business. We imagine his direction was something like, "Show the world exactly what it's like in Bennifer's real bedroom." Then he probably went back to his trailer and drank until he passed out while Ben Affleck delivered a nauseatingly realistic depiction of the faces he makes in the throes of passion. Only your partners, the bedroom ceiling, and maybe Matt Damon should have ever seen that, Ben. Yuck.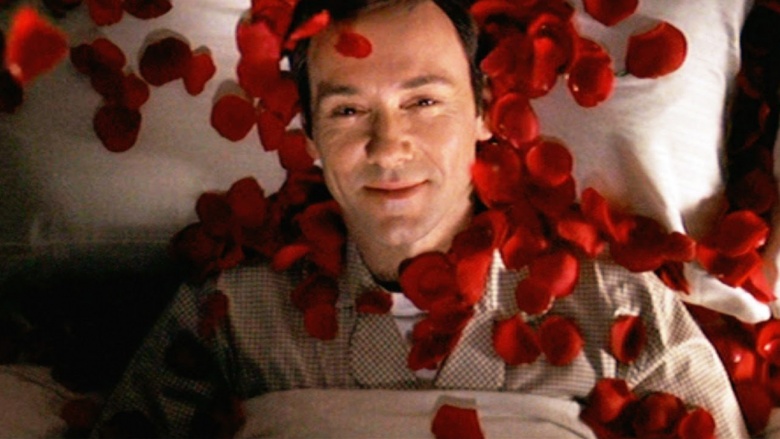 AMERICAN BEAUTY – YOUR DAUGHTER'S FRIEND IS NEVER OKAY
Despite the fact that American Beauty is undoubtedly a great movie that's full of fantastic performances, it doesn't change the fact that one of the storylines involves a dad lusting after his teenage daughter's friend. When Kevin Spacey and Mena Suvari finally have their vomit-inducing love scene (which thankfully stops short), the tenderness of Mena's vulnerability only serves to highlight how inappropriate the whole thing was from the start. But throughout the movie, Spacey's lustful fantasies about her are generally played for comedy, so when their real encounter finally happens, it's a very "Please tell us this is not happening right now" moment. The punctuation of the scene where he covers her with a blanket is such a post-traumatic gesture, that it's hard not to feel relief that the whole thing is over. Plus, he gets murdered moments later, so if you were one of the sickos rooting for them to go all the way, you go ahead and read into that however you'd like.
THE 8 MOST AWKWARD ON-SCREEN LOVE SCENES IN MOVIES
And Now... A Few Links From Our Sponsors