Thieves Dressed As Employees Terrorize NYC Apple Stores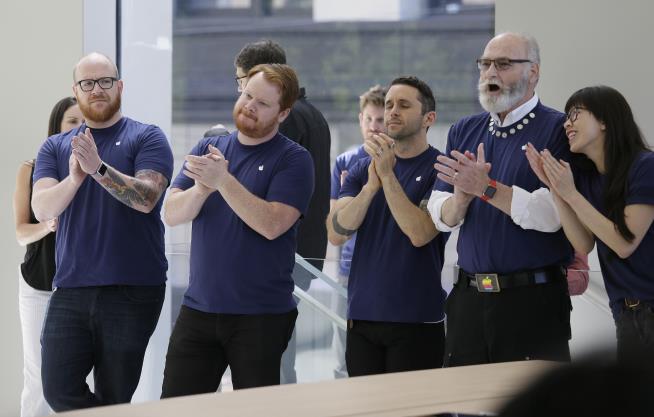 Thieves have stolen more than $55,000 worth of iPhones from New York City Apple Stores over the past four months by dressing as employees. The New York Post reports it started in February when a woman dressed like an Apple employee grabbed eight iPhones from an Apple Store on the Upper West Side. A male accomplice distracted the store's actual employees while another acted as a lookout. The same store was hit again in March. This time a man dressed as an employee grabbed 59 iPhones out of a drawer at the Genius Bar and had a female accomplice transfer them to a duffel bag in the bathroom while a male accomplice acted as a lookout. The total value of the iPhones stolen in both thefts was $49,300.
On June 1, a man dressed as an Apple employee went into the electronics repair room at an Apple Store in SoHo and grabbed 19 iPhones worth $16,130 from a drawer, DNA Info reports. He gave them to another man, who hid the phones under his shirt and walked out of the store. According to Gizmodo, the problem might be a new Apple Store uniform. Before 2015, employees' uniforms changed seasonally. Now employees stick with blue shirts with the Apple logo. That could make it easier to get a hold of a shirt and fit in at any store at any time. The Apple Store on the Upper West Side may have been specifically targeted because it's used for training, meaning unfamiliar workers are common.
And Now... A Few Links From Our Sponsors