Tractor-Trailer Overturns On Tappan Zee Bridge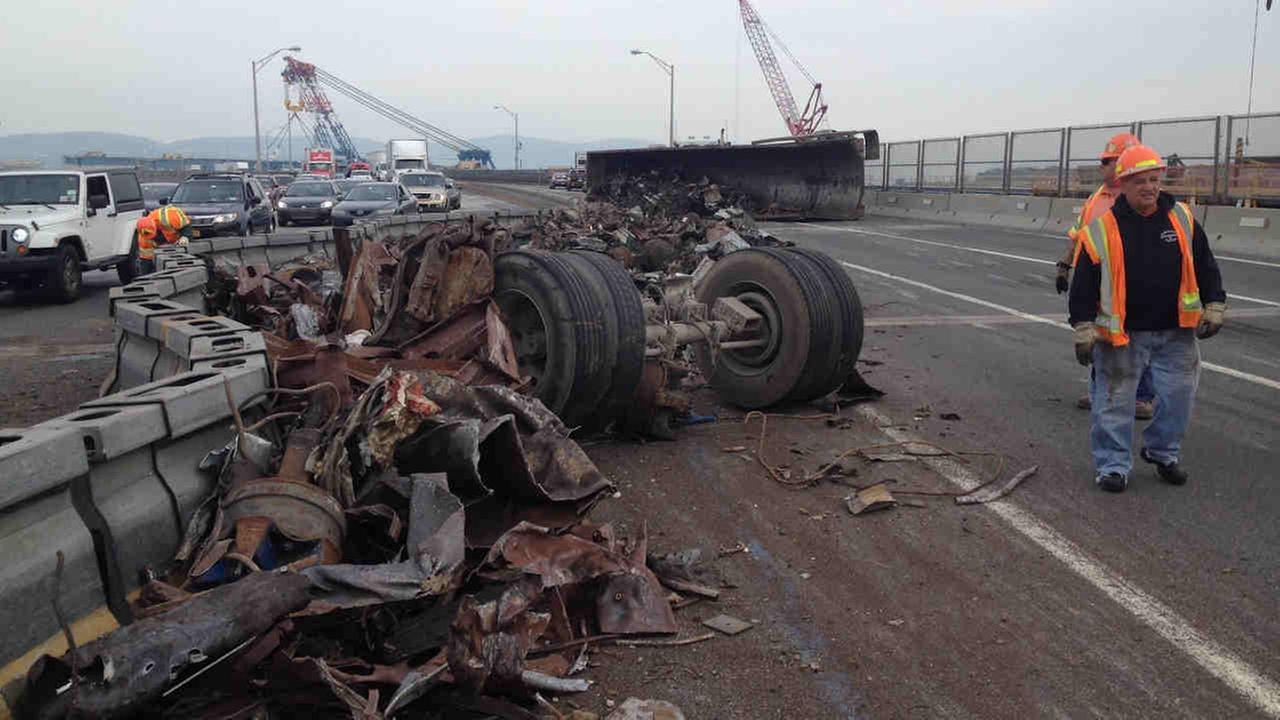 Photos from #TappanZee truck crash. pic.twitter.com/g8jmkMRWMu

— Greg Saperstein (@gregsaperstein) May 13, 2016
The Tappan Zee Bridge is closed in both directions due to an overturned tractor trailer in the N/B lanes. pic.twitter.com/k6G7zRO533

— RocklandFires (@RocklandFires) May 13, 2016
Scary morning on the tappan zee bridge. #blessed pic.twitter.com/00yT2ed8CV

— Hailey Matesic (@mrsmatesic) May 13, 2016
Pictures taken by witnesses showed a chaotic scene, with scrap metal from the wrecked truck and a concrete lane barrier that appears to have been slammed out of place.
A tractor-trailer hauling scrap metal flipped onto its side on New York's Tappan Zee Bridge during Friday morning's rush hour, just ahead of a vehicle that captured the horrifying crash on video.
No one was hurt in the wreck that scattered metal cargo and parts from the tractor-trailer over the northbound lanes of the bridge, which spans the Hudson River between Rockland and Westchester counties.
The video shows the big rig, traveling at highway speed, as its trailer flips onto its left side and pulls the tractor over with it. The trailer's wheels and axle roll toward the wreck scene after the rig comes to rest.
Police told the Journal News the crash was caused by a failure in the truck suspension system, sending the trailer out of control. At least five other vehicles were hit by debris, the newspaper reported, but damage was minor.
The crash happened just before 9 a.m. on a heavily trafficked route to New York City. The span was closed in both directions for four hours, creating miles-long backups, FOX 5 NY reported.