Two Dudes Fighting Over Who Gets To Salsa Dance With This Smokin' Hot Chick Ends With 3-Punch Knockout Combo
I implore you bros to watch this entire video and not just skip ahead to the 3-punch knockout combo around the 2min mark, because this video features some of the most comical drunk dancing I've seen in 2016.
Now let me paint the picture for you bros of what's happening here: two dudes, possibly drunk, are vying for the chance to dance with that ridiculously hot chick wearing jorts. One of the dudes trying to salsa dance with the hottie is wearing what appears to be a fedora. You'd think that since this is Miami they'd be abiding by the 'one fedora per crew' rule but then around the 2min mark some dude who is also wearing a fedora storms in with a 3-punch combo that leaves the dude in the lime green shirt KTFO'd on the ground. From there the girl basically just throws her hands in the air and instead of trying to help the dude who just got piss knocked out of him she runs off.
All in all, this is 100% the MOST MIAMI video I've ever seen. And the fact that it all went down at Bayside has me wondering if afterwards that dude went to Dick's Last Resort or Bubba Gump Shrimp Company to nurse his wounds. Let's watch that knockout once more in GIF, shall we?
Here it is again for your viewing pleasure!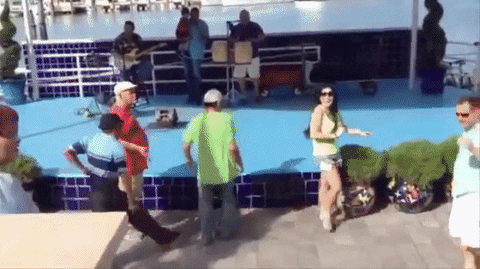 And Now... A Few Links From Our Sponsors