After Watching Frogs Have Sex For A While, Pervy Scientists Discover New Sex Position: The Dorsal Straddle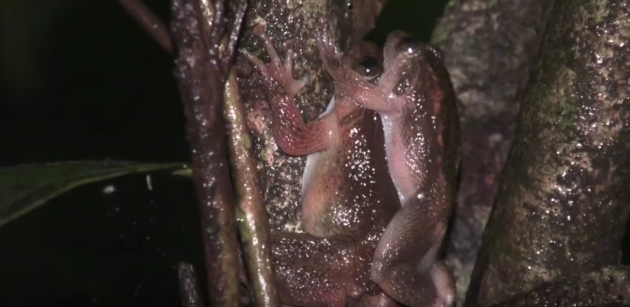 Inspiration can arise from anywhere. Steve Jobs' vision for the iPhone home button came from watching a camel in Tunisia take a shit. Barack Obama realized his signature health care reform plan while fantasizing about performing cunnilingus on a dolphin. Bryce Harper wanted to become a baseball player after going to a baseball game.
Never knock where ideas come from. It doesn't matter as long as they are good.
Although this one probably isn't.
Scientists who have been studying the mating patterns of frogs think they've found a dope new way for people to do it: The Dorsal Straddle.
It's the Bombay Night Frog's power move, which has previously never been seen.
A group of dedicated researchers have discovered a seventh position used by mating frogs and toads, and it's—in scientific terms—super gross. A study published Tuesday in PeerJ describes the new position, the dorsal straddle, as "a loose form of contact in which the male sits on the dorsum of the female prior to oviposition but without clasping her." Basically, the male frog gets on the female's back without putting his front limbs on her, according to the AP. The male releases his sperm onto the female's back after 13 or so minutes and leaves. She lays her eggs then lets the male's sperm run down her back to fertilize them. The dorsal straddle was observed in Bombay night frogs, and it was a "very challenging experience," researcher Sathyabhama Das Biju tells Live Science.
Bombay night frogs only mate in India's Western Ghats over flooded streams during monsoon season. So researchers spent eight hours a night for 40 nights standing in streams, filming frog sex, and trying to keep their infrared cameras dry. It could take hours for just one frog couple to mate, as they repeatedly fell into the water and would have to climb back to their original position to continue mating. All that work—and sexual innovation—was largely for naught, as 12 of the 15 fertilized egg clutches recorded by researchers were promptly eaten by other animals. At least the Bombay night frog and its dorsal straddle might get an Urban Dictionary entry out of it.
Basically it sounds like the human equivalent of titty fucking your girlfriend's spinal column while she's on all fours and you're standing over her holding your headboard. Here. I drew a picture.
Somehow I don't see this catching on.
And Now... A Few Links From Our Sponsors