bored? Working For Kanye Is Exactly The Nightmare You Think It Is And Kim & Kanye Are Suing The Bodyguard Who Told Everyone
"Does this look like a dude who likes fingers in his butt?"
"Nah, man. You look dope right now."
"Dope for real?"
"For real."
Everyone knows that Kanye West is an unabashed egomaniac. So much so, that he recently scared the shit out of Die Antwoord and those people look like what happened if the CIA tried to create a person made entirely of methamphetamine and tattoo ink. So it's no surprise that Yeezy's former employees probably have a shitload of crazy stories about working for him. What is surprising is that his bodyguard, former New York cop Steve Stanulis, either never had to sign a NDA, or did and doesn't mind having his entire dick sued off, because holy shit, did he unload a pile of batshit here. Via The Sun:
"I've been employed by a lot of high-end people but I've never worked for someone like him. He's ten times worse than what you see. You just never knew what would trigger a meltdown."
Well, we've seen him scream at a guy in a wheelchair to stand the fuck up, and have a meltdown at SNL like a toddler at bedtime. And speaking of that last one, how did Stanulis say they manage to calm him down?
It was only when wife Kim, 35, came down from the audience to soothe him that the 38-year-old could bear to carry on with the show.
I'll just get this out of the way, because we're all thinking it: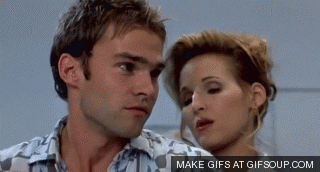 So how much worse could it get? Way worse. All of the worse. Over the course of working for Kanye for a total of just 14 days, Stanulis witnessed Kanye tell people not to talk when he walks by, scream at another guard for touching him, drunkenly berate the security detail of an Italian dignitary, and become a sulky bitch when he was forced to ride in the front seat of a car. He was once told "Patterns distract him," which sounds a lot like an instruction you'd give to a special education teacher. It's a seriously great read, especially for the part where Stanulis is so traumatized by Kanye that he speaks glowingly about Kim Kardashian. I can't imagine the special kind of mindfucking I would need to describe Kim Kardashian as anything other than the malignant tumor that metastasized, except I can, and it's having an argument in an elevator with Kanye about who is going to push the buttons. It's amazing this man hasn't had a thousand strokes.
So now they want to sue this guy for spilling the beans… a former NYPD officer and truth-telling hero…
Naturally, this truth telling didn't sit well with Black Joffrey and Queen Guernsey, so they made some bullshit documents and sued him. This is why we need trial by combat.
Via Page Six:
Stanulis alleges to Page Six, "After I had finished working with them, and my first comments came out in the press, Kanye's head of security wanted to meet me and asked me to sign a post-dated confidentiality agreement, and I refused. That would be like putting my head on the guillotine and pulling the lever.

"Then somebody seems to have done their best to copy my signature on another confidentiality agreement, which is clearly a fake, and I can prove it. It isn't my signature, and I have a chain of messages from them asking me to sign an NDA months after this forged one is dated.
Right, lying bullshitters gonna lie and bullshit. But here's the best part of the whole thing besides Kim's giant tits, which let's be honest, is the whole reason for this post.
"He thinks he can drag me through the mud. If he just paid me the $900 for my work for them I would go away and never mention the names Kanye West and Kim Kardashian again."
We found out that Kanye is so insecure about dudes talking to his wifecow that he will literally fire staff on sight for doing it, and all because he's so broke he didn't have $900 to pay his bodyguard. Sometimes the world is a good place.*walks outside, smells flowers, sees neighbor approaching to talk, fakes cell phone call, runs back in house*